This post contains affiliate links. Click here to see what that means!
In order to support our blogging activities, we may receive monetary compensation or other types or remuneration for our endorsement, recommendation, testimonial, and/or link to any products or services from this blog.
That being said, we only promote authors, products, and services that we wholeheartedly stand by!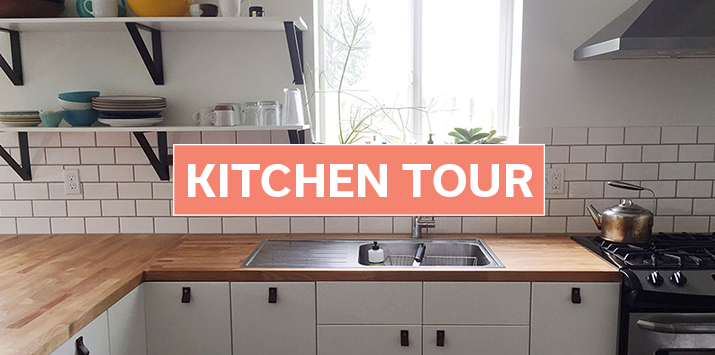 AIP Kitchen Tour is a monthly feature in which we profile a member of the AIP community and their kitchen setup in hopes that it will further inspire us to get our kitchens organized and set up for success! We've interviewed folks who are making the AIP lifestyle a reality in everything from college dorms and small city apartments, to large households with non-AIP family members, and everything in between. Through these interviews, we hope to share how they make it happen across a variety of budgets and living situations, and give the community a wealth of inspiration. Read more Kitchen Tours here!
Name: Becky Fife

Location: Southern Ontario, Canada
AI disease: I was formally diagnosed with fibromyalgia when I was 15, but there seem to be some other underlying undiagnosed things going on as well.
How long have you been eating AIP? I discovered AIP when I was pregnant with my youngest child, so over 6 years now. I had been searching for something that would essentially tell me I wasn't crazy for feeling like all of these foods that I had come to avoid were causing me problems.
Have you successfully reintroduced any foods?
I would love to say that, after more than 6 years of playing around with AIP, I'm all healed and am able to consistently add a bunch of foods back to my regular diet. Unfortunately, I'm at a place in my health where I actually have started to react to a number of foods I used to tolerate and that are normally ok in the AIP elimination phase.
I have shifted my focus from trying to reintroduce a food on a regular basis to deciding if I am doing well enough to enjoy a meal that may or may not cause me to react. Sleep, stress levels, the weather, and timing in my menstrual cycle all impact this decision and whether a reaction follows. Some foods simply cause too much of a reaction consistently for me to consider ever including, while others are sometimes tolerated well a few times before having to be removed again.
How has the AIP changed your life?
AIP has made me feel less alone (and less crazy!) for believing that food, stress, and sleep really do impact our health in a profound way and for pouring so much energy into making the necessary changes. It has been a guide for exploring the most diverse diet my body can handle, while reminding me to focus on the stress and sleep aspect that is so key as much as the rest of my life will allow. It's given me "permission" to add some self-care (like a nightly Epsom salt bath) into my routine.
When I was going thru the fibromyalgia diagnosis as a teen, the medications caused me stomach problems. After going off the meds, I removed gluten and then dairy as I realized how much they impacted my pain levels. Over the next 20 years, I gradually continued developing more sensitivities. When I first found AIP, I already had removed a number of reactive foods from my diet, but was so excited to see the immediate improvement in many of my symptoms when I dove into an almost full elimination phase AIP.
At the time, I wasn't ready to address the sleep or stress pieces. Those have been a more recent focus as simply modifying my diet was no longer cutting it.
The sleep piece of the puzzle is a hard one as some of my children have exceptional needs and sleeping thru the night is not something that happens for them at this point. Being mindful of my attitude, and learning to rest during the day (which, for me, means actually sitting down while avoiding screens) is something I am continually working on. When I do this, the extra energy and decrease in other symptoms is really rewarding. With homeschooling, homesteading, and life in general, there is always something to do, but I'm learning to rest and enjoy it. It's going to be a life-long journey!
Size of your AIP kitchen: My kitchen is very large at approximately 15ft by 15ft, with 2 deep freezers in another part of the house, and a cold storage room in the basement.
Favorite thing about your kitchen: My dishwasher! Honestly, I love my kitchen. It's a dream kitchen and it's just plain gorgeous!
Least favorite thing about your kitchen: There is really no aspect of the kitchen that I don't like other than the fact that it isn't self-cleaning, but my kids are dreaming of ways to design a robot to help with that.
Are there any cheap gadgets or little tools that you have found make AIP easier?
As silly as it sounds, an apple slicer. While single-purpose tools generally aren't welcome in my kitchen, we use this one so many times as day that it was completely worth every cent. The go-to snack in our family is apples (with nut butter for everyone else), so it saves a lot of time and mental energy!
Having multiple cutting boards helps food prep go faster on days when we're behind on the dishes.
I've also found that I have 2 favourite knives (a paring knife and a big chef's knife), and my husband keeps them sharp for me. Having a knife with a comfortable handle makes the prep work easier and less painful.
What is the biggest thing that changed in your kitchen setup when you adopted the AIP?
Having dealt with food sensitivities for over 20 years means that the changes in my kitchen were quite gradual so I can't nail down one change.
Really, the biggest change has been mental as I learn to give myself the permission to spend the extra money on the food that my body needs and to remember to cook something for myself! I realize that sounds crazy to some people, but I know there are more than a handful of people who experience this guilt themselves.
If someone was just starting to invest in some useful but more expensive kitchen tools, which one would you tell them to buy first?
My two most-used kitchen tools in the next price range up are my immersion blender and my slow cooker.
I use my immersion blender (kitchen stick / stick blender) at least a few times a week. It's great for salad dressings that are full of fresh herbs, as well as sauces or soups. It's quick and easy to use, and to wash!
I have a large slow cooker so it can fit a whole chicken or enough stew for our whole family.
We did get a second deep freezer a couple years ago when we got more serious about making sure that the majority of our meat was locally raised by ourselves or people we know, as well as freezing more seasonal produce. My body needs so much meat that we really needed the space to store it when we bought half a cow and a year's worth of chickens at once.
Are there any tricks you have learned to make AIP work in your space?
Having a designated place or "stations" for things is a big time saver!
We have a tea station (kettle and teapot on the counter, teas and honey in the cupboard above), a baking area (with all the dry ingredients in the drawer below), a fresh food prep area (under the spice cupboard and between the sink and stove), and a fermenting corner. The fridge also has designated areas, including one for my leftovers and another for my husband's food (that no one in the house can eat due to sensitivities).
Living in the Canadian climate, greens are expensive in the wintertime, so we have a growing space in the basement for salad greens, some herbs, and a few veg. It gets neglected when I run out of energy, but it provides quite a few salads thru the winter.
How do you deal with food for family members that are not AIP?
Our house is a house full of people with sensitivities, but not all the same sensitivities! We are a family of 6, including 4 young children, and a number of our children are on the autism spectrum. They react quite strongly to gluten, dairy, various food additives, and eating too much of some other foods. We try to always keep apples and carrots in the house so there's always a quick and easy snack that's ok for everyone.
We eat so many veggies that the owner of our local produce market used to tease me about how much we purchased! We began homesteading more seriously a few years ago in an effort to produce the majority of our meat, as well as a decent amount of our veggies.
I had no intention of cooking two separate meals for a mealtime, but have come to realize that we can't afford for our entire family to eat the way I need to eat right now. For most suppers, we all eat the same main meal and I simply add rice, potatoes, or bread (whichever kind an individual can eat!) for the rest of the family to round it out. I'll cook some sweet potato or flat bread for myself if needed. My husband has his separate breakfast foods and I have some default meals for the rest of the family (noodles for lunches during the week, lentil stew with a starch on the side, etc.).
*An on-going conversation in our house is around the fact that all of these foods – real foods – are good foods. It's just that some people's bodies don't tolerate them. We want to avoid the idea of "good" and "bad" when it comes to food so that the chance of disordered eating is decreased.
Are there any tools or appliances that you've stopped using now that your diet has changed?
We acquired a toaster oven at some point and kicked out the toaster and the microwave. (The microwave is in a separate room now for heating up heat packs.)
What are your favorite meals to batch cook?
For the moment, I've given up on batch cooking! I get overwhelmed by the sheer quantity of food that we eat when I think about it.
Instead of batch cooking:
I have a standard lunch for the rest of the family for every day except Sunday.
We keep our freezer full of meat and try to keep basic veggies on hand so I can easily throw meat and veg into the oven or slow cooker.
I generally keep a container of AIP flatbread dough mixed up so I can quickly make this as a starting point for any meal along with either leftover meat and veg or fresh.
What are your favorite AIP and Paleo cookbooks?:

I've been cooking all my life, and am quite comfortable just making it up as I go along. I sometimes browse recipes online (usually on the Autoimmune Wellness website), but with sensitivities to some of the most common AIP ingredients when it comes to baking, it gets frustrating, so I've just been sticking to my basic recipes for now.
I do own one truly AIP cookbook and I honestly feel that it has helped me stay off medication and stay sane some weeks when I just want some "restaurant" food: Bethany Darwin's My Paleo AIP Indian Adventure. Everything in it is delicious and often really easy to make and adapt where necessary.
Do you have any tips for those starting an elimination diet and setting up their AIP kitchens for the first time?
I find it helpful to think about this as an adventure and an experiment. Our bodies are always changing, and no two were created alike, so AIP is meant to be used as a starting point, not a set of rules or a one-size-fits-all kind of thing.
You can take it slowly and modify it based on your results. And if you can't handle the idea of keeping a food and symptom diary, dive into it without one and go from there!
What works for you may not be what works for others, so listen to your body and modify when you need to. Same goes for your kitchen: You can always rearrange it!
Remember that you either eat or you don't. You can choose to eat foods that you will or may react to, but that isn't "being bad" or "cheating". And remember that you truly are worth the effort!
You can connect with Becky on Instagram where she posts about the rabbits, ducks, and nature on her homestead, with a bit of food, faith, and living with chronic illness.
Would you like to be featured in an AIP Kitchen Tour? We feature members of the community who are willing to share the real spaces where they cook, as well as their stories of transitioning to this lifestyle. If you are interested, fill out our interest form!