This post contains affiliate links. Click here to see what that means!
In order to support our blogging activities, we may receive monetary compensation or other types or remuneration for our endorsement, recommendation, testimonial, and/or link to any products or services from this blog.
That being said, we only promote authors, products, and services that we wholeheartedly stand by!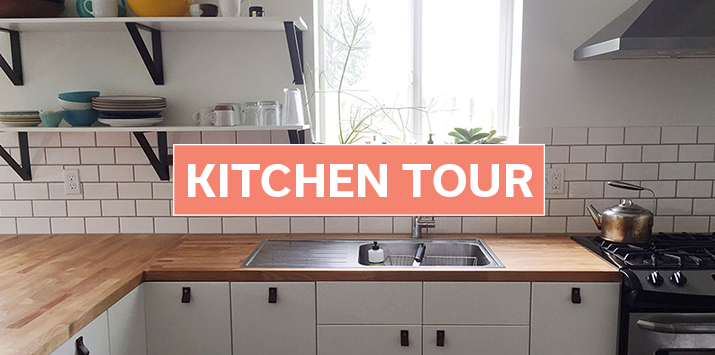 AIP Kitchen Tour is a monthly feature in which we profile a member of the AIP community and their kitchen setup in hopes that it will further inspire us to get our kitchens organized and set up for success! We've interviewed folks who are making the AIP lifestyle a reality in everything from college dorms and small city apartments, to large households with non-AIP family members, and everything in between. Through these interviews, we hope to share how they make it happen across a variety of budgets and living situations, and give the community a wealth of inspiration. Read more Kitchen Tours here!
Name: Courtney Ilacqua
Location: Jeffersonville, Vermont
AI Disease: ankylosing spondylitis, Hashimoto's

How long have you been eating AIP? 1 year
Have you successfully reintroduced any foods?
Yes! I have successfully reintroduced butter and will have small amounts of other dairy products on occasion. I've also done well with some nuts and seeds, hemp and sesame especially. I drink coffee and wine in moderation. I'm at the point where I can be a little more flexible going out to eat as well!
How has the AIP changed your life?
AIP has changed my life in so many ways! I've seen the greatest improvement in my energy levels. I no longer need a 3PM coffee break just to push through the work day, or a nap on the weekends. Brain fog is almost nonexistent at this point. I feel even-keeled, with a better memory and clearer thoughts. My skin is clearer and my hair grew, too.
AIP has also taught me how to be a more intuitive eater. Without the haze of inflammation, it's been easier to listen to my body, and to make choices that support my health. I eat what makes me feel good when I need it, not because it's in front of me.
Size of your kitchen: 15 x 15 feet
Favorite thing about your kitchen:
I love the wood floors of my kitchen, and the ceilings! I live in a farmhouse built in 1843. There's so much history in this home, and you can certainly feel it. There's something about the wear and tare on the floors and the exposed beams that make me feel more connected to generations before me.
Least favorite thing about your kitchen:
My least favorite thing about my kitchen is the awkward locations of the appliances. You have to do a bit of a dance if you have guests over and want to use the oven, dishwasher and sink at the same time. The materialistic side of me would also love new countertops. 🙂
Are there any cheap gadgets or little tools that you have found make AIP easier?
I like to keep things really simple, and I don't use many gadgets. I do, however, use a large round cast iron "pizza" pan every night. It was super affordable, and makes cooking roasted veggies so easy and delicious.

What is the biggest thing that changed in your kitchen setup when you adopted the AIP?
The biggest change to my kitchen was purging all of my non-AIP foods. I spent some time organizing the pantry to meet my needs, but also my partner's. At first we had to "hide" all non-AIP foods, and keep all of our foods completely separate. It was like a mourning process for me. Now that I'm further along in my healing, there's almost no temptation, and far less organization. In fact we don't keep things separate anymore. I make choices that are nourishing for my body, regardless of what's in my pantry!
If someone was just starting to invest in some useful but more expensive kitchen tools, which one would you tell them to buy first?
A sharp knife for cutting veggies is always helpful. My partner and I splurged on a refurbished Vitamix about 2 months in. It was more of a celebration gift for keeping up with AIP — and I love it! It's allowed me to have more variety and efficiency in prepping meals. Truthfully, though, you can do AIP without any fancy appliances.
Are there any tricks you have learned to make AIP work in your space?
I live in a rural area of Vermont, where the nearest grocery store is about 30 minutes away. It's tough to commit to an hour drive just to pick up a forgotten ingredient. My best trick is to have a freezer stocked full of frozen vegetables and proteins. Keeping the bare bones on hand is essential. When I'm in a bind, I always have something to heat up. Protein, fat, carb. Boom. Done! This applies for snacks, too. Always have what you need in stock if you are taking off for the day. Preparation is key.
I also do what I can to grow my own vegetables, and am a member of a CSA for meat. It helps keep things affordable. I may spend more money on food than I used to, but I also go out to eat far less often.
How do you deal with food for family members that are not AIP?
I try not to draw attention to it, and for the most part nobody even notices. It's funny, but most visitors will comment on how it feels good to eat fresh meat and veggies.
Are there any tools or appliances that you've stopped using now that your diet has changed?
At first I stopped using the toaster oven… until I discovered toasted coconut flakes with sea salt… and single serving cookies. Other than that, I haven't changed my tools or appliances. If anything, I use them more than ever!
What are your favorite meals to batch cook?
I feel like a non-AIPer for saying this, but I do not batch cook often… if ever! The closest I come is a big pan of roasted veggies that will last me through the next day's lunch.
What are your favorite AIP and Paleo cookbooks?
I have used some of the recipes in The Autoimmune Wellness Handbook, and will use The Healing Kitchen by Alaena Haber and Sarah Ballantyne when I am looking to make something extra special. For the most part I don't follow many recipes, but I do follow a bunch of blogs for inspiration.
Do you have any tips for those starting an elimination diet and setting up their kitchens for the first time?
Trust the process! Some days are easier than others, but in the end it's always worth it. The beginning will require a little bit of planning and organization, but it doesn't need to be stressful or costly. Tackle one obstacle at a time and do what you can. Change doesn't happen overnight!
Another tip would be to not dwell on frustrations — recognize them for what they are and move on. Any setback is really just a further fall from the top of the healing journey.
Lastly, don't be afraid to seek support. You may not have family members or friends going through the same process, but there's a wealth of information on the internet. Read, listen to podcasts, follow AIP accounts on Instagram – do what you need to do to educate and motivate yourself to keep on keepin' on!
You can connect with Courtney on Instagram.
Would you like to be featured in an AIP Kitchen Tour? We feature members of the community who are willing to share the real spaces where they cook, as well as their stories of transitioning to this lifestyle. If you are interested, fill out our interest form!