We've had some unseasonably warm winter days here in Texas, and I know those of you down under have been suffering through one heck of a summer lately, too. I've been meaning to create an AIP-friendly version of everyone's favorite warm-weather threat for a long time, and now that I have an Instant Pot in which to make yogurt, I dedicated a good portion of my holidays to perfecting this recipe.
You'll need sterilized mason jars to accommodate about two quarts of yogurt (you can use two one-quart jars or four one-pint jars). You should be able to use any multi-strain probiotic for this recipe (though I'd stay away from soil-based ones). Coconut milk tends to separate in the fridge, so if you find your yogurt is thick on top and nothing but liquid on the bottom, just give it a good stir before use. I love to top mine with fresh fruit — mango, strawberry, banana, even avocado. You can also add a quarter cup of toasted carob powder along with the honey for "chocolate" fro-yo.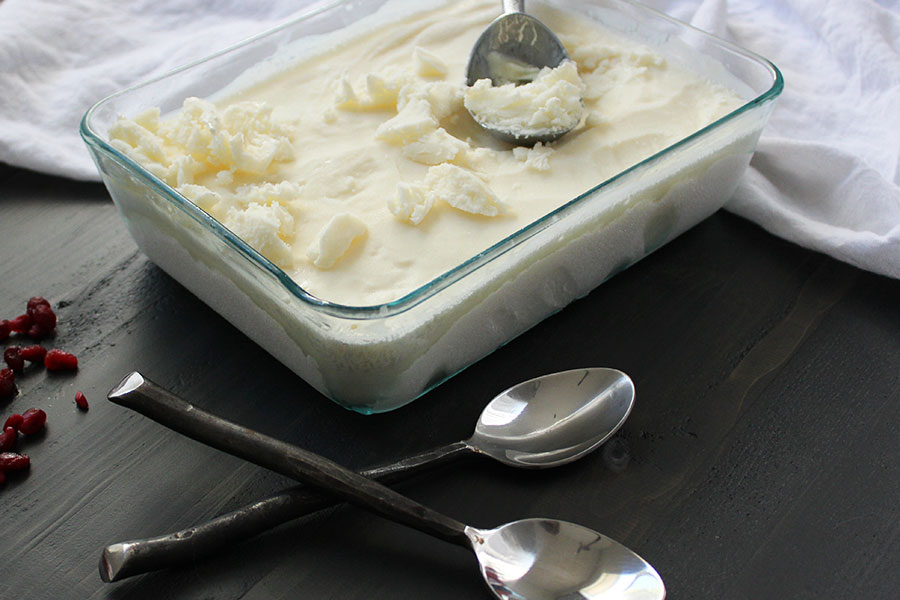 Frozen Yogurt
Ingredients
4 cups coconut cream *(scooped from the top of 4 cans of coconut milk)
2 capsules probiotics (any non-soil strain will do)
⅓ cup honey
Instructions
Divide the coconut cream and probiotic powder evenly between each of your jars and mix well, then cap the jars.
Place in a yogurt maker or Instant Pot with yogurt setting and follow the manufacturer's instructions for yogurt. (In the Instant Pot, this takes about 12 hours).
Refrigerate until cool.
Stir the honey into the yogurt and then run through an ice cream maker according to the manufacturer's instructions.
Notes
*Refrigerate coconut milk overnight to ensure thick cream.