This post contains affiliate links. Click here to see what that means!
In order to support our blogging activities, we may receive monetary compensation or other types or remuneration for our endorsement, recommendation, testimonial, and/or link to any products or services from this blog.
That being said, we only promote authors, products, and services that we wholeheartedly stand by!
Why meal planning?
Meal planning is the number one practice we preach to AIP first-timers. Once you have your meal prep mastered, suddenly the AIP starts to feel easy. Healthful meals become the norm, and you finally settle into the consistency that produces true healing.
We'll also be the first to admit that meal planning is easier said than done. Life is always throwing us curve-balls and it can be hard to find a groove. Meal planning services help a lot with this, but only one caters to the AIP: Real Plans.
What is Real Plans?
In nuts and bolts terms, the folks at Real Plans describe it as: "An app that tells you what to buy, when to eat it, and how to make it."
The first thing we'll tell you about Real Plans is that it is not your average meal planning service. In fact, it is the most innovative, user-friendly, and helpful meal prep resource we've found, and our first tour of their system completely blew us out of the water.
It's designed to help you create a highly customizable weekly meal plan based on your specific dietary requirements. You choose from their database of nearly 2,000 recipes (300 of which are AIP-friendly!), and they provide you with a mobile-friendly shopping list and meal prep plan to suit your specific needs and lifestyle.
This service is a big deal for the AIP community – not only does it help hundreds of AIPers get healing foods on the table, but it's also a sign of how widely understood and acknowledged the AIP continues to become. Best of all, it is very affordable.
How does it work?
First, you select the recipes you'd like to make based on your dietary restrictions or preferences and let their system know how often you cook, when you shop, and how many servings you need.
Then, based on your selections, their software instantly provides you with a detailed shopping list and cooking timetable along with the recipe instructions, all of which are always at your fingertips thanks to the free app that accompanies the service.
Want to see a walkthrough of how to customize your diet preferences and organize your perfect weekly plan? See how Mickey does it below.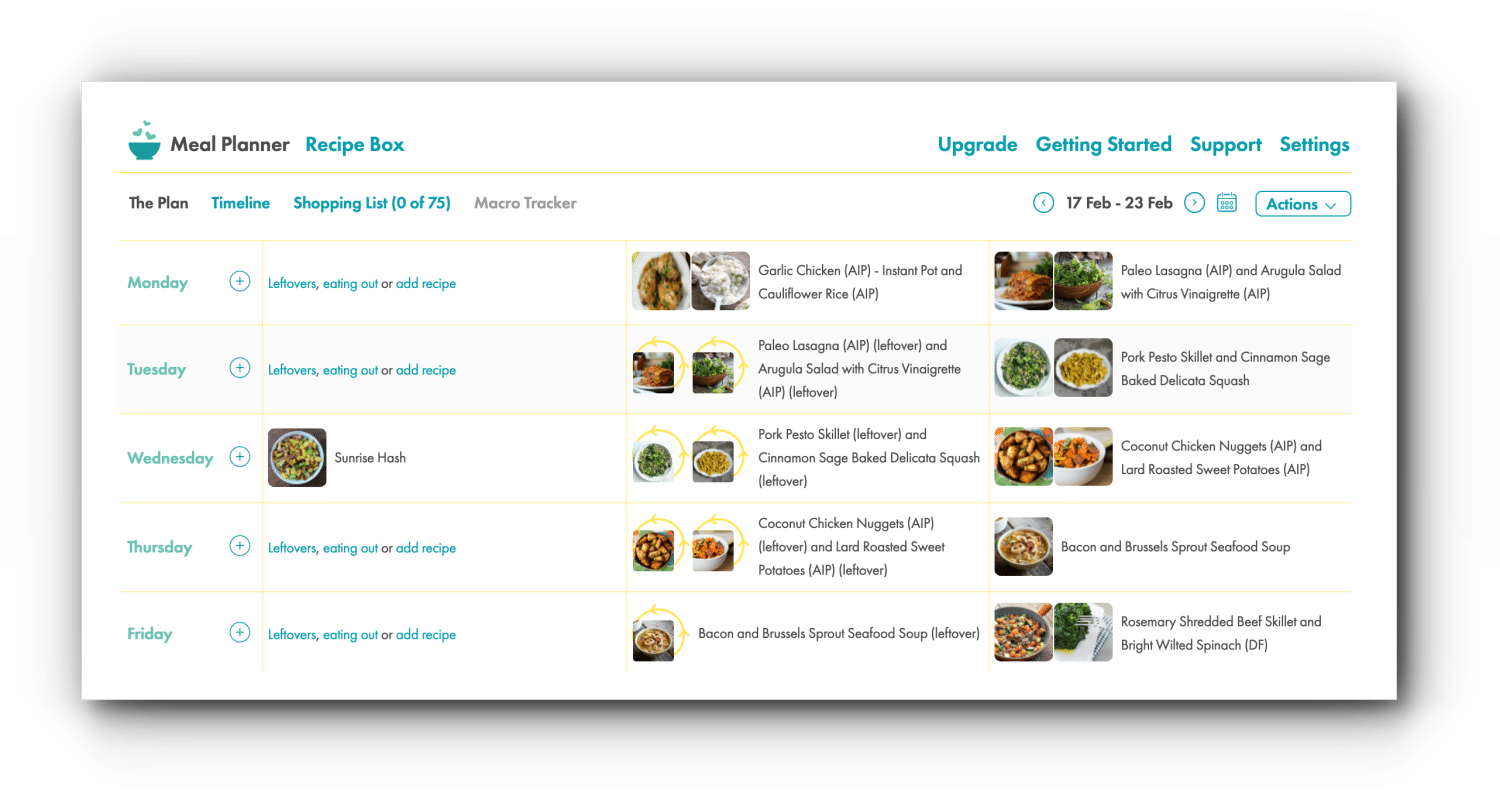 Snapshot: A week on Real Plans
To break it down, each week you:
Let Real Plans know which foods you avoid, how many people you cook for, which nights you'd like to cook, and if you want leftovers for future meals.

Choose what you want to eat from the Real Plans recipe database either by accepting their suggestions based on the above criteria or selecting recipes you want.

Review your shopping list, removing the ingredients you already have on hand.

Print, email or sync your shopping list with your smart-phone.

Shop quickly and efficiently!

Follow your weekly timeline to find out when to defrost, chop and reheat.

Eat good food every day.
The best part!
The best part about Real Plans is that they get us! Their database is filled with recipes we AIPers actually eat. In fact, we contributed over 250 of our very own recipes from our blog and books to their AIP recipe package. You can have access to this entire archive for just $1/month (more on that below)!
The degree to which you can customize your experience is also truly impressive. All recipes are clearly labeled and categorized so you'll have no fear of finding a stray nightshade or legume on your shopping list, and you can always modify your preferences and subtract from or add to the lists they provide.
For example, you can input any additional foods you may be avoiding (great for those who have sensitivities to things like coconut) or add foods that you have reintroduced. This specificity is unlike any other meal planning service on the planet.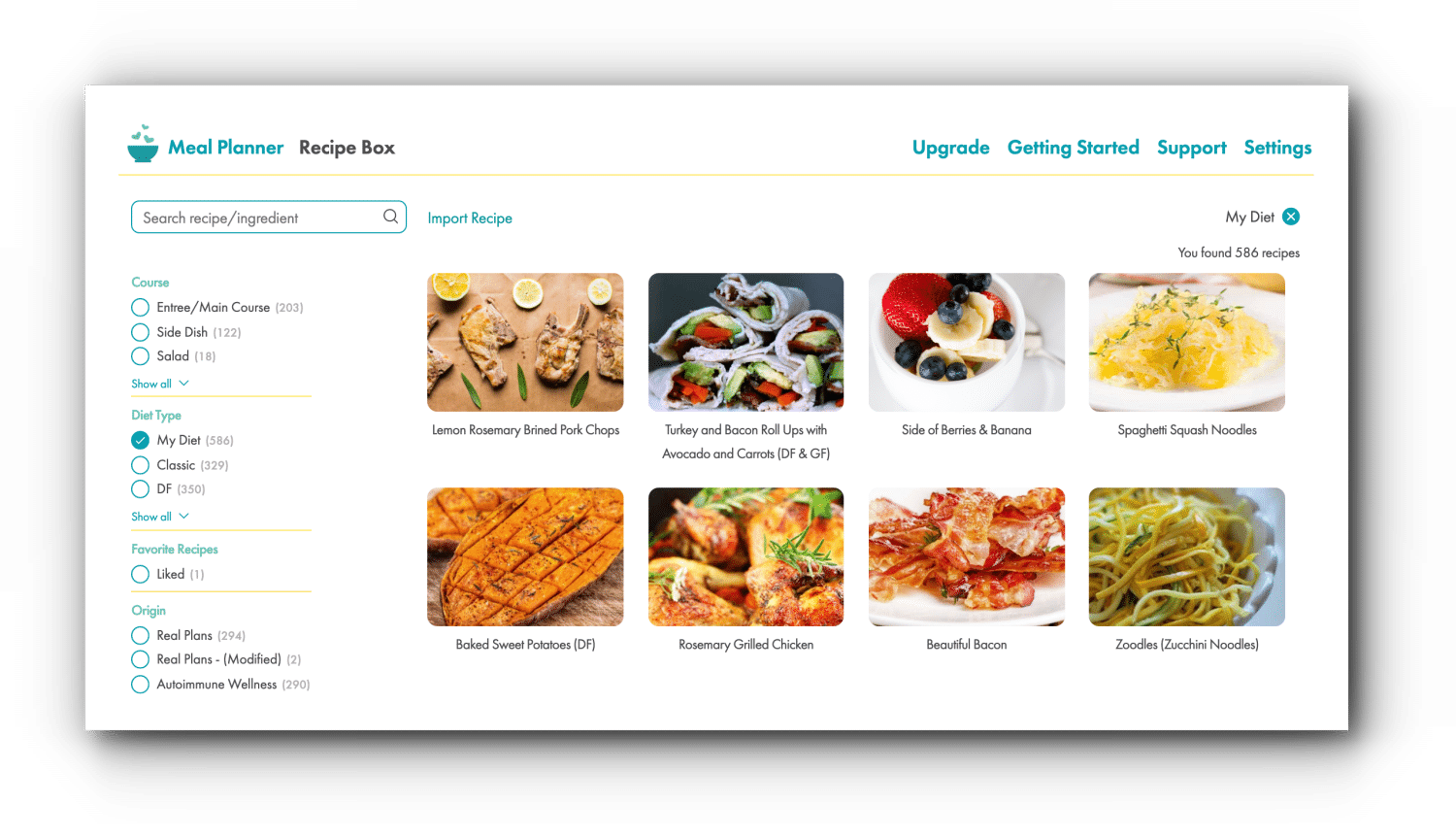 NEW! Real Plans 2020 Updates!
The team at Real Plans is always busy updating their program, and these updates do not disappoint! Among the newest features are:
Recipe simplification.

The folks at Real Plans get that for most weeknight or batch-cooked meals, nobody wants to be making recipes with 20 ingredients, especially if they aren't able to be sourced easily in stores.

Their new update comes with dozens of new recipes that are designed to be as simple and easily-sourced as possible.
Leftover logic.

If you are like us and almost always cook leftovers in order to have heat-and-serve meals ready for later in the week, you can now build this into your meal plan. At setup, their system will ask you how many people you are cooking for and how many meals' worth of leftovers you'd like to produce per week. Your meal plan will now show you on the calendar which meals you'll be eating your leftovers.

Literally, a batch-cookers dream come true!
Scheduling logic.

Similar to leftover logic, their updated calendar lets you make some helpful customizations to your calendar, such as if you'd like to have dinner leftovers for lunch instead of a boxed lunch. You can also select some options for breakfast, like having a simple breakfast to construct every morning, or a finished meal to heat and serve. With their scheduler you can choose how many meals you want to cook in the week, and combined with how many servings you'd like to make,

it will make you a batch-cooking plan to maximize your time.
Macro-driven plans.

If you are layering a macronutrient-driven plan with your eliminations, Real Plans now has the capability to select recipes that have the macronutrient ratio you are going for.
FAQ
What if my whole family isn't doing AIP?
No problem! Even if you set your diet as AIP, you will always have access to ALL the other Real Plans recipes – over 1600! – without changing your plan. Based on your selections, Real Plans will then create a realistic meal plan that your whole family can (and will want to!) eat.
Does the shopping list only include ingredients from the recipes, or can I add my own items?
You can use your Real Plans shopping list just a real one! Add ingredients or other household items that don't show up in your recipes for that week. You can also schedule ingredients to appear on your shopping list at various intervals. For example, you can schedule milk every week, or bacon every two weeks. It's really slick!
Can I import my own recipes?
Yes! You can easily upload your own recipes (or favorites from other blogs) to your collection. In most cases, the shopping list will automatically recognize the ingredients in any recipes you import.
What if I shop at multiple grocery stores? Can I tailor my shopping list accordingly?
Yes! Real Plans lets you separate ingredients by grocery store so you can plan exactly where to get what.
My country uses metric measurements. Does Real Plans work with this?
Yes! You can switch between US or metric measurements whenever you like. The calculations are accurate and foodies all over the globe enjoy using Real Plans.
Do the Real Plans recipes take seasonal produce into consideration?
Yes. All recipes are cataloged by season so you can search accordingly. The Real Plans Smart Engine takes this into account when picking recipes for you as well.
They've thought of everything!
We're not kidding when we say that this is the most innovative and user-friendly meal planner we've ever used.
More of a visual learner?

The interface is clean and intuitive and their "Getting Started" video makes things super easy.

Last-minute changes?

You can make changes to your weekly plan whenever you want. So even when family comes to town, you can easily swap out recipes, increase serving sizes, or repurpose leftovers and your shopping list and timeline will automatically update. No other service does this!

Short on time?

You can set the planner to include only recipes that take under 1/2 hour.

In love with your Instant Pot?

Schedule a dinner date with it every Thursday.

Need a kid-friendly meal? Use the tag function to search for whine-free dinners.
How much does it cost?
There are 3 payment options: $14/month, $33/quarter $72/year. The quarterly plan works out to $11 per month and the annual plan works out to $6 per month. For an additional $1 per month, they'll also include the Autoimmune Wellness recipe archive!
If you enjoy using Real Plans, we recommend going with the annual plan to maximize your savings, but honestly, having the plan alone will save you so much money. It will mean fewer trips to the store and fewer forgotten or unused ingredients. At $6/month, if it saves you one trip to the store or one ingredient that doesn't spoil in the fridge, it's well worth it.
Get your meal routine nailed down
Until preparing AIP-friendly foods becomes routine, healing will continue to be an uphill battle. If you feel like you're spinning your wheels cooking every night, or you're struggling to nail down a sustainable routine, Real Plans might just be your answer. We never promote products or services we don't fully believe in, and this is no different!
Want to give the gift of meal planning to a friend or family member? Real Plans now offers gift subscriptions! What could be better than giving the gift of good health? Learn more about Real Plans gift subscriptions here!