This post contains affiliate links. Click here to see what that means!
In order to support our blogging activities, we may receive monetary compensation or other types or remuneration for our endorsement, recommendation, testimonial, and/or link to any products or services from this blog.
That being said, we only promote authors, products, and services that we wholeheartedly stand by!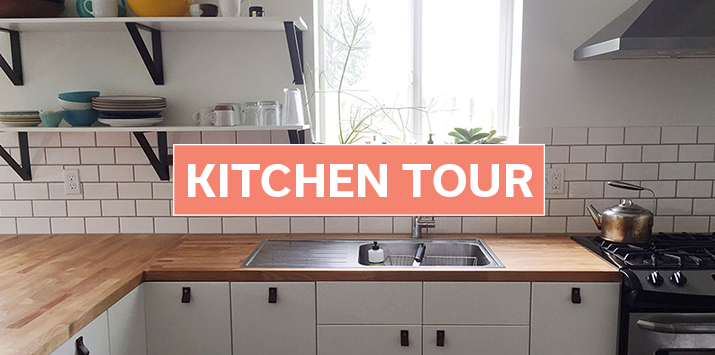 AIP Kitchen Tour is a monthly feature in which we profile a member of the AIP community and their kitchen setup in hopes that it will further inspire us to get our kitchens organized and set up for success! We've interviewed folks who are making the AIP lifestyle a reality in everything from college dorms and small city apartments, to large households with non-AIP family members, and everything in between. Through these interviews, we hope to share how they make it happen across a variety of budgets and living situations, and give the community a wealth of inspiration. Read more Kitchen Tours here!
Name: Leigh Redmond
Location: Melbourne, Australia
AI Disease: Hashimoto's thyroiditis
How long have you been eating AIP? Since the beginning of May 2017.
Have you successfully reintroduced any foods?
So far so good with reintroducing eggs, raw cacao and almonds. Although, at the moment I'm having a few little digestive issues due to a current stressful situation, so I've made the decision to go back to basics and give my tummy a little break and a little love.
I'm planning to start back again with reintroductions soon. Wish me luck!
How has the AIP changed your life?
Like everyone else on this journey, I was desperate, however it wasn't until I was about 5-6 months into the protocol that I truly realized how unwell I actually was.
Apart from the myriad of thyroid symptoms and chronic fatigue I was experiencing on a daily basis, I'd also been living with a severely bloated tummy for years. It was always with me right from waking each morning. When this bloating and pain all but disappeared around 6 months into the protocol… holy smokes! What a realization and what a life changing moment!
Apart from the physical, one of the biggest changes I noticed was with my mental clarity. It's back! I'm once again able to be focused, excited and inspired. For years I felt like I was walking around in a heavy, grey cloud, trying hard to motivate myself and wondering why I could never muster up any enthusiasm for anything. In less than a year, and by simply changing my diet and lifestyle…wow, what a change.
Size of your kitchen: Small – perfectly suitable for one person, but utterly useless for two. Thank God it's just me!
Favorite thing about your kitchen:
Apart from the morning sunlight that streams in, I love that it's a practical space. Everything has its place and everything that is in it, I use. Nothing is just "for show." I also love that I can reach for the pantry and the fridge without moving from the counter. Very time efficient!
Least favorite thing about your kitchen:
No dishwasher! When you cook as much as we do on this protocol – a dishwasher would be a dream.
Are there any cheap gadgets or little tools that you have found make AIP easier?
I have a little handheld "spiralizer" which is brilliant at making zucchini noodles. It's the size of a potato peeler and cost me about $10. When you don't have the space to store those big, cumbersome spiralizers, this is your answer.

What is the biggest thing that changed in your kitchen setup when you adopted the AIP?
My pantry. It went from literally overflowing with various baking products from every flour under the sun, including all the gluten-free varieties, to an endless supply of tins of chickpeas and beans… God forbid I was to ever run out of them!
Now, only two shelves hold food and the rest are used as extra storage space. If I'd known when I renovated, I would have made the pantry smaller and added a dishwasher… doh!
If someone was just starting to invest in some useful but more expensive kitchen tools, which one would you tell them to buy first?
Firstly, a good sharp knife. You only need one and as long as you have one of these in your kitchen, you can do pretty much anything, including using it as an electric food processor replacement — along with a little time and patience.
If you have the money to splurge, then my second suggestion would be a good quality blender. I haven't found a cheap alternative to this tool as yet as nothing seems to produce the same outcome. Silky smooth soups, lump free smoothies and I even use it to whiz together little coconut snack balls.
Electric food processors can be replaced by a good sharp knife (or a blender). Mix Masters can be replaced with a wooden spoon and some muscles. Slow cookers can be replaced with a simple casserole dish and your oven, and a Thermomix can be replaced with pretty much everything you already have in your kitchen. However, a good quality blender… I'm yet to find a cheaper replacement.
Are there any tricks you have learned to make AIP work in your space?
It's a super simple trick, but I've found by making my kitchen space clean, inviting and filled with lovely crockery and lots of plants, I in turn love to be in there cooking.
For the amount of time we NEED to spend in the kitchen on AIP, having a space you love to be in with everything in easy reach makes it all the better, and in fact, makes it an absolute joy.
How do you deal with food for family members that are not AIP?
If I'm being honest, I don't tell them. Basically, the food we eat on AIP is REAL food. Nothing funny added or hidden, just good quality simple food: protein, fats and lots of veggies. I've not come across anyone who can't eat REAL food and I swear, no one has noticed the difference when I've used arrowroot flour in my casserole instead of glutenous flour yet. Yes, desserts and sweet treats are a whole different matter, so I keep it super simple when people come over and serve either fresh or baked fruit.

Are there any tools or appliances that you've stopped using now that your diet has changed?
My mixer. I once ran a catering business on weekends, and would often bake celebration cakes for clients, which meant my mixer would get used almost daily and was permanently stored on my bench.
Now, it's packed away in a cupboard and has only been used twice since May 2017.
What are your favorite meals to batch cook?
Every week I will ALWAYS roast a big tray of veggies and there is always some sort of meatball/patty being whipped up and stored in the freezer.
I love having these two things on hand for my breakfasts and as a back up to lunch and dinner, should I have the "can't be bothered to cook" vibes.
What are your favorite AIP and Paleo cookbooks?

I love, love, love Mickey's The Autoimmune Paleo Cookbook for my everyday meals and food prepping ideas – especially when I was first starting out. However, the one that was a game changer in the way I embraced AIP cooking was The Healing Kitchen's ebook – Healing Eats. Her photos inspired me so much that I've pretty much cooked every single thing from it. Worth every penny spent!
Do you have any tips for those starting an elimination diet and setting up their kitchens for the first time?
Tip 1 – Preparation is key. If possible, give yourself an hour or two on a weekend to just roast up some veggies and protein, as well as wash and slice up some fresh greens — then store them in your fridge. This helped me so much when I just couldn't be bothered to think about what to eat.
Tip 2 – Store a sweet treat in the freezer. When I first transitioned, I craved "treats", so knowing I had some AIP friendly sweet treats in the freezer kept my cravings (and panic) down to a minimum. Over time, the need for something sweet will disappear.
Tip 3 – If possible, clear anything not AIP friendly out of your kitchen. You don't want to be tempted. I gave all of my baking and non-compliant spices to a friend.
Tip 4 – Keep it super simple. To begin with, don't get bogged down in the fancy recipes you'll find on Pinterest. Just think veggies, protein and fats for the first few weeks. I truly found this tip to be a lifesaver. When you're feeling unwell and the stress of changing your diet overwhelms you, keep it simple.
Tip 5 – Remember your Why. When you feel overwhelmed, just remember why you're doing this and how you want to feel. This was a big motivator for me.
You can connect with Leigh on her blog, Chit Chat Chomp, or via Instagram.
Would you like to be featured in an AIP Kitchen Tour? We feature members of the community who are willing to share the real spaces where they cook, as well as their stories of transitioning to this lifestyle. If you are interested, fill out our interest form!