This post contains affiliate links. Click here to see what that means!
In order to support our blogging activities, we may receive monetary compensation or other types or remuneration for our endorsement, recommendation, testimonial, and/or link to any products or services from this blog.
That being said, we only promote authors, products, and services that we wholeheartedly stand by!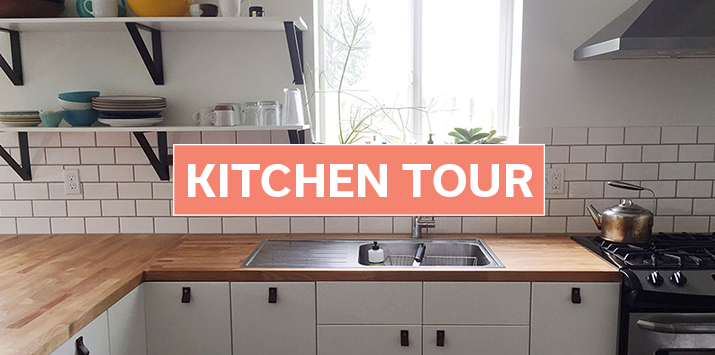 AIP Kitchen Tour is a monthly feature in which we profile a member of the AIP community and their kitchen setup in hopes that it will further inspire us to get our kitchens organized and set up for success! We've interviewed folks who are making the AIP lifestyle a reality in everything from college dorms and small city apartments, to large households with non-AIP family members, and everything in between. Through these interviews, we hope to share how they make it happen across a variety of budgets and living situations, and give the community a wealth of inspiration. Read more Kitchen Tours here!
Name: Petra Chambers-Sinclair 
Location: Vancouver Island, British Columbia, Canada
AI Disease: My husband has Psoriasis and Psoriatic Arthritis.
How long have you been eating AIP? Since 2013

Have you successfully reintroduced any foods?
Cocoa, eggs, nuts and seeds.
How has the AIP changed your life?
By the time I turned 40, I felt like my body was disintegrating and I wondered how I was going to make it to 50. When I went paleo in 2011, all of my health issues resolved, but a regular paleo diet wasn't enough for my husband Matthew.
His body has been in autoimmune response since infancy, starting with severe psoriasis. Psoriasis progressed to psoriatic arthritis in his 30s, and then to a major health crisis in his 40s, related to an acute flare of arthritis and a series of bad reactions to pharmaceutical treatments. At his worst, he was in bed 18-20 hours a day and was hardly able to care for himself or interact with our three children at all. The prognosis was that his health would continue to deteriorate.
Before Matthew started the AIP, he was taking 6-8 hydromorphone painkillers and a pile of other pharmaceuticals each day. He is now able to manage all of his autoimmune symptoms without medication and is back at work after years on disability leave.
He expects he will need to manage his health through a healing protocol lifestyle for the rest of his life. He continues to address systemic issues, like persistent concurrent infections and reduced microbial diversity in his gut, which we now know contributed to his ill-health from the beginning. He may never be 'healed' in such a way that he can go back to living an unexamined life. But even if he could, he doesn't want to. And neither do I. I have never felt so good.
Size of your kitchen: 250 square feet
Favorite thing about your kitchen:
It has a woodstove in it. In the winter I use the woodstove for slow cooking and keeping food warm.
Least favorite thing about your kitchen:
My portable dishwasher. I know that this is the epitome of a first-world problem, but I really want a built-in dishwasher so I don't have to plan my day around it and then heave it across the kitchen every time I run it.
Are there any cheap gadgets or little tools that you have found make AIP easier?
I love my mandolin slicer. I have a couple of them, and the cheap supermarket one is the best. I use it all the time for slicing cucumber, zucchini and plantain. I also invested in a bunch of silicon spatulas (10 of them!) They were cheap and I use them all the time.

What is the biggest thing that changed in your kitchen setup when you adopted the AIP?
Unexpectedly. I no longer had food go funny in the back of my fridge. Previously, I really struggled with keeping things from getting science-y back there, but now it never happens. Everything we make is so good (and is such good quality), it just naturally gets eaten.

If someone was just starting to invest in some useful but more expensive kitchen tools, which one would you tell them to buy first?
An Instant Pot! Definitely.
Are there any tricks you have learned to make AIP work in your space?
One of my biggest challenges is that I hate cooking. That might sound overwrought, but it's true. So making the AIP work has involved more internal work, than work on my external environment. I have learned to treat cooking as a spiritual discipline and to have a good sense of humor about myself.

How do you deal with food for family members that are not AIP?

My kids are not AIP. They eat what we eat and supplement from their own stash of non-AIP foods which we keep in a separate cupboard. I refuse to buy gluten, so all of their non-AIP options are gluten free. They have jobs so they buy whatever food they want with their own money.
For the first few years, my teenage daughter was vegetarian, but she's over that now. When she was vegetarian, we created a list of non-AIP foods that met my criteria that I was willing to buy for her. My criteria:
I had to think it's at the top of the heap of healthy vegetarian foods. And I reserved the right to change my opinion about what was healthy as I learned more.
My kid had to like it enough to eat it. If it was healthy but went stale in the cupboard, not only was she still hungry but I'd just thrown money away.
I had to dislike it enough not to eat it (I am still not completely immune to the charms of a bag of gluten-free pretzels after a long day at work).
So, once we identified foods that met these criteria, they could come into the house. It was a smallish list.
Are there any tools or appliances that you've stopped using now that your diet has changed?
The toaster.

What are your favorite meals to batch cook?
Stew with heart: it freezes great, defrosts easily, is very nutrient dense, and is easy to add greens or other vegetables to.
What are your favorite AIP and Paleo cookbooks?
Lately I've been using The Healing Kitchen by Sarah Ballantyne and Alaena Haber a lot.
Do you have any tips for those starting an elimination diet and setting up their kitchens for the first time?
Before I started the AIP I invested in a set of glass food storage containers. A good freezer-to-fridge-to-oven food storage system makes busy days and sick days possible. 

Petra recently launched a cutting-edge online program, BiohackU, designed to help you track your autoimmune symptoms and customize your treatment plan using science-based tracking methods. It's really cool! Check it out here.
Would you like to be featured in an AIP Kitchen Tour? We feature members of the community who are willing to share the real spaces where they cook, as well as their stories of transitioning to this lifestyle. If you are interested, fill out our interest form!