This post contains affiliate links. Click here to see what that means!
In order to support our blogging activities, we may receive monetary compensation or other types or remuneration for our endorsement, recommendation, testimonial, and/or link to any products or services from this blog.
That being said, we only promote authors, products, and services that we wholeheartedly stand by!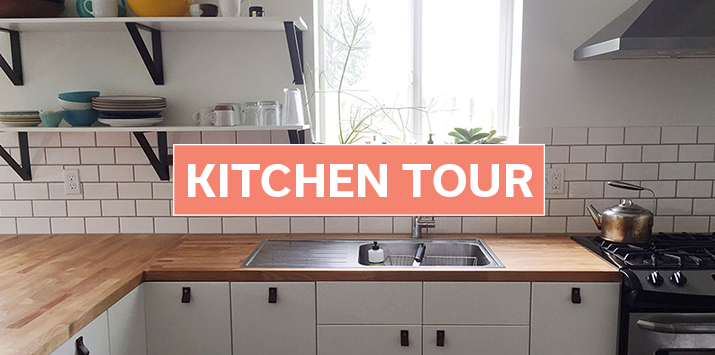 AIP Kitchen Tour is a monthly feature in which we profile a member of the AIP community and their kitchen setup in hopes that it will further inspire us to get our kitchens organized and set up for success! We've interviewed folks who are making the AIP lifestyle a reality in everything from college dorms and small city apartments, to large households with non-AIP family members, and everything in between. Through these interviews, we hope to share how they make it happen across a variety of budgets and living situations, and give the community a wealth of inspiration. Read more Kitchen Tours here!
Name: AnneMarie Krupa 
Location: Richardson, Texas
AI Disease: Hashimoto's thyroiditis and severe urticaira
How long have you been eating AIP? Two years in February
Have you successfully reintroduced any foods?
Yes, I have reintroduced what I call "clean" chocolate (six or less ingredients with none of the AIP allergens), bulletproof coffee, pasture raised eggs, peppers on occasion and Parmigiano Reggiano cheese. I have also added back in a few of the seed spices and black pepper.
How has the AIP changed your life?
What led up to my diagnosis was severe urticaria and oozing sores on both my shins and 60%+ of my body. The urticaria was so bad that I was scratching until I bled and was unable to sleep at all. In less than two weeks on AIP, the itching slowed down and I was able to sleep. It took weeks for the itching to really stop (it is still an indicator of my body's reaction to something). The sores on my legs started to heal and were better in a matter of weeks. AIP helped my body be able to calm itself and start to heal.
Size of your kitchen: 147 square feet, which includes part of a laundry room/pantry
Favorite thing about your kitchen:
If I had to pick one, it is the amount of counter space we now have after our remodel. Specifically, the peninsula where I do most of my prep work. I love my Italian gas stove and my deep stainless sink. My husband loved the fact that everything lives in drawers. The few uppers we have are for cookbooks, special serving ware and miscellaneous things.
Least favorite thing about your kitchen:
My fridge. I want one that is ONLY a fridge as I have a deep freezer and find that it is wasted space. I need more room for fresh produce and leftovers. I also wish I had a bit more storage as my drawers are all filled and I totally need two drawers for mason jars!
Are there any cheap gadgets or little tools that you have found make AIP easier?
I am not really a gadget kind of gal. I use my cutting boards, good knives, mixing bowls and strainers a lot. I do love my microplane zester and use it for fresh grating (like ginger). I was gifted a kale stripper and it actually works!

What is the biggest thing that changed in your kitchen setup when you adopted the AIP?
We were actually in the beginning of a kitchen remodel when I was diagnosed. My husband was so supportive that everything in the pantry/cabinets that didn't fit the AIP bill were packed up and given to my son. That helped us figure out how to deal with herbs (one 30″ drawer) and realize we didn't need a pantry for food. So we installed a lazy Susan, which is our "pantry".
Since we didn't need the pantry space, we moved the fridge into the laundry/pantry room and use the shelves for our kitchen equipment.
If someone was just starting to invest in some useful but more expensive kitchen tools, which one would you tell them to buy first?
1. Instant Pot: It gives you the ability to make something healthy in a shorter amount of time and keep all of the nutrients in the food. I typically start something in the Instant Pot, as well as on the stove so I can have multiple meals going.
2. High-powered blender: While I do not have a Vitamix or Blendtec (yet!), this is, in my opinion, essential for things like smoothies or "green" drinks, sauces, etc. I found that adding a green drink to my daily meal was a huge help to my healing journey.
Are there any tricks you have learned to make AIP work in your space?
I multitask. When I cook, I try to make at least two meals at the same time. Or at least multiple sides to go with a protein dish. This helps me avoid having to cook every night. I make three or four batches of bone broth at one time in my Instant Pot. I may add a few new bones, veggies and seasonings.
We also try to keep containers of cut-up veggies so we can throw a quick salad together or add more veggies to any dish or leftover we might have that night.
How do you deal with food for family members that are not AIP?
We try to have people over to our house so they can try the food. A few of our friends know good food and realize you can have it without all of the "crap" in it. When we go to others' houses, we try to ask if we can come and cook there.
I do have to say that during the holidays, I am moving toward going to visit but eating at home. My food is typically better anyway!
Are there any tools or appliances that you've stopped using now that your diet has changed?
I stopped using my crockpot completely. I keep thinking I need to give it away! I also bought a juicer in the first year of my diagnosis. We used it daily. We haven't really used it in about 6 months.
What are your favorite meals to batch cook?
I batch cook protein, so large roasts or large pieces of fish. I also make a kale salad in big batches as we go through it quickly. I was taught to cook in batches so I am really not any good at cooking for just two. LOL We always have leftovers!
What are your favorite AIP and Paleo cookbooks?
My first cookbook was The Healing Kitchen. After that, I started to print off recipes here and there. I did buy The Complete AIP Library bundle a while back. And I have used Dr. Wentz's recipes.
Honestly, recipes are a guideline for my cooking! I have been cooking since I was eight and I cook by smell, and not taste. Drives my husband crazy.
Do you have any tips for those starting an elimination diet and setting up their kitchens for the first time?
Per my husband: "Get rid of temptations and 'do-not' foods. Donate them to family, friends or food banks."
Personally, I am an "all-in" type of gal so I started AIP that way. I agree with my husband, if you can do it, get rid of everything that won't help you heal. I know your family may hate it but if you are the cook, it is your kitchen.
You can connect with AnneMarie via her Facebook page. She'll be launching a blog soon so be sure to follow her!
Would you like to be featured in an AIP Kitchen Tour? We feature members of the community who are willing to share the real spaces where they cook, as well as their stories of transitioning to this lifestyle. If you are interested, fill out our interest form!