This post contains affiliate links. Click here to see what that means!
In order to support our blogging activities, we may receive monetary compensation or other types or remuneration for our endorsement, recommendation, testimonial, and/or link to any products or services from this blog.
That being said, we only promote authors, products, and services that we wholeheartedly stand by!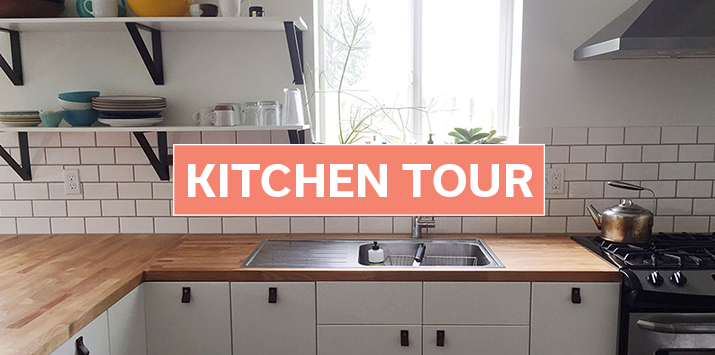 AIP Kitchen Tour is a monthly feature in which we profile a member of the AIP community and their kitchen setup in hopes that it will further inspire us to get our kitchens organized and set up for success! We've interviewed folks who are making the AIP lifestyle a reality in everything from college dorms and small city apartments, to large households with non-AIP family members, and everything in between. Through these interviews, we hope to share how they make it happen across a variety of budgets and living situations, and give the community a wealth of inspiration. Read more Kitchen Tours here!
Name: Wendi Washington-Hunt 
Location: Charlotte, NC, USA
AI Disease: Hashimoto's thyroiditis
How long have you been eating AIP?
About 2 1/2 years — in baby, baby steps. I started by just going gluten-free. About a year later (!), I eliminated dairy, then soy. All the other things quickly fell into place after that. I knew that if I did it all at once, I wouldn't stick to it. I needed to make changes slowly to form new habits.

Have you successfully reintroduced any foods?
For me, there are "always" foods, "sometimes" foods, and "never" foods. I can do some white rice without any trouble, but I'd rather fill my plate with veg. Eggs, ditto. I can have alcohol sometimes, if I keep to small amounts. But potatoes? My kryptonite! They are on my "never" list!
How has the AIP changed your life?
Whoa. This is a BIG one. Before AIP, I felt like I was coming down with the flu — all the time. Now, I feel so much better! I didn't know how crappy I felt until I started to feel better! I have more energy (not 100% yet, but better), and I'm down 10 pounds from the 20 that my disease "gifted" me. Ahem. My family has begun to adopt some of the diet, too, as we've discovered ingredients/recipes we never knew existed. (Ohmagosh, plantain tortillas! Yucca fries! Real broth! Spiralized everything!) I generally sleep better at night.
But the biggest change of all has been my relationship with my own body. I'm learning the language my body uses to communicate with me — puffiness in eyes, fingers and ankles, pain in my back, sudden weight gain, sleeplessness, etc. I've learned to stop hating my body, and instead, send it messages of gratitude for what it does well. Even during times when I don't love my body, I can at least TREAT it lovingly…
Size of your kitchen: 14 1/2 ft. x 17 ft.
Favorite thing about your kitchen:
SPACE. For the first time in my life, there is a place for everything, and everything in its place. Since my husband cooks, too, we can both be cooking without encroaching on each other's territory. Also, it is open to the living room, so I can cook, and still be a part of whatever else is going on in the house.
Least favorite thing about your kitchen:
There is only one thing: not enough sunlight! I'm a country girl living in an urban setting, and the houses on either side of us are only ten feet away, blocking all the light. I dream of a sunny kitchen with loads of herbs growing in the window.
Are there any cheap gadgets or little tools that you have found make AIP easier?
Yep. A Vegetti. I make zoodles all the time, and it's quicker for me to crank a zucchini through the thing rather than set up the spiralizer. I haven't had much luck with other vegetables in the Vegetti (they are either too big, or they break off), but for spiralizing zuke, or summer squash in a hurry, it's awesome. Then, I just throw it in the dishwasher.
What is the biggest thing that changed in your kitchen setup when you adopted the AIP?
I had to make room for some new pantry staples and a rather large appliance (the pressure cooker). My beloved bread flours moved to the very back of the cupboard, and were replaced by arrowroot, coconut, tigernut, cassava…

If someone was just starting to invest in some useful but more expensive kitchen tools, which one would you tell them to buy first?
A really quality chef's knife. On the AIP, you do a ton of chopping and slicing. Spend the money on one that's right for you. Choosing a knife is kind of like choosing a wand, à la Harry Potter. It should feel good in your hand, be the right weight, and accommodate whether you are a "chopper," or a "rocker." If you are fortunate to already own a good knife, then spring for a slow cooker, or Instant Pot-type pressure cooker combo. You'll need it to make your gut-healing broths and meats.
Are there any tricks you have learned to make AIP work in your space?
When I'm really on top of things, I chop, slice, grate, and dice a bunch of veggies once, and have them on-hand in the fridge at all times. That way, when I'm really "hangry," I can make a soup, or stir-fry in no time flat, as opposed to giving up on my diet and going through a drive-thru. Chopping all the things at once means that I only have to clean up once, too!
I also label everything with a dry-erase marker. I have much less food waste when I know exactly what I have. If you do this, make sure to wipe off the dry-erase before you put containers in the dishwasher. Lettering can be difficult to remove once the d/w has baked them on!

How do you deal with food for family members that are not AIP?
We have meal components that we can swap out, as needed. My family may have roasted potatoes, while I have roasted sweet potatoes. My family may have pasta, while I have zoodles. My family may use crushed red pepper at the table, rather than in a dish. AND, when my family really just wants a pizza or enchiladas, I keep a few things in the freezer for me to have. Everybody's happy. 🙂
Are there any tools or appliances that you've stopped using now that your diet has changed?
My toaster has been banished, and my stand mixer is lonely. Baking on the AIP is…difficult. It can be done, but honestly, it's just not the same! 😩 I used to bake all the time. Now, I'm trying to adapt as well as I can. This may be the change that has been the toughest for me. Sniff.

What are your favorite meals to batch cook?
Soupsoupsoupsoupsoup! I love soups and stews. You can cram a ton of nutrients into one bowl of warm, comforting goodness. I typically make a pot of something on the weekend, then eat it every day at lunch. I can quickly pop something in the microwave that makes my gut happy. One favorite in particular is Mickey Trescott's AIP Carrot and Sweet Potato "Chili." It completes me.
What are your favorite AIP and Paleo cookbooks?
It sounds funny, but my favorite cookbooks aren't really cookbooks at all, but books on autoimmune wellness that contain recipes. Two that I refer to frequently are The Autoimmune Solution by Dr. Amy Myers and The Autoimmune Wellness Handbook by Mickey Trescott and Angie Alt. Once I learned the tenets of AIP cooking, I started developing recipes on my own as a creative outlet. There are so many wonderful AIP cookbooks out there now, but I like to make up stuff on my own. It's fun!
Do you have any tips for those starting an elimination diet and setting up their kitchens for the first time?
If I were talking with someone just starting out, I would first give them a hug. It's so overwhelming at first! There are all these weirdo ingredients you've never heard of before. (Coconut what? Cassava who?) So many foods you've loved that you're supposed to just give up. "I know," I would say.
Then I'd tell them that if they could just make it through the difficulty of the change, they could feel so much better. I would also tell them to go slowly, making small changes along the way. You're not "going on a diet." You're changing your lifestyle. Healing your body. To make any lasting change, you can only go as quickly as your psyche will accept.
Have infinite grace and patience with yourself. Listen to your body. You've probably been angry with it for a long time, and it hears you. What might it be trying to tell YOU…? Mindset is everything. This is an adventure, the beginning of something new and wonderful. You *might* just find out that you actually ENJOY eating in a new way! As for the weirdo ingredients? Some things can be found at your grocery store. As for the rest, just get 'em on Amazon and be done with it. You'll use them over and over. COURAGE, newbie AIPer!!! 💗💗💗

Wendi shares tons of delicious AIP recipes on her blog, Wendi's AIP Kitchen, and shows you how to make them on her YouTube channel! You can also follow her healing journey on Instagram.
Would you like to be featured in an AIP Kitchen Tour? We feature members of the community who are willing to share the real spaces where they cook, as well as their stories of transitioning to this lifestyle. If you are interested, fill out our interest form!