This post contains affiliate links. Click here to see what that means!
In order to support our blogging activities, we may receive monetary compensation or other types or remuneration for our endorsement, recommendation, testimonial, and/or link to any products or services from this blog.
That being said, we only promote authors, products, and services that we wholeheartedly stand by!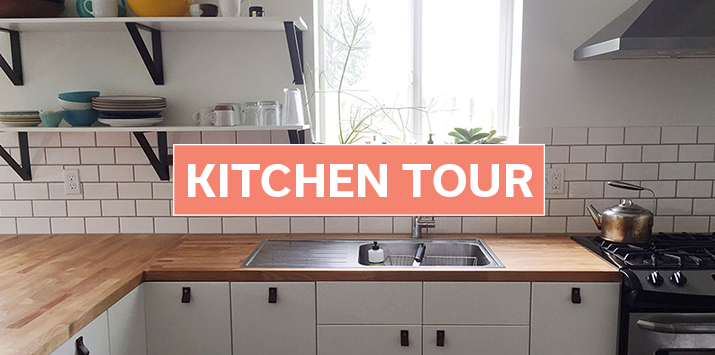 AIP Kitchen Tour is a monthly feature in which we profile a member of the AIP community and their kitchen setup in hopes that it will further inspire us to get our kitchens organized and set up for success! We've interviewed folks who are making the AIP lifestyle a reality in everything from college dorms and small city apartments, to large households with non-AIP family members, and everything in between. Through these interviews, we hope to share how they make it happen across a variety of budgets and living situations, and give the community a wealth of inspiration. Read more Kitchen Tours here!
Name: Kendall Kobza 
Location: Houston, Texas
AI Disease: Celiac disease, low thyroid and fibromyalgia
How long have you been eating AIP? I started eating AIP in April 2017.
Have you successfully reintroduced any foods? I can occasionally have coffee, almonds and chocolate.
How has the AIP changed your life?
Not only has AIP helped with my autoimmune symptoms, but, more importantly, it made me change my way of eating. I learned just how nourishing clean, unprocessed foods can be and how food is fuel for the body. I've been gluten free and a relatively healthy eater for 15 years but now realize how processed foods were really affecting my healing, energy levels and overall health.
Size of your kitchen: 24×15 feet. I have a relatively large kitchen.
Favorite thing about your kitchen:
We remodeled our kitchen about four years ago and added tons of cabinet storage and a large gas cook top on the island. The island has become the focal point in my kitchen and is my favorite place to cook. My kitchen is also open-concept so I'm never separated from my family when I'm cooking.
Least favorite thing about your kitchen:
I would like to have a large commercial size refrigerator. With all the produce and fresh ingredients I buy, I have to put overflow in a separate fridge in the storage room.
Are there any cheap gadgets or little tools that you have found make AIP easier?
I love using mason jars for food and bone broth storage and I have tons of them lying around. I cook with a ton of garlic so using a garlic press has made cooking easier.

What is the biggest thing that changed in your kitchen setup when you adopted the AIP?
I started buying a lot more fresh produce instead of using canned or frozen vegetables. I really don't buy anything canned anymore except coconut milk. I now realize fresh ingredients tastes so much better and now I don't care for anything canned, prepackaged or frozen. Fresh is best!

If someone was just starting to invest in some useful but more expensive kitchen tools, which one would you tell them to buy first?
Hands down, the Vitamix. I put off buying one for years because I didn't want to spend the money. I bought one over a year ago and now use it everyday. I make smoothies or protein shakes for my kids, butter coffee, and use it to blend soups and as a food processor. It can do anything and withstand everything! It's totally worth the investment.

Are there any tricks you have learned to make AIP work in your space?
I've learned to keep things simple. I used to cook thinking everything needed sauce or heavy ingredients to give flavor and now I use olive oil, coconut oil, fresh herbs, AIP-friendly seasoning blends, pink sea salt and lemon to give flavor to my dishes.
I use less ingredients but cook food with more flavor and it takes less time. I grow my own herbs and keep them in small pots on my patio outside of my kitchen so they are always available. I also make sure my fridge is always stocked with fresh produce and meats so I'm never left without clean ingredients to throw a meal together!

How do you deal with food for family members that are not AIP?
When I cook at home for my family, everything is AIP for the most part. Occasionally, I'll make steamed rice, gluten-free pasta or Simple Mills rolls for my kids when they ask for it. I also keep a few packaged protein bars and crackers for their lunches but most of their meals are mostly AIP.
My family has done really well adapting to my style of eating and have been completely supportive. They've even learned to like new foods and are open to trying anything because they love the way they feel now. My daughter has really taken an interest in clean eating and now loves to join me in the kitchen and is my best taste tester for new recipes!

Are there any tools or appliances that you've stopped using now that your diet has changed?
I rarely use my toaster now. We don't eat bread often now so I find no use for the toaster anymore and it just takes up counter space.

What are your favorite meals to batch cook?
I batch cook a ton of roasted vegetables every week. I eat veggies at every meal so I'm constantly cooking them in various ways to add variety. I also like to make batches of meatballs, shredded chicken, protein bars, and energy bites to keep on hand for convenience or to freeze for later use. Batch cooking has become a huge part of my weekly meal planning and saves me when we have busy nights due to kids' activities.
What are your favorite AIP and Paleo cookbooks?
The Healing Kitchen by Alaena Haber and Sarah Ballantyne and The Autoimmune Wellness Handbook by Mickey Trescott and Angie Alt. I bought both books the first week I started AIP and they helped me tremendously!

Do you have any tips for those starting an elimination diet and setting up their kitchens for the first time?
It's best to start AIP in a way that works for you. I'm extremely Type A so I went cold turkey and started AIP completely on day one. For other people that can be overwhelming and I would recommend gradually transforming their diet. Maybe cut out a few foods a week for a smoother transition. They key is to not be hard on yourself or stress over making mistakes. Over time you'll learn what your body needs and you'll find a whole new mindset!

You can connect with AnneMarie on her blog, The Healing Table, or via Instagram.
Would you like to be featured in an AIP Kitchen Tour? We feature members of the community who are willing to share the real spaces where they cook, as well as their stories of transitioning to this lifestyle. If you are interested, fill out our interest form!