This post contains affiliate links. Click here to see what that means!
In order to support our blogging activities, we may receive monetary compensation or other types or remuneration for our endorsement, recommendation, testimonial, and/or link to any products or services from this blog.
That being said, we only promote authors, products, and services that we wholeheartedly stand by!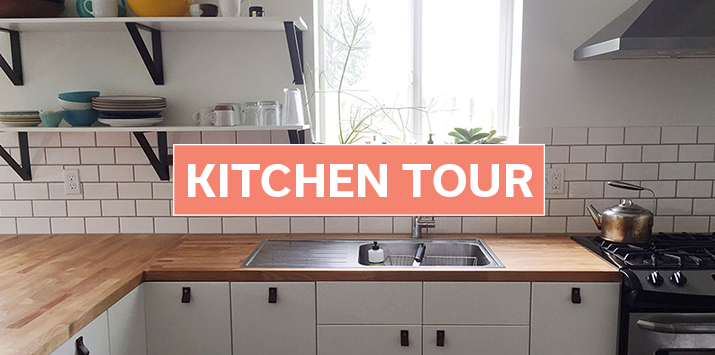 AIP Kitchen Tour is a monthly feature in which we profile a member of the AIP community and their kitchen setup in hopes that it will further inspire us to get our kitchens organized and set up for success! We've interviewed folks who are making the AIP lifestyle a reality in everything from college dorms and small city apartments, to large households with non-AIP family members, and everything in between. Through these interviews, we hope to share how they make it happen across a variety of budgets and living situations, and give the community a wealth of inspiration. Read more Kitchen Tours here!
Name: Beth Chen 
Location: San Diego CA
AI Disease:
My diagnosis is different depending upon whom you ask and therefore, I live in limbo. I don't quite have an autoimmune disease but I'm not well. I have similar symptoms to a lot of AI diseases just without a diagnosis. I'm definitely on the autoimmune spectrum though. I eat AIP to relive my symptoms and help prevent a full blown autoimmune disease, if that's possible.
How long have you been eating AIP?
I stumbled upon the Autoimmune Protocol diet in the fall of 2016 after years of poor health.
Have you successfully reintroduced any foods?
Unfortunately, I went through a set back a few months ago and I ended up losing additional foods. I haven't really had the chance to reintroduce anything yet. At this point, being able to eat strict AIP would be a dream!
How has the AIP changed your life?
I was sick for years and constant pain really changes a person. I went from optimistic, energetic and happy to frustrated, exhausted and miserable. While I haven't been able to reintroduce any foods yet, I now have energy and a much more positive outlook on life. I'm able to keep up with my toddler. Parenting and life in general has become a joy not a drain.

Size of your kitchen:
The kitchen is about the size of my first apartment. When we bought this place, we wanted to build a kitchen that our entire family could enjoy. We have a large family so that meant a large kitchen. It includes a large island, large oven and a dining table that seats 10. The kitchen seems even larger because it flows into the dining room and we have a large sliding door that open up to the outdoors and our little garden.

Favorite thing about your kitchen:
I love my pot filler. I have a lot of muscle weakness and stiff joints in my hands, which makes it difficult to fill a giant pot and carry it from the sink to the stove. I think my husband loves it too because it means he no longer has to pause his beloved football games on tv to help me fill pots when I'm cooking. I also love my garden. I have three raised beds right off of the dining room. We raised the beds so that I wouldn't have to kneel and bend over too far to tend to the plants. It's so nice to be so close and connected to some of our food. We have some extra room in our yard where I'm hoping to add additional beds so that I can grow some serious food. Right now it's mostly herbs and just playing around with different veggies.
Least favorite thing about your kitchen:
I wish we had room for a side-by-side full-size fridge and freezer. I know it's a luxury to have but it would be so convenient. When I'm cooking for family, which could easily be 20 people, the fridge just never seems big enough. My freezer also fills up with homemade bone broth and frozen bulk meat really quickly.
Are there any cheap gadgets or little tools that you have found make AIP easier?
I'm not much of a gadget person but I love my slow cooker. It's a bone broth-making machine. I make broth at least once a week and I don't know what I'd do if I had to make it on the stove. It's such a time saver.

What is the biggest thing that changed in your kitchen setup when you adopted the AIP?
My pantry became bare. I've always had a healthy lifestyle so my fridge was always packed with veggies. I just didn't realize how much processed foods I included in my diet. All those pre-packaged snacks, pasta and can goods disappeared from my pantry.
If someone was just starting to invest in some useful but more expensive kitchen tools, which one would you tell them to buy first?
I'd suggest buying a Vitamix. Don't mess around with a cheaper version because you'll be incredibly frustrated. Being sick already makes your life harder; you don't need extra frustration in the kitchen.
Are there any tricks you have learned to make AIP work in your space?
I'm lucky that we were able to design the space to suit my needs.
How do you deal with food for family members that are not AIP?
My family eats what I cook which is mostly AIP and paleo. My husband is very patient and mostly enjoys what I make. My son is just too young to know anything else. However, when extended family visits, it's not realistic for them to eat AIP so I do cook family recipes for them. Most of the time it doesn't bother me to cook food I can't eat as long as it's still relatively healthy fare. I enjoy cooking and making food that my family will enjoy.
Are there any tools or appliances that you've stopped using now that your diet has changed?
My Chemex coffee maker is collecting dust is a cabinet. I only bring it out for visitors now. I also have a pasta maker that I received as a wedding present that I've never been able to use.
What are your favorite meals to batch cook?
I love making a big batch of my Plantain Waffles or Don't Eat the Spatula's No Egg Waffles.
What are your favorite AIP and Paleo cookbooks?
I'm really curious about A Squirrel in the Kitchen's Simple French Paleo cookbook but I haven't purchased it yet. At this point, my diet is so restricted that I'm rarely able to use recipes as is. I rely on a lot of blogs for recipe inspiration. I love Gutsy by Nature, Meatified and Grazed and Enthused. There are so many good ones!
Do you have any tips for those starting an elimination diet and setting up their kitchens for the first time?
I already had a restricted diet when I started the AIP diet and it was still hard to adjust. I would recommend slowing removing foods from your diet instead of just going cold turkey. It's less overwhelming that way. The Paleo Mom has printouts that list what's ok and not ok to eat when going AIP. I keep those hanging in my kitchen so I don't have to dig around when I'm not sure if a foods is ok to eat. Meal planning is essential so that you don't feel deprived. I'm working on a meal plan that works for a family of four to offer through my blog. Having a meal plan with tested recipes and a shopping list makes life a lot easier. It's something I wish I had when I started out.

You can find out more about Beth on her blog, Bon AIPpetit. Check out pics of her garden, recipes and toddler on Instagram, Twitter, Pinterest and Facebook.
Would you like to be featured in an AIP Kitchen Tour? We feature members of the community who are willing to share the real spaces where they cook, as well as their stories of transitioning to this lifestyle. If you are interested, fill out our interest form!