This post contains affiliate links. Click here to see what that means!
In order to support our blogging activities, we may receive monetary compensation or other types or remuneration for our endorsement, recommendation, testimonial, and/or link to any products or services from this blog.
That being said, we only promote authors, products, and services that we wholeheartedly stand by!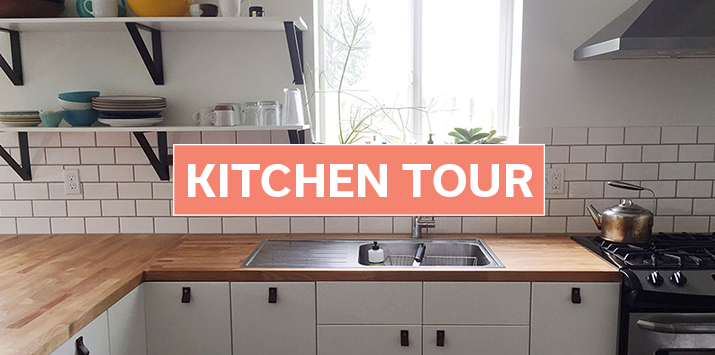 AIP Kitchen Tour is a monthly feature in which we profile a member of the AIP community and their kitchen setup in hopes that it will further inspire us to get our kitchens organized and set up for success! We've interviewed folks who are making the AIP lifestyle a reality in everything from college dorms and small city apartments, to large households with non-AIP family members, and everything in between. Through these interviews, we hope to share how they make it happen across a variety of budgets and living situations, and give the community a wealth of inspiration. Read more Kitchen Tours here!
Name: Elise Crawford
Location: Tallahassee, Florida, USA
AI Disease: Ulcerative colitis and ankylosing spondylitis

How long have you been eating AIP? Almost 3 years

Have you successfully reintroduced any foods? 
I have yet to do a very methodical reintroduction process. But I've gotten to the point that I can eat at some restaurants successfully, even Chipotle! I just get the carnitas and guac and eat it with plantain chips. It's a helpful option when we're traveling. I have some grass-fed ghee on the top shelf of my pantry waiting for me to try it out. So maybe I'll try a reintroduction with that soon.
How has the AIP changed your life?
In so many ways! Even though I was already gluten- and dairy-free before switching to AIP, I experienced so much relief from digestive symptoms after starting AIP. That's how I knew it was a good path to stick to. AIP opened up a world of understanding of my body and it's challenges, and what it actually needs to heal and thrive.
The world of functional medicine and autoimmune disease has become one of my favorite areas to read about and explore. I've also learned that I love cooking! Lastly, I think that AIP saved me from the road I was on of needing more and more medications just to keep inflammation, fatigue and flares at bay. Now I'm even looking at the possibility of being on less medication!
Size of your AIP kitchen: 9 x 12 feet
Favorite thing about your kitchen: 
I really enjoy how spacious it is. Not that there's a ton of counter space, but just that the room itself is big. There's also some open shelves that look into the living room, which is a fun feature. But mostly, I like looking out the window while I'm cooking or standing at the sink, especially around sunset.
Least favorite thing about your kitchen:
Probably the silly green countertops.
Are there any cheap gadgets or little tools that you have found make AIP easier?
A cast iron skillet! It's very helpful for batch cooking or cooking meat without a grill, especially since you can put it in the oven.
What is the biggest thing that changed in your kitchen setup when you adopted the AIP?
Well, I started AIP during my last semester of college while I was living with roommates. So, there wasn't much of a setup. I guess my shelf in the pantry was a lot emptier and my shelf in the fridge grew much fuller. But overall, AIP has probably led me to have a lot more kitchen tools as I've grown fond of cooking and have accumulated them as gifts over the years.
If someone was just starting to invest in some useful but more expensive AIP kitchen tools, which one would you tell them to buy first?
Instant Pot! I use mine probably a couple times a week. And it makes things like making bone broth and coconut yogurt so easy! We also love our Berkey water filter.
Are there any tricks you have learned to make AIP work in your space?
Not that I can think of. Honestly, I think AIP is possible almost anywhere you have a kitchen. It's just a matter of developing new habits and rhythms. I even did AIP while I was in Japan for two months!
How do you deal with food for family members that are not AIP?
My husband doesn't eat AIP, so we have plenty of non-AIP food in the house. It honestly doesn't really bother me. I've had dietary restrictions for almost ten years, so I think I'm used to not being able to eat most things other people are eating. But he loves everything I cook! So we'll eat the same meal for dinner, though he might have rice when I have cauliflower rice.
Are there any tools or appliances that you've stopped using now that your diet has changed?
I guess I don't use the toaster too often.
What are your favorite meals to batch cook?
Breakfast hashes! I normally cook my breakfast meals in bulk and then eat off of it for three or four days. My favorite one is the Moroccan-Inspired Breakfast Skillet. I just made it this morning! I also like batch cooking stews and soups, like chicken curry!
What are your favorite AIP and Paleo cookbooks?
I have The Autoimmune Paleo Cookbook and Paleo Principles. I also use some e-book cookbooks, especially The Paleo AIP Instant Pot Cookbook. But often I'll just use Pinterest.
Do you have any tips for those starting an elimination diet and setting up their kitchens for the first time?
Start simply and find ways that make AIP work for your budget. I have found that shopping at Costco, Thrive Market (online), and Earth Fare have helped make AIP possible for me. You don't have to have the perfect kitchen with all the gadgets to make foods that help you heal. Also, I wish that I had emphasized the nutrient-density and lifestyle focuses of AIP from the start, rather than just the food restrictions.
If you'd like to learn more about Elise, you can follow her on Instagram.
Would you like to be featured in an AIP Kitchen Tour? We feature members of the community who are willing to share the real spaces where they cook, as well as their stories of transitioning to this lifestyle. If you are interested, fill out our interest form!