This post contains affiliate links. Click here to see what that means!
In order to support our blogging activities, we may receive monetary compensation or other types or remuneration for our endorsement, recommendation, testimonial, and/or link to any products or services from this blog.
That being said, we only promote authors, products, and services that we wholeheartedly stand by!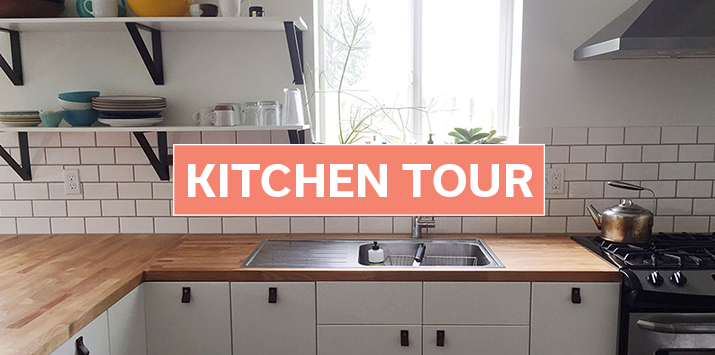 AIP Kitchen Tour is a monthly feature in which we profile a member of the AIP community and their kitchen setup in hopes that it will further inspire us to get our kitchens organized and set up for success! We've interviewed folks who are making the AIP lifestyle a reality in everything from college dorms and small city apartments, to large households with non-AIP family members, and everything in between. Through these interviews, we hope to share how they make it happen across a variety of budgets and living situations, and give the community a wealth of inspiration. Read more Kitchen Tours here!
Name: Cindy Santa Ana

Location: Northern VA
AI disease: Hashimoto's thyroiditis
How long have you been eating AIP? Modified AIP for about 10 years now
Have you successfully reintroduced any foods?
I removed gluten, dairy, soy, corn and refined sugar about 10 years ago. I had to remove eggs for a short time and dark chocolate (because I was indulging too much). But I eat most spices and nuts and seeds and tolerate them well.
How has the AIP changed your life?
Eating an AIP diet has kept my Hashimoto's flares in check. I haven't been sick in 10 years (I used to get frequent sinus infections and bronchitis 2-3 times per year). I feel better, lost 50 lbs initially and have more energy. I also got my migraine headaches under control.
Size of your AIP kitchen: A few hundred square feet
Favorite thing about your kitchen:
I love the layout, the marble counters, the double wall oven, and the cooktop. This is a new home for us and the kitchen and adjacent sunroom was the selling point for me! It's large enough for several people and I can lead cooking classes online or in-person here. I already held two retreats for women to include nutrition workshops and cooking classes in the sunroom and kitchen.
Least favorite thing about your kitchen:
Honestly, nothing! I'd love to have an appliance garage to hide a few small appliances, but I love it all!
Are there any cheap gadgets or little tools that you have found make AIP easier?
Some of my favorite tools are my microplane grater — I use that for grating ginger into stir frys, lemon or lime zest over a Thai dish, or orange zest into my Instant Pot when making Mexican shredded pork. I love my stainless steel garlic press and citrus press and stainless measuring cups and spoons.
What is the biggest thing that changed in your kitchen setup when you adopted the AIP?
Probably the biggest thing that changed was the contents of my fridge. I store a lot of gluten-free flours, jars and jars of nuts, seeds, and fermented foods. Sometimes the interior of my fridge looks like a lab with 20-30 mason jars! I keep my ferments, GF sourdough starter, homemade jams, and elderberry syrups there. I had to get a label maker to keep it all straight.
If someone was just starting to invest in some useful but more expensive kitchen tools, which one would you tell them to buy first?

A good chefs knife is key — something that fits your hand and isn't too heavy or light. A few stainless steel pans (an omelet pan, skillet, and saucepan are key). I love my Instant Pot because of its versatility. A food processor is great for making homemade sauces, pesto, granola bars, and protein balls — I use mine quite a bit.
Are there any tricks you have learned to make AIP work in your space?
My one kitchen hack is to go big with your cutting board. You need space to work. Prepping and chopping vegetables takes space. Don't go small. I set up bowls to catch my compost pile and bowls to add to my saucepan.
How do you deal with food for family members that are not AIP?
The rest of my family doesn't follow an AIP diet, but they benefit from it because as the main chef in the family, they eat what I prepare. Sometimes my teens will give pushback to "another stir-fry!!" but I try to make fun dishes for them sometimes too. I'll get organic potato chips made with avocado oil and crush them and coat chicken tenders and bake those. That's their favorite "off-book" food.
Sometimes I experiment and it doesn't work, but they don't mind being my guinea pigs for new recipes — they actually help me with recipe creation.
Are there any tools or appliances that you've stopped using now that your diet has changed?
Well, I definitely got rid of my deep fryer and I haven't used my fondue pot in years. I don't use non-stick cookware or appliances with non-stick surfaces.
What are your favorite meals to batch cook?
I typically only batch cook loads of chicken or turkey stock and soups. I will batch cook spinach tortillas to keep frozen and gluten-free sourdough.
What are your favorite AIP and Paleo cookbooks?
I have dozens of AIP cookbooks, but use a lot of my own creations as well. I use Practical Paleo, The Paleo Approach, The Healing Kitchen, and Mediterranean Paleo Cooking the most.
Do you have any tips for those starting an elimination diet and setting up their AIP kitchens for the first time?
The first thing I did years ago was empty everything out of my pantry and read every single label. I tossed all the processed foods with hydrogenated oils, high fructose corn syrup, and preservatives. This allowed me to search for higher quality products and find replacements for the big offenders, like condiments and flours, and sugars.
Keeping a food journal can be helpful when eliminating certain foods and tracking your symptoms.
You can connect with Cindy on Instagram, Facebook and her website, Unlock Better Health. 
Would you like to be featured in an AIP Kitchen Tour? We feature members of the community who are willing to share the real spaces where they cook, as well as their stories of transitioning to this lifestyle. If you are interested, fill out our interest form!