This post contains affiliate links. Click here to see what that means!
In order to provide the free resources here on the Autoimmune Wellness website and social media channels, we may accept a commission or other support for our endorsement, recommendation, or link to a product or service in this post.
That being said, we only promote authors, products, and services that we use ourselves and wholeheartedly stand by. To learn more about how we earn money here on Autoimmune Wellness, head on over to our Promotional Policy.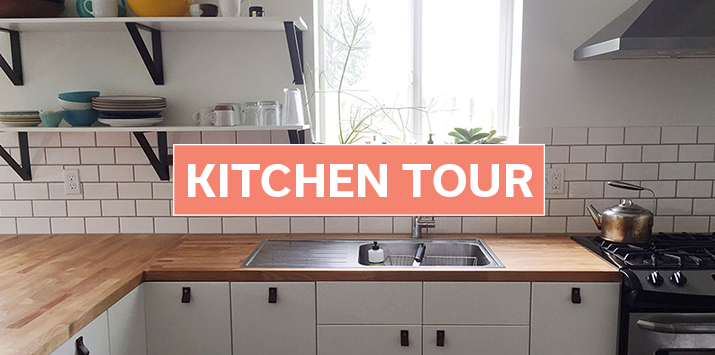 AIP Kitchen Tour is a monthly feature in which we profile a member of the AIP community and their kitchen setup in hopes that it will further inspire us to get our kitchens organized and set up for success! We've interviewed folks who are making the AIP lifestyle a reality in everything from college dorms and small city apartments, to large households with non-AIP family members, and everything in between. Through these interviews, we hope to share how they make it happen across a variety of budgets and living situations, and give the community a wealth of inspiration. Read more Kitchen Tours here!
Name: Devona Bell
Location: I live in Montana right now, but will be relocating back to my farm in Check, Virginia.

AI Disease: Celiac and thyroid nodules
How long have you been eating AIP? 8 years
Have you successfully reintroduced any foods?
Yes; some seeds and nuts, peas, and wine (only wine that is biodynamic and beyond organic). Strangely there are AIP foods that I still can't tolerate: broth, fermented foods, coconut cream are some. For a while I was able to have cacao and was making my own chocolate, but seems I cannot have it again.
How has the AIP changed your life?
I am well. I was very sick: horrendous gut issues, skin issues, hair falling out, and hormone imbalances. AIP literally has saved me. I am very happy eating AIP and don't ever cheat, as that isn't even in my thinking. I have a healthy mind and body eating AIP. My belly is at peace instead of at war and in agony. My skin is healthy and my hair is nice and full. My body is in balance all due to AIP! It has completely changed my life through giving me my health back!
Size of your AIP kitchen: Approximately 15 feet x 20 feet with a huge walk-in pantry.
Favorite thing about your kitchen:
I love the windows looking out on my beautiful farm and woods. The huge pantry is also heavenly! It fits all of my fun kitchen tools. I just recently got new appliances and redid the cabinets and counters. It is so pretty now. 🙂

Least favorite thing about your kitchen:
There is not much I don't love about my kitchen. Underneath of the kitchen sink, the cabinet bottom needs repairing. Oh, I really don't like when there is a long period of freezing weather that the kitchen plumbing is on an outside wall and can freeze if I don't leave the cabinets open and keep warm air circulating. That really is no fun. I spend a lot of time in the kitchen, so I make it a happy place!
Are there any cheap gadgets or little tools that you have found make AIP easier?
I love my Cuisinart hand blender and my citrus hand press too.
What is the biggest thing that changed in your kitchen setup when you adopted the AIP?
My Vitamix was a game changer! I couldn't do AIP well without it. I also can a lot now and generally have a lot of produce from the garden and fruit trees in the kitchen.
If someone was just starting to invest in some useful but more expensive AIP kitchen tools, which one would you tell them to buy first?
Vitamix!

Are there any tricks you have learned to make AIP work in your space?
Having a separate big freezer is essential for me. I love having it full of ethically raised pastured pork and beef. Buying or raising my own meat by the whole animal and storing it in the freezer is so important to my cooking and eating lifestyle. I love having the freezer space to store fresh produce from the farm for the cold/off season.
How do you deal with food for family members that are not AIP?
I keep separate cutting boards from my kids that aren't AIP. I also keep separate areas/shelves in the pantry. We share meals, but not all of the items. Meaning, sometimes I'll make my girls meat and cheese quesadillas and I'll have the same meat, but over a salad. It's a bit more work, but I don't mind.
Are there any tools or appliances that you've stopped using now that your diet has changed?
I am no longer using my iron skillets because I felt that the patina they had was likely contaminated. I haven't found one that I feel comfortable with because they all come pre-seasoned with oil I don't trust. I gave away my old ones. I've switched over to Le Creuset for almost all of my cooking needs. For a frying pan I have an All Clad.
What are your favorite meals to batch cook?
My Asian meatball recipe is delicious and great in large batches. I generally only cook in big batches and then freeze in portions. Other good recipes are salmon patties, beef Bourguignon, beef/pork roasts, roasted veggies, cottage pie, my un-stuffing for the holidays, cranberry sauce, plantain wraps…

What are your favorite AIP and Paleo cookbooks?
I'm now at the stage where I can use my old Julia Child's cookbook, and others, and know how to replace items I don't eat. I'm super grateful for Mickey's first cookbook, The Autoimmune Paleo Cookbook, and still rely on it! I also love Phoenix Helix's AIP recipe roundup.
Do you have any tips for those starting an elimination diet and setting up their kitchens for the first time?
I found it really important to make my kitchen and home gluten-free. Since wheat flour can easily contaminate many surfaces, I had to get it all out of my home.
If you'd like to learn more about Devona's AIP journey, you can find her on her website, DevonaBell.com. 
Would you like to be featured in an AIP Kitchen Tour? We feature members of the community who are willing to share the real spaces where they cook, as well as their stories of transitioning to this lifestyle. If you are interested, fill out our interest form!