This post contains affiliate links. Click here to see what that means!
In order to support our blogging activities, we may receive monetary compensation or other types or remuneration for our endorsement, recommendation, testimonial, and/or link to any products or services from this blog.
That being said, we only promote authors, products, and services that we wholeheartedly stand by!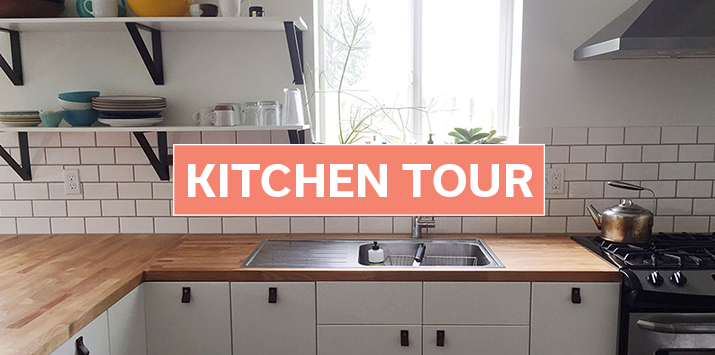 AIP Kitchen Tour is a monthly feature in which we profile a member of the AIP community and their kitchen setup in hopes that it will further inspire us to get our kitchens organized and set up for success! We've interviewed folks who are making the AIP lifestyle a reality in everything from college dorms and small city apartments, to large households with non-AIP family members, and everything in between. Through these interviews, we hope to share how they make it happen across a variety of budgets and living situations, and give the community a wealth of inspiration. Read more Kitchen Tours here!
Name: Mary Hope Willard
Location: Nashville, Tennessee, USA
AI Disease: psoriatic arthritis, psoriasis

How long have you been eating AIP? Over two years, since October 2016
Have you successfully reintroduced any foods? Egg yolks have been my only successful reintroduction so far.
How has the AIP changed your life?
Following the AIP diet has relieved my psoriatic arthritis symptoms significantly. When I was initially diagnosed, it gave me hope that my arthritis could be managed by diet, and I have not had to take medication yet. It's allowed me to live life with less pain, so I can do things I love with people I love! If I veer off the protocol (coffee and sweets are two of my weaknesses) I feel the side effects shortly afterwards.
Size of your AIP kitchen: Small one-bedroom apartment kitchen
Favorite thing about your kitchen: 
My favorite thing about my kitchen is the open floor plan and the bar. When my fiance is visiting he can sit at the bar and talk while I cook, and we eat meals at the bar all the time! Cooking at home is pretty much my favorite date night.
Least favorite thing about your kitchen:
My least favorite thing about my kitchen is the stove top. It has four burners: two large, two small. One day I would love to have four large burners for batch cooking!
Are there any cheap gadgets or little tools that you have found make AIP easier?
Stainless steel everything (pans, kitchen utensils, mixing bowls)! It reduces toxic load, especially when dealing with hot food, and it's easy to clean. I use a $10 vegetable spiralizer that works well on zucchini and squash in the summer time. A good, sharp kitchen knife for chopping vegetables is probably my most-used tool.
What is the biggest thing that changed in your kitchen setup when you adopted the AIP?
The biggest change in my kitchen was that my pantry basically became non-existent. Because I'm primarily cooking fresh foods, I have very little food (or sometimes even no food) in my pantry. When friends visit, it kind of freaks them out! Haha.
If someone was just starting to invest in some useful but more expensive AIP kitchen tools, which one would you tell them to buy first?
The Instant Pot OR a high-speed blender/food processor are equally a great investment. I use my Instant Pot almost exclusively to make bone broth, and it's worth it for that alone.
Are there any tricks you have learned to make AIP work in your space?
Making AIP work in the spaces I've lived in over the last two years has mostly come down to being disciplined about what I put in my grocery cart. As long as you have a stove top, an oven, and a refrigerator, you can follow the AIP diet — the hard part is sticking with only buying foods that fit the protocol.
How do you deal with food for family members that are not AIP?
Fortunately I'm not super tempted by non-AIP foods anymore. I've felt the consequences too many times! It's so kind when friends and family members try to prepare food that's AIP friendly. Just in case ingredients aren't safe (despite their best efforts!), I sometimes bring a to-go box of salad from Whole Foods to family/friend events. I can always throw a protein on top depending on what's being served.
Are there any tools or appliances that you've stopped using now that your diet has changed?
I've gotten rid of all my plastic storage containers and plastic kitchen utensils, as well as all non-stick cookware, to cut down on toxins.
What are your favorite meals to batch cook?
Sauteed veggies (broccoli, cauliflower rice, kale, sweet potato, butternut squash — these are some of my favorites!), and grass-fed beef patties. So easy to throw into a container for lunch, or to reheat for dinner. Let's be real, sometimes I eat this for breakfast too.
What are your favorite AIP and Paleo cookbooks?
Made Whole by Cristina Curp, and The Healing Kitchen by Alaena Haber and Sarah Ballantyne.
Do you have any tips for those starting an elimination diet and setting up their kitchens for the first time?
Clear out your cabinets and refrigerator as much as you can to get rid of non-compliant foods, and restock with the AIP foods you can eat! Start simple with veggies, healthy fats for cooking, and a high quality protein. Frozen organic broccoli and cauliflower rice are great to have on hand at all times for quick veggies to throw in a pan. Frozen wild caught salmon is a staple for me too!
If you'd like to learn more about Mary's AIP journey, you can follow her on Instagram.
Would you like to be featured in an AIP Kitchen Tour? We feature members of the community who are willing to share the real spaces where they cook, as well as their stories of transitioning to this lifestyle. If you are interested, fill out our interest form!