This post contains affiliate links. Click here to see what that means!
In order to provide the free resources here on the Autoimmune Wellness website and social media channels, we may accept a commission or other support for our endorsement, recommendation, or link to a product or service in this post.
That being said, we only promote authors, products, and services that we use ourselves and wholeheartedly stand by. To learn more about how we earn money here on Autoimmune Wellness, head on over to our Promotional Policy.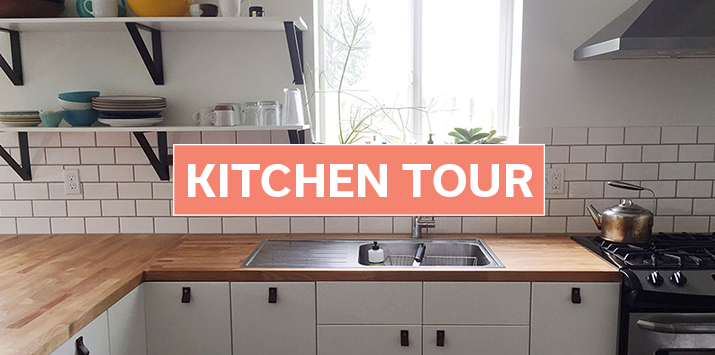 AIP Kitchen Tour is a monthly feature in which we profile a member of the AIP community and their kitchen setup in hopes that it will further inspire us to get our kitchens organized and set up for success! We've interviewed folks who are making the AIP lifestyle a reality in everything from college dorms and small city apartments, to large households with non-AIP family members, and everything in between. Through these interviews, we hope to share how they make it happen across a variety of budgets and living situations, and give the community a wealth of inspiration. Read more Kitchen Tours here!
Name: Janice LaFontaine
Location: Greater Seattle area
AI Disease: Graves' disease
How long have you been eating AIP? About 6 months
Have you successfully reintroduced any foods?
Yes: Eggs, nuts (almonds, hazelnuts, walnuts), tomatoes, ashwagandha, black pepper, adzuki beans.
How has the AIP changed your life?
AIP has allowed me to have more energy naturally, is helping towards my healing from Graves disease and has reduced my symptoms so that I am now able to get enough quality sleep, stabilize a normal heart rate, maintain a healthy weight, seeing improved numbers in my lab work, manage stress better and develop a resilience to stress.
AIP has allowed me to be so in tune with my body and know exactly what it needs, because when I don't do things like get the right amount of sleep, or I overdo it with work or exercise, or fail to practice some stress management techniques, I can feel the effects of it right away!
Size of your AIP kitchen: 10 feet x 18 feet
Favorite thing about your kitchen:
After having our remodel, the open layout, how much countertop space we have and where we store things in our kitchen is my favorite things about it! It's all within close reaching distance to cooking appliances and the sink.
Least favorite thing about your kitchen:
That too many people can get through the kitchen space now LOL. We have our English Mastiff and two young boys running through it all the time when I'm in there cooking!
Are there any cheap gadgets or little tools that you have found make AIP easier?
Quart sized mason jars with wide mouths and white plastic, BPA-free lids that are less bothersome to deal with than the silver two-piece lids they come with.
What is the biggest thing that changed in your kitchen setup when you adopted the AIP?
Ingredients! I got rid of the non-compliant AIP ingredients that was taking up space in our cupboards like dried beans and lentils, cornmeal, sugar, etc. to make room for the AIP compliant ingredients such as cassava flour, tigernut flour, arrowroot starch, canned coconut milk, unsweetened coconut chips, etc.
If someone was just starting to invest in some useful but more expensive AIP kitchen tools, which one would you tell them to buy first?
The Cuisinart TOA-60 Convection Toaster/Air Fryer, or something similar to it! It's great to reheat batch cooked meals pretty quickly, as well as cook/bake/toast/air fry smaller items in rather than having to fire up an entire full sized oven. I use ours multiple times a day!
Are there any tricks you have learned to make AIP work in your space?
Cooking one-pot meals in the crockpot or Instant Pot, or single-meal trays in the oven help a ton with minimizing clean-up duty!
Chop and prep your ingredients in bulk — sweet potatoes, parsnips, onions, garlic, leafy greens, etc. — so they're put away nicely and ready to go in your fridge and not taking up counter or shelf space.
How do you deal with food for family members that are not AIP?
Sometimes I'll just give them add-on's to what I eat such as cheese or bread as a special treat, tomato-based sauces, nuts, rice noodles, peanut sauce, etc.
Are there any tools or appliances that you've stopped using now that your diet has changed?
Not necessarily because of my diet, but we rarely use our microwave now that we have the Cuisinart TOA-60 Convection Toaster/Air Fryer.
What are your favorite meals to batch cook?
Curry, soups, roasted veggies, whole chickens, meat patties.
What are your favorite AIP and Paleo cookbooks?
The Nutrient Dense Kitchen, The Autoimmune Protocol Comfort Food Cookbook, The Autoimmune Solution Cookbook.
Do you have any tips for those starting an elimination diet and setting up their kitchens for the first time?
Yes, removing the non-compliant ingredients and foods are key but finding AIP compliant ones to replace them with helps you not feel like you're so deprived.
Also, having a single-page printout in your kitchen of the things that are both allowed and not allowed on AIP for easy accessibility is super helpful.
If you'd like to learn more about Janice's AIP journey, you read about her experience on her website, and find her on Instagram.
Would you like to be featured in an AIP Kitchen Tour? We feature members of the community who are willing to share the real spaces where they cook, as well as their stories of transitioning to this lifestyle. If you are interested, fill out our interest form!