This post contains affiliate links. Click here to see what that means!
In order to provide the free resources here on the Autoimmune Wellness website and social media channels, we may accept a commission or other support for our endorsement, recommendation, or link to a product or service in this post.
That being said, we only promote authors, products, and services that we use ourselves and wholeheartedly stand by. To learn more about how we earn money here on Autoimmune Wellness, head on over to our Promotional Policy.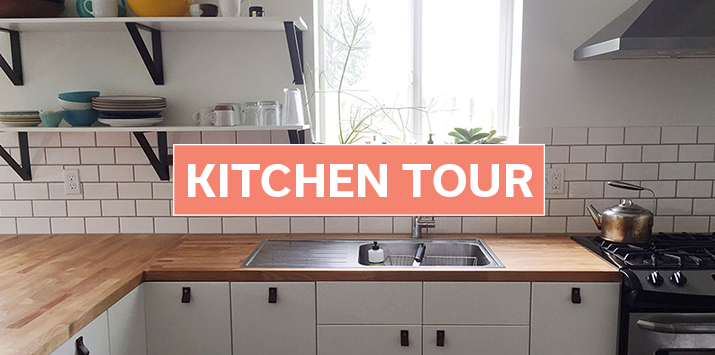 AIP Kitchen Tour is a monthly feature in which we profile a member of the AIP community and their kitchen setup in hopes that it will further inspire us to get our kitchens organized and set up for success! We've interviewed folks who are making the AIP lifestyle a reality in everything from college dorms and small city apartments, to large households with non-AIP family members, and everything in between. Through these interviews, we hope to share how they make it happen across a variety of budgets and living situations, and give the community a wealth of inspiration. Read more Kitchen Tours here!
Name: Jennifer Lindberg
Location: Indiana

AI Disease: autoimmune thyroid Graves' disease
How long have you been eating AIP? 3 years
Have you successfully reintroduced any foods? Eggs
How has the AIP changed your life?
It's made me more aware to be grateful for what I do have and to appreciate the good days when I'm checking all the AIP boxes. As you know thyroid disorders can cycle and I go from weight gain to weight loss, tired and not tired.
We moved to a little homestead about 12 years ago to eat more healthy but we still ate a lot of gluten and carbs. When I was diagnosed with thyroid problems, we were already set up with really healthy, non-GMO, pasture-fed chickens that we raised and butchered, as well as pastured, non-GMO pigs. We just added pasture-feed cows this past year. We buy all organic now and really we don't shop from the center of the grocery store any more. We only shop the vegetables and frozen berry section. It's such a good feeling to walk in and just cruise the perimeter of the store!
Size of your AIP kitchen: 24 x 12 feet; eat-in kitchen
Favorite thing about your kitchen:
The view of our woods. My kitchen isn't great but my view is fabulous. I also like that my tiny office is right off the kitchen, where I can do my writing from home and still watch things on the stove.
Least favorite thing about your kitchen:
It's small and dated. I left a fabulous kitchen in the city. We didn't buy this place for the kitchen, but for the lifestyle the land could provide us. It's hard sometimes. I'd love one of those great farmhouse islands and for Joanna Gaines to come fix my kitchen. My reality is that I have to use what I have and be thankful that it's clean, has granite countertops and that I can still cook AIP without the grand island and super smart storage.
Are there any cheap gadgets or little tools that you have found make AIP easier?
My hand-held onion slicer.
What is the biggest thing that changed in your kitchen setup when you adopted the AIP?
I got rid of a lot of appliances and I had to get better organized having a place for "my stuff," to use. I also made up batches of spice mixes to save time. I never bothered before but having some pre-made AIP stuff has really helped.
If someone was just starting to invest in some useful but more expensive AIP kitchen tools, which one would you tell them to buy first?
A Vitamix blender. I use it every day. It makes my life so much easier and quicker. Second: My immersion soup blender, which saves time transferring items to the Vitamix. I'm busy with six kids and a successful freelance writing career so saving one step matters to me. The immersion blender is great!
Are there any tricks you have learned to make AIP work in your space?
Keeping things in clear jars helps me know when things are running out so I don't fall into a bad habit of substituting something I shouldn't.
How do you deal with food for family members that are not AIP?
I realized that I am doing this for me and my health. My husband and kids do eat healthy but still eat some gluten, and I do make them the traditional comfort mac and cheese and pasta sometimes (I'm half-Italian). I have to be patient and show them how it works for me. But now with all our fresh meat, it's easier. If they want a baked potato or mashed potatoes, I just do it for them. I either eat a salad or throw a sweet potato in the oven for myself.
I figure that I have to pick and choose when we do go out to eat, so I can do the same for my family and just deny myself the mashed potatoes they want. It's about serving yourself and your family in charity. It's not always an easy balance, but as time goes on they are eating more of my things and sometimes I have to say, "please save me some of those!"
Are there any tools or appliances that you've stopped using now that your diet has changed?
The bread machine!
What are your favorite meals to batch cook?
Egg muffins with egg and vegetables (again, eggs are a reintroduction for me). They're super easy in muffin tins to freeze. Also, hamburger and chicken to cut up and save for recipes later in the week.
What are your favorite AIP and Paleo cookbooks?
I only use four cookbooks and I rotate:
Do you have any tips for those starting an elimination diet and setting up their kitchens for the first time?
I made a comfort cabinet — or comfort cupboard — to house my pretty tea pots and high quality teas. But it also does double duty with my pottery mixing bowls and glass decanters I use for my AIP dressings. I love everything in that kitchen cabinet. It makes me happy to open it to a tea selection from dandelion to peppermint and a tea pot selection. It's like my little treat to keep me going and helped wean me off coffee.
Also, I embraced my diagnosis with an attitude of hope and "I'm worth doing this". You don't have to prove to anyone — doctors, family, etc. — that this will work. You need to do it for you because you matter. In case no one ever told you — you are beloved. You are not being selfish or picky or hard to deal with. There is hope for you through this diet!
Then go shopping with the list of foods that AIP says you can buy, and keep those for yourself on a shelf in your pantry or in a tub in your refrigerator so you can start!
Pick one meal you like from one of the AIP cookbooks. Just one or two and make those. Make those forever if you have to so you can get past the elimination part. I had to do that. I made apples and coconut crisp every other day for my snack as well. You get hungry and you need a healthy snack that won't set you back. Lastly, pick yourself out some HIGH quality teas. Comfort yourself. Have a cup of tea. Make it an event for yourself as you try to wean off coffee. Make those teas, dandelion, peppermint, your little treats!
If you'd like to learn more about Jennifer's AIP journey, you read about her experience on her blog, and find her on Instagram.
Would you like to be featured in an AIP Kitchen Tour? We feature members of the community who are willing to share the real spaces where they cook, as well as their stories of transitioning to this lifestyle. If you are interested, fill out our interest form!