This post contains affiliate links. Click here to see what that means!
In order to support our blogging activities, we may receive monetary compensation or other types or remuneration for our endorsement, recommendation, testimonial, and/or link to any products or services from this blog.
That being said, we only promote authors, products, and services that we wholeheartedly stand by!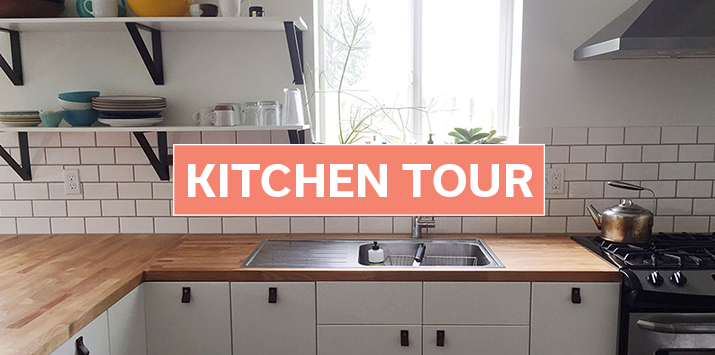 AIP Kitchen Tour is a monthly feature in which we profile a member of the AIP community and their kitchen setup in hopes that it will further inspire us to get our kitchens organized and set up for success! We've interviewed folks who are making the AIP lifestyle a reality in everything from college dorms and small city apartments, to large households with non-AIP family members, and everything in between. Through these interviews, we hope to share how they make it happen across a variety of budgets and living situations, and give the community a wealth of inspiration. Read more Kitchen Tours here!
Name: Jennifer Soper
Location: Brooklyn, New York, USA
AI Disease: Hashimoto's

How long have you been eating AIP? Since November 2016

Have you successfully reintroduced any foods? 
I can eat rice, eggs, nightshades and have decaf coffee without any noticeable reactions. I occasionally have dairy and alcohol but not very frequently. I would say that about 70-80% of what I consume is strictly AIP compliant.
How has the AIP changed your life?
Within one week of starting AIP, my Hashimoto's symptoms reduced dramatically (my symptoms were extreme hair shedding, frequent heart palpitations, very disrupted sleep, brain fog, anxiety/depression, very dry hair and skin, and probably more I can't think of right now)!
AIP was definitely the missing piece I had been looking for. Before discovering AIP, I had been seeing a nutritionist for a few months and had already fully cut out gluten and dairy and foods that showed up on a food sensitivity test as well as doing a candida reduction protocol but I was still having some Hashimoto's symptoms. I then read about AIP online and decided to try it. I was thrilled with the results (and how quickly they happened)! I knew I had found something special.
AIP has absolutely been one of the most powerful tools in helping to reverse my Hashimoto's which is almost in full remission at this point! It has been an incredibly empowering journey and I'm so grateful for having found out about it.
Size of your AIP kitchen:
I'm not sure of the exact measurements but it feels barely bigger than a shoebox. It's not an eat-in kitchen and no more than two people can fit in it comfortably.
Favorite thing about your kitchen: 
I guess I would say my new refrigerator, which my landlord let me get after my last one officially died. Also, my kitchen doesn't take very long to clean as it's so small!
Least favorite thing about your kitchen:
So hard to pick just one thing but if I had to pick I would have to say my lack of counter space! I have literally one square section to use for all food prep.
Are there any cheap gadgets or little tools that you have found make AIP easier?
My little food scraper comes to top of mind for a very cheap gadget that makes AIP life easier. It helps to transfer large amounts of chopped veggies/meat/fruits into pots/bowls/etc. It's better than using a knife as it can transfer more than a knife can and there's no risk of dulling your knife's blade (or cutting yourself!).
My veggie spiralizer is also a great tool as is my salad spinner! I use my salad spinner to rinse most of my greens and it stores greens perfectly for a good week in the refrigerator (even very delicate lettuces that otherwise would wilt quickly). Love that thing!
What is the biggest thing that changed in your kitchen setup when you adopted the AIP?
I initially got rid of everything that wasn't AIP compliant (sauces, dressings, flours, grains, etc). I felt bad wasting the unused portions but I knew I couldn't have them as they weren't good for my body and I needed to make space for those things that would bring healing instead. Everything else pretty much stayed the same as I don't have the space to do much rearranging!
If someone was just starting to invest in some useful but more expensive AIP kitchen tools, which one would you tell them to buy first?
A food processor! I cannot tell you what a life saver that thing is for me. I honestly use it 1-2 times a day and sometimes even 3 times in a day! I use it for morning breakfast smoothies (something I personally never had before changing my diet), ricing veggies, pureeing soups, processing shrimp to make shrimp cakes, etc.
Are there any tricks you have learned to make AIP work in your space?
Hmmm, I can't say that I've learned tricks to make AIP work in my physical space but what I will say is that finding a variety of tasty AIP compliant recipes has been a game changer for me emotionally.
Before going AIP, I loved trying new recipes and cuisines and was a bit of a foodie, so having to change to a very restricted diet was tough for me. Once I found a variety of great, tasty, AIP compliant recipes though, it was enormously helpful for me and made it a much more enjoyable journey! There are some incredibly tasty AIP compliant recipes out there that have helped me feel like I'm not missing out on much.
How do you deal with food for family members that are not AIP?
I live alone so I don't have to deal with the struggle of cooking for multiple people with different diets and food preferences. My friends and other loved ones are great about being mindful of what I can eat when I go to their places or when we go out to eat.
Honestly, people have been really intrigued by my health transformation and many people I know have changed their diets in one way or another after seeing/learning about my transformation. They haven't adopted AIP but they have changed their diets in ways that work for them and now know the power of food and nutrition. I have a lot of great people in my life.
Are there any tools or appliances that you've stopped using now that your diet has changed?
My kitchen is so small that I didn't have many tools or appliances to begin with so I can't say I've stopped using any of them since changing my diet. That being said, I barely use my muffin and cake pans anymore (last time I used them was when I tried an almond flour baked good — gluten is gone forever for me!).
What are your favorite meals to batch cook?
I LOVE Unbound Wellness' chicken sweet potato popper recipe but I make them with ground dark meat turkey. I make a batch of those and eat them as snacks and also add them as protein to salads. I love The Curious Coconut's nightshade-free marinara sauce. That particular recipe makes an enormous amount and lasts me for almost a full week. I add protein to it (sometimes I'll add ground meat or meatballs) and put it on top of roasted spaghetti squash for AIP spaghetti. I also like roasting a whole chicken with various veggies and eating that during the week.
I love roasting a big sweet potato (either cubed or cut into fry shape) and eating on that during the week. I eat sweet potatoes as my starch constantly! Most of the cooking I do is batch cooking so each thing I cook usually lasts me for four meals or more.
What are your favorite AIP and Paleo cookbooks?
The first AIP cookbook I checked out (literally from my library haha) was The Healing Kitchen by Alaena Haber and Sarah Ballantyne. That had some great recipes and gave me hope that not everything would be boring :). I then checked out The Paleo Healing Cookbook by Rachael Bryant. She's got some amazing recipes in there! And she had lots of modifications for omitting coconut which I appreciate because I don't want coconut in everything I eat (and it seems to be in many AIP recipes). I also love Healing Eats by Kate Jay. So thankful for all these creative, brilliant recipe developers!
Do you have any tips for those starting an elimination diet and setting up their kitchens for the first time?
Because they'll be doing a lot of cooking, I would say get a good, sharp knife (I've had a couple of Global knives for years and love them) as it will greatly expedite the food prep process.
Get rid of non-AIP compliant pantry items and stock up on good spices and AIP-compliant condiments (fish sauce, coconut aminos, good balsamic vinegar, etc). There's no need to skimp on taste! Also, find lots of tasty looking recipes that are diet compliant and don't be afraid to try new things! I eat so many things now that I didn't eat much of (if at all) previously.
Ironically, my elimination diet has introduced me to many more food than I ate before and all of the tasty recipes I've found (and some that I've created myself!) have kept me happy and satisfied (and most importantly, healthy).
If you'd like to learn more about Jennifer, you can follow her on Instagram.
Would you like to be featured in an AIP Kitchen Tour? We feature members of the community who are willing to share the real spaces where they cook, as well as their stories of transitioning to this lifestyle. If you are interested, fill out our interest form!