This post contains affiliate links. Click here to see what that means!
In order to support our blogging activities, we may receive monetary compensation or other types or remuneration for our endorsement, recommendation, testimonial, and/or link to any products or services from this blog.
That being said, we only promote authors, products, and services that we wholeheartedly stand by!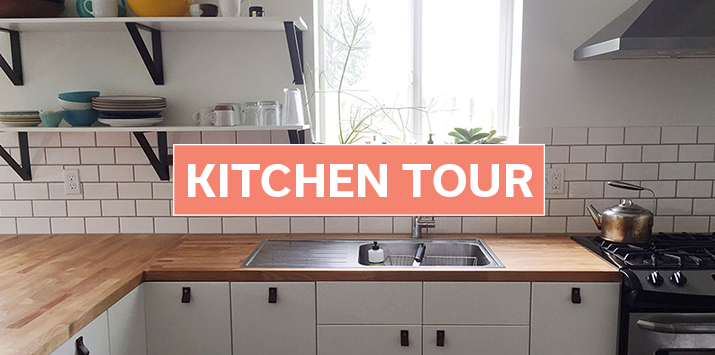 AIP Kitchen Tour is a monthly feature in which we profile a member of the AIP community and their kitchen setup in hopes that it will further inspire us to get our kitchens organized and set up for success! We've interviewed folks who are making the AIP lifestyle a reality in everything from college dorms and small city apartments, to large households with non-AIP family members, and everything in between. Through these interviews, we hope to share how they make it happen across a variety of budgets and living situations, and give the community a wealth of inspiration. Read more Kitchen Tours here!
Name: Jen Anson
Location: St. Johnsbury, Vermont, USA
AI Disease: Hashimoto's
How long have you been eating AIP? 3.5 years

Have you successfully reintroduced any foods?
Yes: chocolate (my personal favorite), seed spices, nuts and seeds in small amounts, and white rice in very small amounts. I've tried reintroducing eggs without much success sadly.
How has the AIP changed your life?
AIP has taught me how to use food to heal myself. I've always understood the power and connection between food and healing, but actually using the AIP to help heal my symptoms has been eye opening. Food is powerful medicine and everyday we get the chance to nourish ourselves at least three times a day.
AIP also gave me a sense of control over my symptoms and has taught me patience as healing can take a long time. I've also learned to eat different foods such as plantains and fennel, which previously I never used. I enjoy cooking and when I need a little inspiration, I turn to the many creative people out there who are using AIP compliant food in delicious and novel ways.
Size of your AIP kitchen: 18 feet x 12 feet
Favorite thing about your kitchen:
I like that when you enter our house, the kitchen is the first room that you come into. Even though it's small, our kitchen is the heart of our home and you can feel it when you walk in the door. Our home is an 1860's Victorian so it's a bit quirky, but that's why I like it. I also love our large fridge.
Least favorite thing about your kitchen:
It's pretty dark. The rest of our house gets a ton of sunlight, but the kitchen doesn't. We'd like to remedy that issue and take down a wall to open things up.
Are there any cheap gadgets or little tools that you have found make AIP easier?
I use silicone lids to keep leftover cans of coconut milk fresh in the fridge. I also use what's sold as a butter warmer, which lives on our stove, to melt coconut oil and heat up liquid. We don't have a microwave so this little pot is really helpful, and it adds some color to the kitchen.
What is the biggest thing that changed in your kitchen setup when you adopted the AIP?
I've had to be very deliberate about gluten cross-contamination. My son still eats bread, pasta, etc., so I bought a separate cutting board, utensils, sponges, etc. to keep things safe. I'm also amazed every week as to how many veggies we buy. We have all increased our veggie intake since I started AIP.
If someone was just starting to invest in some useful but more expensive AIP kitchen tools, which one would you tell them to buy first?
I love my Vitamix and use it daily whether it's for smoothies, making homemade coconut milk or pureeing soup. It was a gift from my husband and son for my birthday a few years back and I was a little hesitant due to the price, but it's worth every penny. I also love the Berkey water filter that we bought last year. We bought the big Berkey so we all drink lots more water than before.
Are there any tricks you have learned to make AIP work in your space?
Keep things simple. Invest in a a good blender, a large soup pot, good knives and various sized cutting boards, and you are good to go! Turn to other AIPers for recipe inspiration.
How do you deal with food for family members that are not AIP?
My son and husband do not eat AIP during the day, but for dinner we all eat the same thing. I think we all eat lots more vegetables than pre-AIP, which is a bonus for all of us! My son is allergic to peanuts and tree nuts, so we don't keep nuts in the house. I keep any tree nuts (which I've reintroduced) at my office at work. My son gets his own spot for snacks in the pantry as well.
Are there any tools or appliances that you've stopped using now that your diet has changed?
The toaster, rolling pin, pizza stone and cookie cutters are collecting dust, except for when my son makes himself a piece of toast.
What are your favorite meals to batch cook?
I have tried batch cooking but found it stressful. Sometimes on a Sunday I'll cook up chicken breasts or a whole bird to have for my lunch and my son's lunchbox during the week. The Vermont winters are long and many times it's too cold for a smoothie, so I'll cook up a pot of soup on the weekend and have that during the week. I make sure I have meal components ready to go for quick weeknight meals. Protein, veggies, healthy fats and a small amount of starchy carbohydrates are on my shopping list every week. I also found that having a plan, written out, for dinner each week makes cooking much easier and takes the stress out of thinking about dinner.
What are your favorite AIP and Paleo cookbooks?
Against All Grain
Well Fed Weeknights
Cooking for Hormone Balance
Made Whole
The Autoimmune Paleo Cookbook
The Healing Kitchen
Do you have any tips for those starting an elimination diet and setting up their kitchens for the first time?
I found that organizing my pantry using baskets is really helpful. Keeps things looking neat and it's much easier to find things. I also subscribe to Thrive Market, an online food retailer which sells many AIP compliant pantry items for a discounted price. It's really nice to have food that you use on a weekly basis delivered right to your door especially when you live in a rural area where some things are hard to find.
If you'd like to learn more about Jen's AIP journey, you can find her on Facebook. Website coming soon!
Would you like to be featured in an AIP Kitchen Tour? We feature members of the community who are willing to share the real spaces where they cook, as well as their stories of transitioning to this lifestyle. If you are interested, fill out our interest form!