This post contains affiliate links. Click here to see what that means!
In order to support our blogging activities, we may receive monetary compensation or other types or remuneration for our endorsement, recommendation, testimonial, and/or link to any products or services from this blog.
That being said, we only promote authors, products, and services that we wholeheartedly stand by!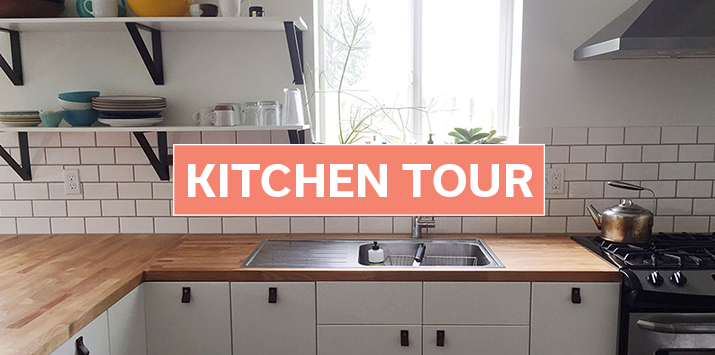 AIP Kitchen Tour is a monthly feature in which we profile a member of the AIP community and their kitchen setup in hopes that it will further inspire us to get our kitchens organized and set up for success! We've interviewed folks who are making the AIP lifestyle a reality in everything from college dorms and small city apartments, to large households with non-AIP family members, and everything in between. Through these interviews, we hope to share how they make it happen across a variety of budgets and living situations, and give the community a wealth of inspiration. Read more Kitchen Tours here!
Name: Jesse St Jean
Location: Southwestern Virginia (up in the mountains)
AI disease: Ulcerative colitis
How long have you been eating AIP? Since 2014 — about 7 years.
Have you successfully reintroduced any foods? Yes! I have successfully reintroduced dark chocolate (thank God!), egg yolks, nut- and seed-based spices, almonds in all forms and legumes with edible pods (green beans, string beans, peas, etc.).
How has the AIP changed your life?
AIP has radically changed my life for the better. Experiencing first-hand the power of food to change the trajectory of someone's health inspired me to switch career paths and become a Nutritional Therapist and AIP Certified Coach. It has taught me the importance of nourishing not only my physical body but my mind and spirit as well, because we only see lasting healing when all three are cared for. AIP has also taught me what's really important in life. Special occasions or social gatherings are so often centered around food, but is it really the food that's important in those moments or the connections with people?
As limiting as AIP may feel from the outside, it actually has allowed me to live a much fuller and vibrant life than I ever thought possible with chronic illness. My illness is no longer my primary stressor in life, so I feel more free to enjoy myself, time with loved ones, a career, and have space to dream about the future.
Size of your AIP kitchen: 10 feet by 8 feet (I started following AIP in my old college apartment kitchen that was the size of a shoebox!)
Favorite thing about your kitchen: 
I love the big island in my kitchen. It has so much storage and three deep pull out drawers that are perfect for storing all of my pots and pans and food storage containers. It also has two outlets on one end and a built-in book shelf on the other, perfect for my cookbooks and plugging in my food processor. I do almost all of my food prep on that island.
Least favorite thing about your kitchen: I always think my stove is too small. So I have to be strategic in my batch cooking sessions and make sure I use all of my tools optimally to get the most out of my time. My dream stove is an eight-burner gas range… but for now my four-burner electric works just fine.
Are there any cheap gadgets or little tools that you have found make AIP easier?
Mixing bowls are my go-to kitchen tool. I've found having several bowls out during food prep makes the process faster and more organized, so there is less mess to clean up at the end. I always dedicate one bowl as my "trash bowl" where all the food scraps are set aside for compost or garbage. The remaining bowls I use for organizing the vegetables I chop to either save for later in the week or whatever I'm about to cook.

What is the biggest thing that changed in your kitchen setup when you adopted the AIP?
I always make sure my kitchen is clean. This is partly because some members of my family do not eat AIP, so I'm very careful about cross contamination, but I also think cooking is hard in a messy or cluttered kitchen.
If someone was just starting to invest in some useful but more expensive kitchen tools, which one would you tell them to buy first?
A slow cooker! After 7 years I now have three in my collection. It may seem excessive, but I use them all weekly. A big slow cooker makes batch cooking so much easier because you can make so many different things at once – bone broth, soups, stews, vegetables, proteins… Plus it frees up the stove top and oven for other recipes.
Whenever I plan a big batch cooking session I always have at least one or two things planned to cook in the slow cooker. Plus I plan a "one-pot" meal that I can prepare and throw in a zip-lock bag to marinate until it's time to throw it in the slow cooker later in the week.
I think you can really get your money's worth investing in a big, quality slow cooker.
Are there any tricks you have learned to make AIP work in your space?
I adopted AIP when I was a junior in college and in a demanding degree program. So, making time to prepare food was always a challenge. Over the years I've learned a few tricks to speed up the process.
1) Plan your batch cooking sessions. I always write out on a piece of paper how I'm going to cook each item and in what order, so I know exactly what will be on the stove, in the oven, and in the slow cooker.
2) Prep all of your veggies before you start cooking. Having the read through a recipe, prep ingredients, and keep an eye on the stove really slows down the cooking process. If you're able to prep other veggies you plan to eat later in the week like sweet potatoes or leafy greens, chop them ahead of time. It'll turn that hour long dinner into 30-minutes.
3) Make one extra serving of dinner to eat as leftovers the following day. This can cut down on prep time over the weekend and you always know what you'll have to eat for lunch the following day.
How do you deal with food for family members that are not AIP?
I make sure that non-AIP food has a separate space in the pantry, spice cabinet, and fridge. I keep the food separate mostly out of concern for cross contamination, but in the beginning it was also out of temptation. After 7 years, I don't really struggle with temptation as much as I used to probably because I know how horrible I feel when I eat it, so it's just not worth it.
Are there any tools or appliances that you've stopped using now that your diet has changed?
I don't really use a blender anymore. In my pre-AIP my ulcerative colitis would flare so badly I couldn't digest solid food, so smoothies were always a go-to. I have found myself drinking them less and less over the years, so I actually got rid of my blender a few years ago!
What are your favorite meals to batch cook?
I love to batch cook breakfasts and prepare all of the elements for dinners throughout the week. I hate having to make breakfast every morning, so whenever I can make a big batch of breakfast hash, sausage patties, or AIP "no-atmeal" I feel good knowing I can wake up every morning to a nourishing meal.
Both my husband and I work full-time, so the easier I can make dinner prep the better. I like to marinate meats, prep veggies, or make sauces ahead of time that will come together to make dinner throughout the week. It brings the cooking time down from an hour to about 30 minutes each night.
What are your favorite AIP and Paleo cookbooks?:

Do you have any tips for those starting an elimination diet and setting up their AIP kitchens for the first time?
Have an organized kitchen and know where everything is. Keep your spices within easy reach of your stove, especially your salt. A little extra salt can make the most bland dishes taste amazing. Keep your knives sharp! Even the most inexpensive knives can cut beautifully if kept sharp.
Also, don't let not knowing all the tricks of the trade keep you from starting, especially if you're a new cook. You will learn what works best for you as you go, so just start! I've messed up quite a few meals over the years (my husband still won't eat fish stew to this day…) but you learn from your mistakes and continue to improve. The more you practice the more confident you will become!
You can connect with Jesse on her website, AIP Sisterhood, and on Instagram or Facebook.
Would you like to be featured in an AIP Kitchen Tour? We feature members of the community who are willing to share the real spaces where they cook, as well as their stories of transitioning to this lifestyle. If you are interested, fill out our interest form!