This post contains affiliate links. Click here to see what that means!
In order to provide the free resources here on the Autoimmune Wellness website and social media channels, we may accept a commission or other support for our endorsement, recommendation, or link to a product or service in this post.
That being said, we only promote authors, products, and services that we use ourselves and wholeheartedly stand by. To learn more about how we earn money here on Autoimmune Wellness, head on over to our Promotional Policy.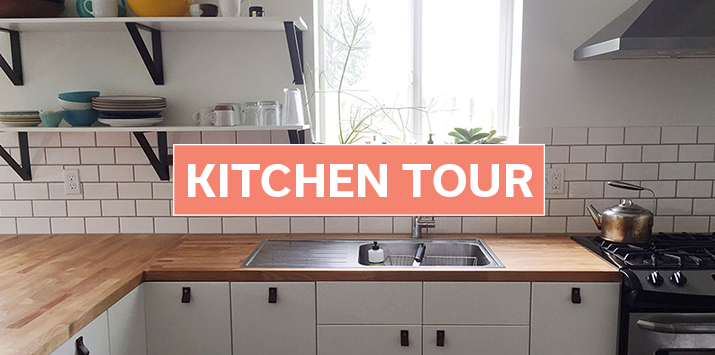 AIP Kitchen Tour is a monthly feature in which we profile a member of the AIP community and their kitchen setup in hopes that it will further inspire us to get our kitchens organized and set up for success! We've interviewed folks who are making the AIP lifestyle a reality in everything from college dorms and small city apartments, to large households with non-AIP family members, and everything in between. Through these interviews, we hope to share how they make it happen across a variety of budgets and living situations, and give the community a wealth of inspiration. Read more Kitchen Tours here!
Name: Lynsey Peterson
Location: Issaquah, WA it's right under the mountains outside of Seattle
AI Disease: Hashimoto's
How long have you been eating AIP? Since August of 2019
Have you successfully reintroduced any foods?
I was able to complete a full 90 days of AIP elimination but between the holidays, traveling and two surgeries my reintroduction phase took a bit of a back seat. However, my initial elimination phase has had such a dramatic impact that I was able to enjoy the holidays, go travel and even indulge in a bit of comfort food during my surgery recoveries without feeling awful within hours. I'm back to doing a second round of the elimination phase so I can fully benefit from reintroductions and getting a complete understanding of my trigger foods.
How has the AIP changed your life?
I know my story sounds familiar, because unfortunately so many of us have struggled with even getting a diagnosis in the first place let alone treatment. I had seen EVERY type of doctor for almost ten years, always hearing, "All your labs look normal", to "there are no symptoms associated [with Hashimoto's]", sigh…..I was finally able to find a group of doctors that listened, understood and were willing to treat. It was my naturopath that originally told me about AIP and I'll be honest, I thought she was nuts. You want to take away my wine and cheese?? No eggs?? What?? There's no way….
It took me another year of my health backsliding to finally give AIP a try, and it was a last resort. Without getting into the nitty gritty, I was in a very low place. So like most things I do, I do it "rip the bandaid style" and I went 100% AIP compliant right away. Overhauling not only my food, but exercise and stress management as well. If I was going to do it, I wouldn't leave room for guessing. I am not exaggerating when I saw within the first week it was like someone flipped a light switch. I could feel my body finally decompressing, letting go of inflammation that made my joints ache, depression that made me cry all the time, anxiety that kept awake at night…the list goes on. With that I was in, and I had to tell EVERYONE.
I've always had a passion for cooking, the culinary industry has always in some way always been on the fringes of my life. With AIP working so well for me, it seemed like the sign I needed was finally smacking me over the head. (Sometimes I need that too…) So with that FoodFightThyme was born! It's a way for me to share my journey and support others who are just as lost as I was.
Size of your AIP kitchen:
I am extremely fortunate to have a BIG kitchen I get to cook in. Full range, oven and butcher block island that I can spread out on. I'm often prepping and cooking multiple things at once.
Favorite thing about your kitchen:
It's an open kitchen so even when I'm up cooking, it's still a very social place.
Least favorite thing about your kitchen:
There's really not much I would change, honestly. Bigger refrigerator? There just never seems to be enough space.
Are there any cheap gadgets or little tools that you have found make AIP easier?
My favorite little gadget so far has been my mini waffle maker. Making the perfect bread AIP is extremely tricky and I find that the mini waffle maker is able to cook the dough more throughly than anything else I've tried. Plus it's pretty cute.
What is the biggest thing that changed in your kitchen setup when you adopted the AIP?
On day one I completely overhauled my spice cabinet. To me, that part of it, not using pepper or nightshade based spices was pretty daunting. Since cooking has always been a big part of my life, I refuse to eat boring food. By overhauling my spices and keeping them right out on the counter, I had easy access to what was AIP compliant, that would also elevate my recipes. Quick tip – find your local store that allows you to buy in bulk. Many of these places will have high quality spices at a fraction of the cost. Most of them let you even bring in your own container to fill (just make sure you weigh it empty first!).
If someone was just starting to invest in some useful but more expensive AIP kitchen tools, which one would you tell them to buy first?
For me, hands down, the Vitamix. I've had several other blenders and this one by far has been the best for me so far. It's a great way for me to blend up my morning smoothies and pack in a ton of my daily nutrient needs. I also use it for al of my soups, sauces and dressing which are prefect for elevate simple dishes.
Ninja Foodie is next — the air crisper has brought chicken wings back into my life and I couldn't be happier.
Are there any tricks you have learned to make AIP work in your space?
There are certain food items I keep on hand at all times. Number one bone broth. I drink it straight and cooking with it constantly. Next are any of my sauces, my pesto and caesar dressing are big go-to's as they add a lot of flavor to simple meals. The trick for anyone is to find those few things are are super nutrient packed and make sure you always have them on hand.
How do you deal with food for family members that are not AIP?
Well…since I'm cooking, everyone else just gets to come along for the ride. I am extremely fortunate that I have a very supportive network. I think however, I've also managed to find substitution foods or make recipes that are so similar, there's not much to miss. In my case, I was able to see benefits from going AIP very quickly, if your family sees this too they will be supportive and honestly being apart of the diet and getting to eat super nutrient dense foods will be really good for them too.
Are there any tools or appliances that you've stopped using now that your diet has changed?
Not really….I went into this with a pretty healthy diet in the first place so I didn't have a lot of bad habits to break.
What are your favorite meals to batch cook?
I always have jars of homemade smoothie mix and bone broth on hands at all time, but my Sweet Potato Stew is also one of my favorites.
Beyond that, I don't really have favorites, for me, creating a new recipe or a flavor profile that matches a food that is "off limits", that's what makes this fun for me.
What are your favorite AIP and Paleo cookbooks?
When I first started AIP I went into this wanting to create my own recipes. I found a few things online but Food Fight Thyme was born because I was frustrated with recipes saying, "omit, basically half the ingredients to make it AIP compliant." We've all seen those ones. However, throughout my journey I've been able to connect with the AIP Facebook groups and Instagram accounts of others that are either leading the AIP Groups or learning, just like me. I find those postings to be the most inspiring. Connecting with others who are on this journey too is so incredibly important. Let me say that again…connecting with….just kidding, you get it.
Do you have any tips for those starting an elimination diet and setting up their kitchens for the first time?
Dive in! Over haul your spices and purge your kitchen! There are so many sneaky ways that food production adds in no-no ingredients that will sabotage your progress. I donated what I could and friends took the rest. If you make all of what you have access to compliant, it becomes much easier to cook.
Also, invest in glass storage containers. You're going to be batch cooking and prepping meals in advance and plastic is just not good for storage or heating. Mason jars work great and are easy to store and clean.
Lastly, at least one really good knife, treat yourself, you're going to be chopping A LOT.
If you'd like to learn more about Lynsey's AIP journey, you read about her experience on her blog, and find her on Instagram.
Would you like to be featured in an AIP Kitchen Tour? We feature members of the community who are willing to share the real spaces where they cook, as well as their stories of transitioning to this lifestyle. If you are interested, fill out our interest form!