This post contains affiliate links. Click here to see what that means!
In order to support our blogging activities, we may receive monetary compensation or other types or remuneration for our endorsement, recommendation, testimonial, and/or link to any products or services from this blog.
That being said, we only promote authors, products, and services that we wholeheartedly stand by!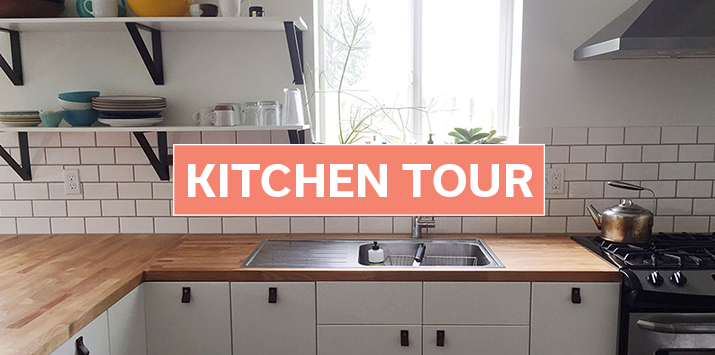 AIP Kitchen Tour is a monthly feature in which we profile a member of the AIP community and their kitchen setup in hopes that it will further inspire us to get our kitchens organized and set up for success! We've interviewed folks who are making the AIP lifestyle a reality in everything from college dorms and small city apartments, to large households with non-AIP family members, and everything in between. Through these interviews, we hope to share how they make it happen across a variety of budgets and living situations, and give the community a wealth of inspiration. Read more Kitchen Tours here!
Name: Nicole Scotto
Location: Miami, Florida
AI diseases: Hashimoto's thyroiditis

How long have you been eating AIP? About 1 and a half years
Have you successfully reintroduced any foods? Yes, I successfully reintroduced eggs and almonds as of now.
How has the AIP changed your life?
AIP has changed my life in so many ways, it would be impossible to list them all! As far as food is concerned, AIP completely transformed my diet. I was a vegan/vegetarian for about 7 years before venturing into my AIP journey. It was not until learning more about autoimmune disease and the science behind AIP that I came to realize that my diet has been negatively affecting me. This was a challenge initially as I had to completely change my mindset about eating animal products. I now am able to recognize that animal foods are medicine for my body; and I respect them as such. I have always been a passionate and creative cook; AIP has allowed me to continue to express that creativity in the kitchen while also nourishing my body with the nutrients it needs to heal and thrive. This has also led me to fully recognize that not everyone has the same nutritional needs.
Following the AIP has also changed the way that I socialize and interact in my communities. I no longer drink alcohol (since I do not tolerate it) and have been able to fully recognize how intertwined alcohol use is with society. Stepping away from that has allowed me the opportunity to re-examine my habits and the way I socially connect with others.
AIP has also changed the way I connect to and listen to my body. Before starting my AIP journey, my body had been giving me signs that something was off balance. At the time, I wasn't yet able to listen to and understand those signs. AIP taught me to trust my intuition and listen to what my body was telling me. I now feel much more in tune with myself, my body and my needs. Every body is different; AIP reminded me that the diet that works for me will not be the same as what works for someone else.
Size of your AIP kitchen:
Being that I am such a cook, many people find it hard to believe that my kitchen is quite tiny! I live in a small townhouse on Miami Beach that I love; but I definitely sacrifice kitchen space for location. While it is a "full" kitchen, the appliances are definitely not full size. I would not call them 'mini'; but they are not full size either. For perspective, the oven can fit about one 9 -inch cake pan at a time and the refrigerator is 10 cubic feet. The biggest challenge that creates is the shortage on refrigerator and freezer space. I have to choose very carefully what to stock my freezer with as it only fits so much at any given time. I also have to stock and restock vegetables every two to three days (this actually is beneficial for freshness, though!) Being tight on space however, does not deter me as I feel I can cook anywhere. In college, my first apartment had only a single hot plate and convection oven. I cooked full and creative meals in that kitchen and learning that space efficiency has followed me to any kitchen I have had since.

Favorite thing about your kitchen:
My favorite thing about my kitchen is the love and creativity that exists within it and the nourishment that comes from it. I spend a lot of time in my kitchen, so I really love all of the memories I have created in it. I also really love that despite the size of the kitchen, it is a fully open format. When I have family over for a meal or even when I am cooking for me and my partner on a weeknight; I am still able to connect with the people in my home without having to close myself off in a kitchen.
Least favorite thing about your kitchen:
If I could change one thing about the kitchen, I would say that size would be the only thing that comes to mind. Although the small size may sometimes create a challenge as far as how well I am able to cook with another person in the space, it never deters me from making a full size meal filled with love.
Are there any cheap gadgets or little tools that you have found make AIP easier?
I do find that I use certain things like my vegetable peeler (to peel yucca and other root veggies) and grater (to shred veggies for muffins or sauces) much more often than I did before AIP. One of the things that I discovered has been most helpful on this journey is how many useful 'swaps' there are for making recipes AIP friendly! For example, carob instead of cacao or tigernut flour instead of almond flour. Finding this information and all of the available AIP-friendly recipes through blog posts and platforms (like autoimmune wellness) have been really helpful for me in discovering new ideas and recipes and keeping AIP fun and creative.
What is the biggest thing that changed in your kitchen setup when you adopted the AIP?
I think the biggest change was really the contents of my kitchen and the meals I cook. Before I started my AIP journey, I was eating vegan/vegetarian. This meant I was usually making complicated recipes (like cashew cheeses) and using a lot of nuts, beans and legumes. Since these are all not allowed during the elimination phase, I had to really adapt my kitchen to be AIP friendly. I still have a cabinet that is full of nutrient-dense nuts, legumes and seeds that I may re-introduce at a later time. Re-arranging my pantry and cabinets so that my AIP friendly ingredients are always visible first helps me to come up with fun and creative AIP recipes.
If someone was just starting to invest in some useful but more expensive kitchen tools, which one would you tell them to buy first?
This is a tough one as there are two things that I use often and both of them have been really helpful. It's a hard tie between a Ninja blender/food processor and an Instant Pot. To decide which is right for you, it really depends on what you eat more of. I use my instant pot mostly to batch-cook soups and stews as well as prep proteins like shredded chicken. I use my ninja every day to make collagen protein smoothies. Depending on which of those you eat more of; I would start there as both are very useful tools to have in your kitchen.
Are there any tricks you have learned to make AIP work in your space?
Since I do have a small space and also work full-time, being prepared has been the biggest factor of success throughout my AIP journey. Making meals in my instant pot, and batch cooking have both been lifesavers for me. Since I eat most, if not all, of my meals at home, I spend a few hours on the weekend prepping some breakfasts, lunches and snacks to have on hand throughout the week. If I have extra time or want to try a new recipe, I will even prep desserts to have ready for the week. This helps me to be prepared every day and spend less energy on deciding what to eat, and what to prep, in any given day. Having snacks (and desserts) prepared is an even bigger plus as it helps me make good choices throughout the day and week. Simple prep practices like having vegetables pre-chopped for soups and stir-frys also helps making a nutrient-dense meal much more time efficient and less stressful.
How do you deal with food for family members that are not AIP?
This is something that I definitely over-stressed about in the beginning of my AIP journey. Coming from a vegan background, AIP helped me to remember that cooking delicious meals does not need to be complicated. Using real, whole food ingredients is the secret to making delicious, balanced, AIP friendly meals. When you think of a meal like grilled salmon, asparagus and sweet potato- you think of a healthy, balanced meal- you don't think 'AIP compliant meal'… and that's what AIP is. Remembering that food does not need to be complicated to be nourishing and delicious. It is also fairly easy to make 'swaps' for non AIP family members. For example, if I make a cauliflower rice stir fry, I can always have some pre-cooked rice ready to go for those non-AIP family members who may prefer some grains with their meal.
Are there any tools or appliances that you've stopped using now that your diet has changed?
I wouldn't say there are any appliances that I have stopped using. There may be some that I use less of, like my electric cake mixer. However, I still do use all of my kitchen tools and appliances as I continue to learn and create new recipes that are compliant with my AIP journey.
What are your favorite meals to batch cook?
Batch cooking is definitely one of the secrets of AIP. I would say my staples are always a delicious 'root soup' (a base of: yucca, plantain, sweet potato, carrots, onions and bone broth made in the instant pot) to have on hand for lunches. Another dish I make a lot of is 'breakfast porridge' (a base of: mashed sweet potato, carrots, squash mixed with collagen and fruits of choice) to have on hand for breakfast or even desserts. I also make a batch of AIP- compliant muffins each week to have on hand for snacks or an on the go breakfast.
What are your favorite AIP and Paleo cookbooks?:
I love The Autoimmune Paleo Cookbook by Mickey Trescott and the Paleo Baking at Home cookbook by Michele Rosen (AKA the Paleo Running Momma). However, these days – I find most of my AIP recipes on food blogs rather than on recipe books. Some of my absolute favorite AIP and Paleo food blogs are: Autoimmune Wellness, Heal Me Delicious, Grazed and Enthused, Paleo Running Momma, Unbound Wellness and Food by Mars.
Do you have any tips for those starting an elimination diet and setting up their AIP kitchens for the first time?
The first thing I would do kitchen-wise is go through your pantry and make a special area for any non-compliant ingredients that you may want to save for other family members or for re-introductions later. Having all of your AIP- compliant ingredients in one place will help you to visually see what your options are and save time when looking for ingredients. Another helpful tip is to gather AIP compliant recipes (on your phone, in recipe books, anywhere) so that you have ideas and inspiration to call on when trying to come up with ideas and meals. Feeling creative and inspired in the kitchen is what ultimately kept me engaged and confident in the AIP journey. Take things one day at a time and remember that consistency is what creates the best results! If things become really challenging, take a breath and remember that ultimately, this journey is to help you to learn more about your body and feel your best.
Connect with Nicky on her website, and on Instagram.
Would you like to be featured in an AIP Kitchen Tour? We feature members of the community who are willing to share the real spaces where they cook, as well as their stories of transitioning to this lifestyle. If you are interested, fill out our interest form!