This post contains affiliate links. Click here to see what that means!
In order to support our blogging activities, we may receive monetary compensation or other types or remuneration for our endorsement, recommendation, testimonial, and/or link to any products or services from this blog.
That being said, we only promote authors, products, and services that we wholeheartedly stand by!
While many of us anxiously await fall because it means pumpkin-all-the-things season, I'm just stalking the Whole Foods produce department for their first case of delicata squash. It's sweet, creamy, tender flesh is just too delicious to pass up over mild, stringy pumpkin. That's right, I said it. We need to delicata all the things instead. You can also eat the thin delicate skin of this squash, which makes it that much easier to prepare.
In this fall side dish, the squash is simply cut in pretty rings and roasted with fresh rosemary leaves. You could stop there but what's the fun in that? Whip up a quick maple cream to enhance the sweetness and creaminess of the dish which will stand out just stellar next to a roasted ham, turkey, chicken, or tenderloin.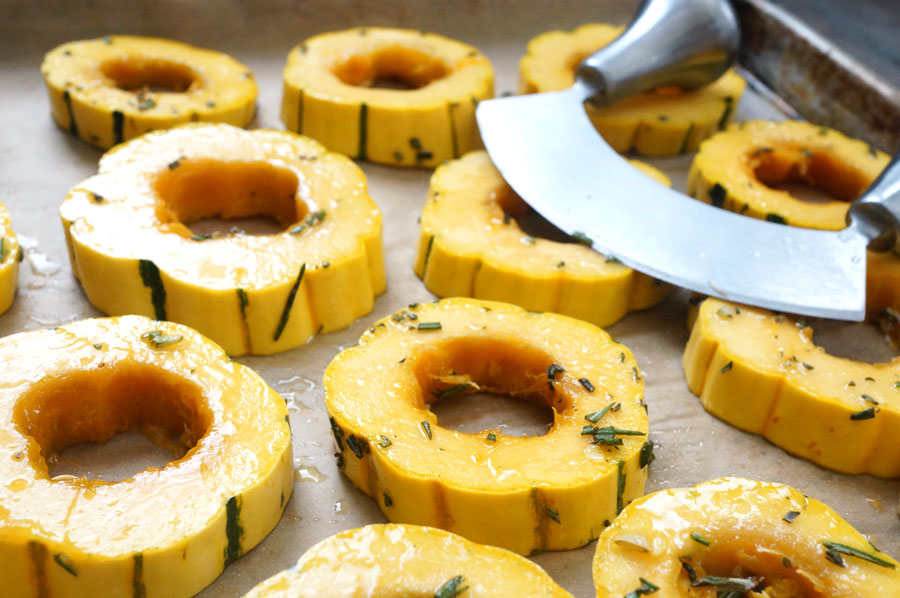 I have a fun gourd fact that I only whip out around this time of the year. Squashes and gourds (squashes' ugly, generally inedible cousin) are a member of the same family. Within that family exists the luffa gourd. Yes, luffa like those curious weaved bath sponges you can buy at drugstores. Peel the skin of the luffa gourd and that's exactly what you'll find in it's raw form! Google it!
Well, enjoy this deliciously comforting dish, my friends, and have a happy fall!
Rosemary Delicata Squash with Maple Cream Drizzle
Ingredients
2 medium delicata squash
2 tablespoons olive oil
1 tablespoon minced fresh rosemary
½ teaspoon sea salt, plus additional for sprinkling
¼ cup coconut cream, skimmed from a can of refrigerated coconut milk
1 tablespoon maple syrup
¼ teaspoon arrowroot starch (optional)
⅛ teaspoon ground cinnamon
Instructions
Preheat oven to 425 degrees F and line a baking sheet with parchment paper.
Prepare the squash by trimming off both ends and slicing the squash crosswise into even ½-inch slices.
In a large bowl, toss the squash with the olive oil, rosemary and ½ teaspoon sea salt. Lay the squash flat on the baking sheet.
Bake the squash for 20 minutes, or until sweet and tender. Sprinkle with additional sea salt, as desired.
Meanwhile, whisk together the coconut cream, maple syrup, optional arrowroot starch, cinnamon and an additional pinch of sea salt in a small bowl.
To serve, you may layer the roasted squash over a bed of steamed or massaged kale if desired, and drizzle the maple cream sauce on top!