This post contains affiliate links. Click here to see what that means!
In order to support our blogging activities, we may receive monetary compensation or other types or remuneration for our endorsement, recommendation, testimonial, and/or link to any products or services from this blog.
That being said, we only promote authors, products, and services that we wholeheartedly stand by!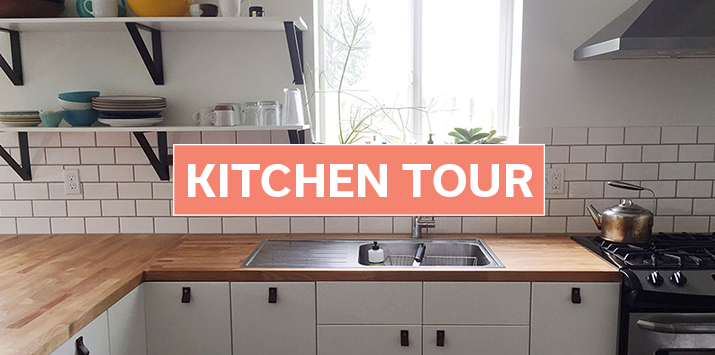 AIP Kitchen tour is a monthly feature where we profile someone who eats AIP and has agreed to share their kitchen setup with the community, in hopes that they can further inspire us to get our kitchens organized and set up for success! We've heard reports of people who are able to make AIP work in college dorms and small city apartments to large households with family members who eat otherwise, and everything in between. Through these interviews, we hope to share how they make it happen across a variety of budgets and living situations, and give the community a wealth of inspiration. 
Name: Madia Jamgochian, Certified Nutrition Consultant
Location: Santa Cruz, CA
AI Disease: Interstitial Cystitis, Raynaud's
How long have you been eating AIP? Two years (now modified)
Have you successfully reintroduced any foods? Yes! I was only super strict AIP for about three months before I started re-introducing foods. Now I can do gluten-free grains, nuts, seeds, and occasionally legumes, though I don't eat a ton of them.
How has AIP changed your life? Before figuring out that my condition was autoimmune, I was eating what I thought was a healthy diet that leaned in the vegan direction. After attending Bauman College, and talking to Mickey, I realized that by limiting animal protein, I was compromising my gut healing. I also found during this journey that nightshades and eggs seemed to have a negative effect regarding my condition, so I still avoid those when I can.
Size of your kitchen: Medium-small
Favorite thing about your kitchen: The breakfast nook! It is always sunny and has a great view of the garden.
Least favorite thing about your kitchen: The appliances are ancient (but still work, so I can't complain!). It will be nice to upgrade in the future.
Are there any cheap gadgets or little tools that you have found make AIP easier? My blender and Cuisinart are a must. I would say having a food processor is pretty essential for anyone who is serious about cooking. I found mine at the thrift store for $20, and it is in perfect condition, so I recommend looking around first before buying one new. Also, check with relatives that might not use their brand-new gadgets ;).
What is the biggest thing that changed in your kitchen setup when you adopted AIP? Honestly, the switch to eating more meat and bone broth was a huge one for me. It took me about a full year to get used to the idea of eating animals again. Now I can see the benefits, but it was difficult in the beginning.
If someone was just starting to invest in some useful but more expensive kitchen tools, which one would you tell them to buy first? The food processor, for sure. It is great to have one with all the attachments so you can easily grate and slice vegetables.
Are there any tricks you have learned to make AIP work in your space? We have a huge garden this year full of zucchinis, green beans, basil, cilantro, peaches, blueberries, green onions and lemons. Having fresh produce on hand is an incredible plus. Even if you have room for a small herb garden, I highly recommend taking the time to do a little gardening — plus it's therapeutic ☺.
How do you deal with food for family members that are not AIP? Luckily, my boyfriend was on board when I did strict AIP, and it was during the summer so we felt like we had a lot of options. You kind of have to give up going out to eat for a little while, but it is worth it in order to give your body the break, and healing time it needs.
Are there any tools or appliances you don't use now that you have changed your diet? Don't do a lot of toasting. Definitely don't own a microwave.
What are your favorite meals to batch cook? I usually batch cook bone broths and soups, but I have been making ghee lately as well with organic butter. It is an excellent cooking oil to add to the mix along with lard and coconut oil.
What are your favorite AIP and Paleo cookbooks? Mickey's The Autoimmune Paleo Cookbook is a great one for people who are just starting the AIP Journey. I teach AIP cooking classes at our local natural foods store, and have used a few of her recipes, plus others I find on Pinterest.
Do you have any tips for those just starting out on an elimination diet and are just setting up their kitchen? It's not forever! Paying attention to what you are putting in your body is the first step to better health. The AIP diet is the best solution I have found so far, and it is totally worth it!
Learn more about Madia's healing journey on her website, My Healing Habits.
Photos by Angela Aurelio.
Would you like to be featured on the blog for AIP Kitchen Tour? We feature members of the community who are willing to share the real spaces where they cook as well as their stories of transitioning to this lifestyle. If you are interested, drop us a line using the contact form!