This post contains affiliate links. Click here to see what that means!
In order to support our blogging activities, we may receive monetary compensation or other types or remuneration for our endorsement, recommendation, testimonial, and/or link to any products or services from this blog.
That being said, we only promote authors, products, and services that we wholeheartedly stand by!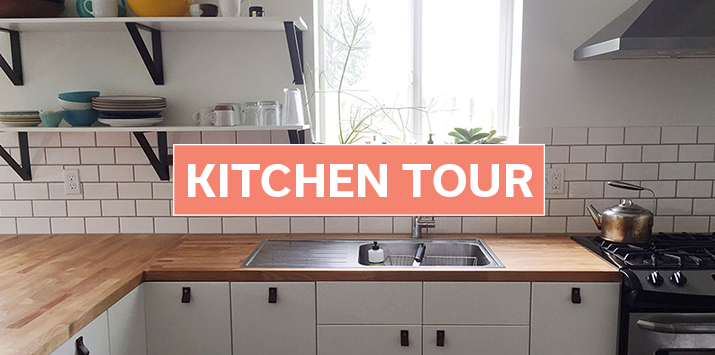 AIP Kitchen Tour is a monthly feature in which we profile a member of the AIP community and their kitchen setup in hopes that it will further inspire us to get our kitchens organized and set up for success! We've interviewed folks who are making the AIP lifestyle a reality in everything from college dorms and small city apartments, to large households with non-AIP family members, and everything in between. Through these interviews, we hope to share how they make it happen across a variety of budgets and living situations, and give the community a wealth of inspiration. Read more Kitchen Tours here!
Name: Mitch Hankins
Location: Kansas City, MO
AI Disease: I have several AI conditions, including Hashimoto's, RA, Celiac, and fibromyalgia.
How long have you been eating AIP? 2.5 years

How has the AIP changed your life?
More like how has AIP NOT changed my life! Before I started this diet, I was in very bad shape, struggling to get through each day and at risk of needing to leave my full-time job for the second time in three years due to my inability to feel well while working, and just keep up with my general responsibilities as a human. As soon as I started AIP, about 80% of my symptoms disappeared and I reclaimed a tremendous amount of my health. I've since had to make many adjustments to my mindset and lifestyle outside of just diet, but the autoimmune protocol and then later the entire philosophy behind AIP, has truly shaped my life for the better.
Have you successfully reintroduced any foods?
Chocolate, mustard, black tea, and a very limited amount of raw nuts and raw almond butter/milk.
Size of your kitchen: Approximately 6.5 feet wide by 13.5 feet long (so, about 88 square feet). Gotta love inner-city condo kitchens!
Favorite thing about your kitchen: We love the open pantry and surprisingly, there's a ton of storage in this little guy!
Least favorite thing about your kitchen:
Despite it having great storage, it is overall pretty small, and there's limited counter space. I could definitely get used to having a nice big center island for doing all my meal prep, or — my ultimate fantasy — having two ovens!
Are there any cheap gadgets or little tools that you have found make AIP easier?
I LOVE my Ninja Express Chop — it's so simple and cheap (about $20 on Amazon); I'm not sure I could survive without that thing. Also, Pyrex glass tupperware is great, and we have this refrigerator "soda" can rack that we use to proudly display our La Croix, which is really nifty and we actually get a ton of compliments on that.

What is the biggest thing that changed in your kitchen setup when you adopted the AIP?
Honestly, I've always been a huge cook (my dad is a chef, so it's kinda just a part of my life) so I already had a lot of different appliances, kitchen gadgets, pots and pans, cooking utensils, etc. I think the biggest change was just the amount of tupperware I owned, and I also bought a really nice lunch box!

If someone was just starting to invest in some useful but more expensive kitchen tools, which one would you tell them to buy first?
Instant Pot for sure. But that can be quite pricey, so at a smaller but similar scale, I'd say it's a toss-up between a crockpot and a food processor; both are necessities in my kitchen.
Are there any tricks you have learned to make AIP work in your space?
Yes, since we have a smaller kitchen, we pay extra special attention to the cooking methods that we're using for our meal prep each week. For instance, we don't pick five stovetop recipes because that would just be a mess and we'd have a queue of food just waiting for a burner to open up. So, we make sure to choose different types of recipes — for instance, maybe two stovetop, two oven, an Instant Pot, and a crockpot. That way, we can be working on multiple dishes at once and that saves a lot of time and kitchen space.
How do you deal with food for family members that are not AIP?
My fiance and I both follow AIP and we don't have children, so honestly we don't struggle too much with this. If we're having guests over though, we just make food so good they can't help but love it. 😉
But really — if we have friends or family over, we just don't make a big deal out of what we're making for dinner; we know it's going to be delicious, so why put people on-guard before they even try it? People don't like change or going out of their comfort zones, so we just don't tell them what it is until they've tried and loved it (PS — I run an autoimmune support group and many of the moms in the group have said this technique works with their spouses and children, too). If guests are vegetarian or vegan, we'll just make extra veggies that they can enjoy. And, if they're really scared about eating something we make, we just turn it into a "potluck" where everyone can bring a dish for themselves. 🙂
Are there any tools or appliances that you've stopped using now that your diet has changed?
The only casualties I can think of are our toaster and toaster oven, since we don't eat any breads, pizzas, cheese sticks, chicken nuggets, etc. anymore. Also, my beautiful burr coffee grinder, which I miss terribly and still write little love notes to. 😉
What are your favorite meals to batch cook?
AIP Pumpkin Chili from The Healing Kitchen cookbook, my pot roast, anything from The AIP Instant Pot Cookbook, and tons of burgers! Oh, and meatballs. Definitely meatballs. They're just so dang easy to make, cook and store.

What are your favorite AIP and Paleo cookbooks?
In no particular order: The Healing Kitchen, He Won't Know It's Paleo, The AIP Instant Pot Cookbook, and Simple French Paleo!
Do you have any tips for those starting an elimination diet and setting up their kitchens for the first time?
Yes. First, purge all of your temptation foods that you are eliminating during the initial stages of your AIP journey. If you cringe like I do at the thought of throwing out perfectly good food, give them to a friend or family member, donate unopened items to a food pantry, or — if they're super shelf-stable items — put them in a special place in your basement or garage where you can save them for reintroduction phases. I found that by really cleaning out my kitchen and starting from scratch, that I had a better success rate than if I had to stare at the chocolate chips in my pantry every day while reaching for the carob powder. 🙂
Then, I highly recommend stocking your pantry with AIP essentials like coconut oil, dried herbs, coconut aminos, arrowroot powder, fish sauce, sea salt, grass-fed gelatin, etc., etc. This will make your life so much easier in the long-run because as you encounter recipes, you won't feel so overwhelmed having to buy 100 new ingredients for one single recipe.
Finally — not to overwhelm you, but you're going to be doing a lot of cooking. Like…probably more than you've ever done in your life. So, stock up on plenty of sizes of pots and pans, measuring cups and spoons (we have about 3 sets of each), cooking utensils, mixing bowls and high-quality knives. We even caved and bought an extra food processor so we have two now! Having a well-equipped kitchen will allow you to be faster and more efficient at batch cooking, and having extra sets of common supplies will save you a headache of having to wash every single thing between recipes, as you'll be able to just rotate through your equipment.
In addition to AIP recipes, Mitch writes about many of the challenging emotional aspects of life with autoimmune disease on his blog, Instinctual Wellbeing. You can also follow him on Instagram. 
Would you like to be featured in an AIP Kitchen Tour? We feature members of the community who are willing to share the real spaces where they cook, as well as their stories of transitioning to this lifestyle. If you are interested, fill out our interest form!