This post contains affiliate links. Click here to see what that means!
In order to support our blogging activities, we may receive monetary compensation or other types or remuneration for our endorsement, recommendation, testimonial, and/or link to any products or services from this blog.
That being said, we only promote authors, products, and services that we wholeheartedly stand by!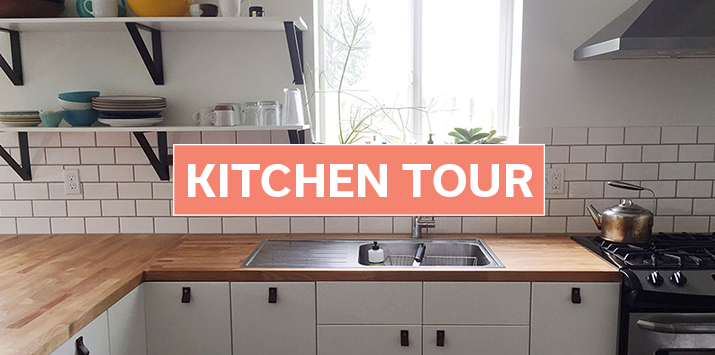 AIP Kitchen Tour is a monthly feature in which we profile a member of the AIP community and their kitchen setup in hopes that it will further inspire us to get our kitchens organized and set up for success! We've interviewed folks who are making the AIP lifestyle a reality in everything from college dorms and small city apartments, to large households with non-AIP family members, and everything in between. Through these interviews, we hope to share how they make it happen across a variety of budgets and living situations, and give the community a wealth of inspiration. Read more Kitchen Tours here!
Name: Nicole O'Neil
Location: Binghamton, NY
AI Disease: Hashimoto's
How long have you been eating AIP?
I started the AIP 3 years ago when I first found out I had Hashimoto's. I did it for about 3 months and have since been able to reintroduce foods that are not AIP.
Have you successfully reintroduced any foods?
Most spices are okay for me (except coriander), soaked and sprouted nuts and seeds, sprouted buckwheat, all nightshades, and in moderation, eggs. I tend to tolerate duck and goose eggs better.
How has the AIP changed your life?
The AIP diet introduced me into the world of healthy fats and nutrient dense foods. It was the start of a new life for me. I was a vegetarian for 7 years prior to my diagnosis and I jumped right into the AIP after a few weeks of researching the optimal diet for autoimmune disease. I knew the way I had been living up until that point was not the right path for me.
I did the diet for 3 months and once I started reintroducing foods I kept a food journal for one whole year to keep track of how I felt. There were certain foods that I clearly reacted to during the reintroductions and the journal helped me to keep track of what that was. Currently I am unable to eat onions without getting a stomachache. It took me a while to figure that one out! During this time my health improved tremendously. I've had my ups and downs along the way, but overall my health has been on an upward slope.
Over the last 3 years, my blood work has improved, symptoms are greatly reduced, and the nodule on my thyroid has shrunk from 6 mm to 4 mm to 3mm. My body is healing through diet and lifestyle change, all this without ever having taken any thyroid medication. I have been very fortunate to keep my thyroid at a stable level and hope to continue doing this. The AIP diet helped me to build back up the nutrients and minerals I was depleted of for a very long time. My digestive issues have tremendously improved which I had been dealing with for about 10 years prior to my diagnosis. It gave me the reassurance that diet is the most important thing one can do for their health.
Size of your kitchen:
It's a big rectangular room, I'd say it's your average sized kitchen. It's easy to maneuver around in.
Favorite thing about your kitchen:
There is a lot of functional cupboard space. It has a lot of pull out drawers. It's centrally located in the house, right in between the living and dining room, so I don't feel secluded spending most of my time in here. I love the colors in this room, it has a nice warm feel to it. Also, I bought the house that I grew up in and I've been in this kitchen for 30 years now, so I feel a strong connection to this place.

Least favorite thing about your kitchen:
The lighting isn't the greatest. It can be dark, especially during the winter months. I like to light some beeswax candles during dinner time. Good lighting is key! I also like to play music when I am in the kitchen cooking. It makes it fun.
What is the biggest thing that changed in your kitchen setup when you adopted the AIP?
The toaster oven took over a section of my counter. When I cook now I try to make sure there are enough for leftovers. Rather than using the microwave to heat them up, I prefer using the toaster oven. The drying dish rack also seemed to start filling up rather quickly. Thankfully my husband does the dishes!
Are there any cheap gadgets or little tools that you have found make AIP easier?
I love my garlic press. I use that one a lot. Also, I have a spice grinder that I put whole spices in. They taste so much fresher than the ones already ground up. Plus more nutrients! My vegetable peeler comes in handy with peeling veggies such as parsnips and burdock root. We also have a bacon fat holder which we store in the fridge that comes in handy when I need some tasty cooking fat.
If someone was just starting to invest in some useful but more expensive kitchen tools, which one would you tell them to buy first?
Definitely the food processor, by far the most used tool in my kitchen. The food processor is used almost every day at my house. I use it for almost anything that has to be mixed together. I make a lot of pancake mixes, any cookie or muffin recipe, and to puree up organ meats. I use the Vitamix quite a bit too and that is well worth the money. Also, good knives are huge. You actually can save some prep time by owning a good quality knife. My cast iron pans are my favorite as well. If you give them a little TLC they will last a long time. My cutting board gets used about 2 to 3 times a day at my house, so that's something that I would make sure to invest in.
Are there any tricks you have learned to make AIP work in your space?
I do the cooking and my husband does the dishes. It's a really good system that makes cooking a meal a lot less work for one person. I put my spices and dried herbs in a glass faced cupboard so that they are easy to see and this way I'll be more likely to incorporate them into my dishes.
How do you deal with food for family members that are not AIP?
My husband is fully on board with eating anything I make. He's one of my biggest fans! I've been very fortunate with him. Also, my parents and sister really enjoy eating some of their meals this way and have even themselves gone bought some AIP and Paleo cookbooks. My mom always makes me yummy recipes whenever we have a get-together. Their cupboards have gone through some transformations too after I shared with them everything I have learned. Even my furry family members are eating better now. For other human family members I try to share good tasting food with them whenever possible to show them that healthy can taste good!
Are there any tools or appliances that you've stopped using now that your diet has changed?
I really haven't used my juicer much. I just prefer to make a smoothie and leave the pulp in there. My panini maker doesn't get much use anymore. I rarely use the microwave and try to heat up things in the toaster oven or stove top as much as possible.
What are your favorite meals to batch cook?
I like batch cooking sausage patties. I like mixing 50 percent ground meat with 50 percent ground organ meat plus spices and herbs. I try to do this about once a month. I also like to cook bone broth and fish stock in batches, especially during the fall and winter months. I don't do this as often during the summer, instead I make sure to stock up on supplemental collagen and gelatin during these warmer months.
What are your favorite AIP and Paleo cookbooks?
The Autoimmune Paleo Cookbook was my first and most helpful! It includes the meal plans and shopping lists. For someone first starting out I highly recommend this cookbook. The meals are all simple and tasty, and I still make recipes out of it. My other favorites are Nom Nom Paleo, The Healing Kitchen, Practical Paleo, AIP Cajun Cookbook, Against All Grain, Beyond Bacon, The Paleo Approach Cookbook for nutrient-dense meals, and though not specifically AIP or Paleo, The Nourished Kitchen.
Do you have any tips for those starting an elimination diet and setting up their kitchens for the first time?
The Autoimmune Paleo Cookbook got me started on writing up meal plans. I am still doing them to this day. This helps to keep me motivated and on track for the whole week. I put my meal plan on the front and shopping list on the back. I can't say enough about how this helped me to eat the way I do for so long. The elimination diet can be very frustrating at first. For me it was. Please know that it is well worth the time and effort and does not last forever. It is one of the best ways for anyone in this world to figure out the right foods for their body.
As far as setting up the kitchen, I suggest leaving a lot of stuff at first out on the countertops where you can see them, just until you get used to incorporating them into all of your amazing new dishes. It really helps to have the support of at least one family member or friend to help out in the beginning, maybe with some of the batch cooking or to make you a meal once a week. The funny thing about nutrient-dense diets such as the AIP, is that everyone used to eat that way and now today it is considered "different" or a "special" diet. I eat more of a variety of foods today than I did three years ago.
I think it's important to educate other people and get the word out that food is so important to the health of a person and it can change your body. I have seen it in myself and have read about many others doing the same. Now, this is my way of life and completely routine. I don't think twice about going back to my old way of eating. I love the foods I eat today and I always look forward to trying new recipes each week. I like the idea of knowing that I am nourishing myself and the ones I cook for. That's one place I know I made the difference.
Would you like to be featured in an AIP Kitchen Tour? We feature members of the community who are willing to share the real spaces where they cook, as well as their stories of transitioning to this lifestyle. If you are interested, fill out our interest form!