This post contains affiliate links. Click here to see what that means!
In order to support our blogging activities, we may receive monetary compensation or other types or remuneration for our endorsement, recommendation, testimonial, and/or link to any products or services from this blog.
That being said, we only promote authors, products, and services that we wholeheartedly stand by!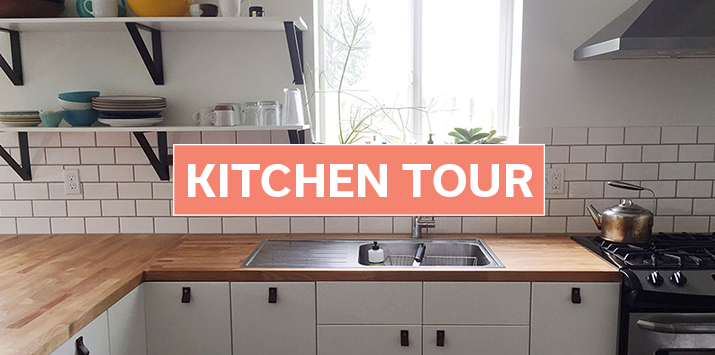 AIP Kitchen tour is a monthly feature where we profile someone who eats AIP and has agreed to share their kitchen setup with the community, in hopes that they can further inspire us to get our kitchens organized and set up for success! We've heard reports of people who are able to make AIP work in college dorms and small city apartments to large households with family members who eat otherwise, and everything in between. Through these interviews, we hope to share how they make it happen across a variety of budgets and living situations, and give the community a wealth of inspiration. 
Name: Samantha McClellan
Location: Southern United States
AI Disease: Ulcerative colitis (UC)
How long have you been eating AIP? I was Paleo for about 2 years and have now been AIP for 1 year and 7 months.
How has the AIP changed your life? My UC symptoms are very well managed and much more stable. I no longer feel like my health is out of control. My immune system has become much more balanced. I no longer get sick with colds and other infections as frequently, and when I do, I am better able to fight them off.
AIP has also forced me to have a much better understanding of my health and my body, which has caused me to become more educated and get more testing done to work on other non-autoimmune related health issues that I would have otherwise ignored.
Have you successfully reintroduced any foods? I have successfully reintroduced egg yolks, mustard seed and other seed-based spices, chocolate, ghee, and small amounts of alcohol from AIP-friendly sources like wine, cider and tequila. However, I had to take a break from reintroductions to deal with some underlying infections that were confusing my reactions and causing me digestive problems.
Size of your kitchen: My kitchen is a very small, galley-style kitchen that is about 4 1/2 feet wide and 10 feet long. (I can't even walk far enough away to get it all in one picture!) Ironically, it is actually bigger than the kitchen I had when I first started on the AIP. Thankfully, I have a large pantry that is across the hallway from my kitchen, and it gives me plenty of storage space and a place to keep my kombucha and ferments. I also try to utilize my vertical space by hanging my knives and cooking utensils on the wall.
Favorite thing about your kitchen: My refrigerator and my marquis sign that says "EAT." In our last kitchen, the refrigerator was not full-size and my freezer was tiny so it was hard to store a lot of batch-cooked food. Our new refrigerator is much larger and gives me lots of space to work with. The thing I like most though is my "EAT" marquis sign because it is so fun and it makes me happy. Almost every night, my husband comes home from work and turns it on as I am cooking dinner as if to announce that it's time to eat! It makes me laugh.
Least favorite thing about your kitchen: My least favorite thing about my kitchen is that there is no convenient place to store a trash can. I keep it in the pantry, which is across the hall from the kitchen itself. That means I often drip and drop things on the floor as I go back and forth, which makes for extra cleaning. I would also love for my kitchen to have a more open feel so that people could be in there with me, but at least it has a window to the dining room so I can talk to people as I cook.
Are there any cheap gadgets or little tools that you have found make AIP easier? I love my cast iron pans, which my grandmother got me at a yard sale for a few dollars. I also love my silicone baking mats and my silicone cupcake liners. They are easy to clean, they keep things from sticking to the pan, and they save me from having to buy lots of paper products.
What is the biggest thing that changed in your kitchen when you adopted the AIP?Probably the biggest change would be the way I use my storage space. Without a lot of processed foods, most of my food is in the refrigerator or freezer rather than in the pantry, so now my pantry is used to primarily store kitchen tools like my cookie sheets, crockpot, canning equiptment and things like that.
If someone was just starting to invest in some useful but more expensive kitchen tools, which one would you tell them to buy first? Hands down it would be a good food processor. When I started on the AIP, I had a food processor that was basically useless. When I finally upgraded to a nice one, it was a revelation. It saved me so much time and frustration over chopping things, pureeing things — all those tasks that could take forever if you let them.
Are there any tricks you have learned to make AIP work in your space? Clean up as you go and run the dishwasher on a schedule. Since I have very limited counter space, it is important that I clean up as I cook or else I am left with no space and a giant mess. Along the same lines, I finally learned that I need to run the dishwasher on a schedule even if it's not all the way full. Otherwise I'll constantly be looking for something that's dirty, the dishes will pile up in the sink, and it will become a larger-then-necessary nuisance.
How do you deal with food for family members that are not AIP? By and large my house is a gluten-free zone. I don't have celiac but I do try to keep people from bringing gluten into the house to limit the risk of cross-contamination. Outside of that, my husband is primarily gluten-free and Paleo but not AIP, so I do keep eggs and nuts around for him. I typically batch cook his breakfasts and lunches at the beginning of the week so that they are made and set aside, and our dinners are always AIP.
Are there any tools or appliances you don't use now that you've changed your diet? I have a pizza stone that we got when we were married that I was super excited about, but really haven't touched. My fondue pot hasn't been used since going on the AIP either, but otherwise I use most of my things.
What are your favorite meals to batch cook? Breakfast, hands down. I am hungry the minute my feet hit the floor in the morning, so having breakfast pre-made is a must. Usually, I make some sort of hash with greens, meat and a starchy vegetable and then I add some sauerkraut in the morning. I also always have kombucha brewing. I love experimenting with different flavors.
What are your favorite AIP and Paleo cookbooks? I love cookbooks, and even if they aren't AIP or Paleo, I love looking through them and getting ideas for recipes that I could make AIP compliant. I used The Autoimmune Paleo Cookbook a lot when I was first starting the AIP because the recipes are very simple and easy to make. I also love The Alternative Autoimmune Cookbook and Gather: The Art of Paleo Entertaining.
Do you have any tips for those starting an elimination diet and setting up their kitchens for the first time? Make peace with the fact that you will be spending more time in your kitchen, and decorate it or set it up in a way you enjoy. I was very intentional about the way I set up my kitchen because I wanted to include things that would make me happy. For example, I have a set of vintage canisters that came from my great aunt's house. Obviously, I don't actually use them for flour or sugar or coffee, but they make me smile.
Other than that, I would say use your counter space in a way that will save you time. My food processor never leaves my counter because I use it too frequently and it would be a hassle to keep putting it away. My knives, cooking utensils, and cutting boards are also in easy-to-grab locations that don't require me to open any drawers or do any bending.
Samantha shares honest insights about her life with ulcerative colitis, as well as delicious AIP recipes of her own on her blog, Sweet Potatoes and Social Change. You can also keep up with her on Pinterest, Instagram, Facebook and Twitter.
Would you like to be featured in an AIP Kitchen Tour? We feature members of the community who are willing to share the real spaces where they cook, as well as their stories of transitioning to this lifestyle. If you are interested, drop us a line using the contact form!