This post contains affiliate links. Click here to see what that means!
In order to provide the free resources here on the Autoimmune Wellness website and social media channels, we may accept a commission or other support for our endorsement, recommendation, or link to a product or service in this post.
That being said, we only promote authors, products, and services that we use ourselves and wholeheartedly stand by. To learn more about how we earn money here on Autoimmune Wellness, head on over to our Promotional Policy.
Traditional pizza is a trifecta of ingredients that cause a lot of us serious issues… gluten, dairy, and nightshades! You definitely don't need any of those three ingredients to make a delicious pizza though, and today I'm going to show you how to use my AIP pizza dough base to create your own tasty meal.
Don't be scared off by using yeast in this recipe – if you follow the instructions carefully, you'll end up with a pizza dough that has a traditional flavor and rises a little bit too. This recipe makes two 11-inch pizzas, which serves 2-3 people. It is the perfect base for adding all kinds of toppings!
If your house tends to be on the cooler side, like mine, it may be tricky to get your yeast to activate and rise. I like to use metal bowls that have been gently pre-warmed by setting on my stovetop, especially for proofing the yeast (be sure things aren't too warm though, as it can kill your yeast!). I also set my hot water kettle to serve 130-degree water, measure out the proofing liquid, and then mix it with the yeast for proofing when it is exactly 115 degrees. Once I've mixed up my dough, I set it either inside my oven on the lowest setting (around 100 degrees with the door slightly open) or on the stovetop, depending on how cool it is in my house.
When working the dough, you'll notice it is a little more on the wet side, but if you flour your hands and pin it will come together nicely.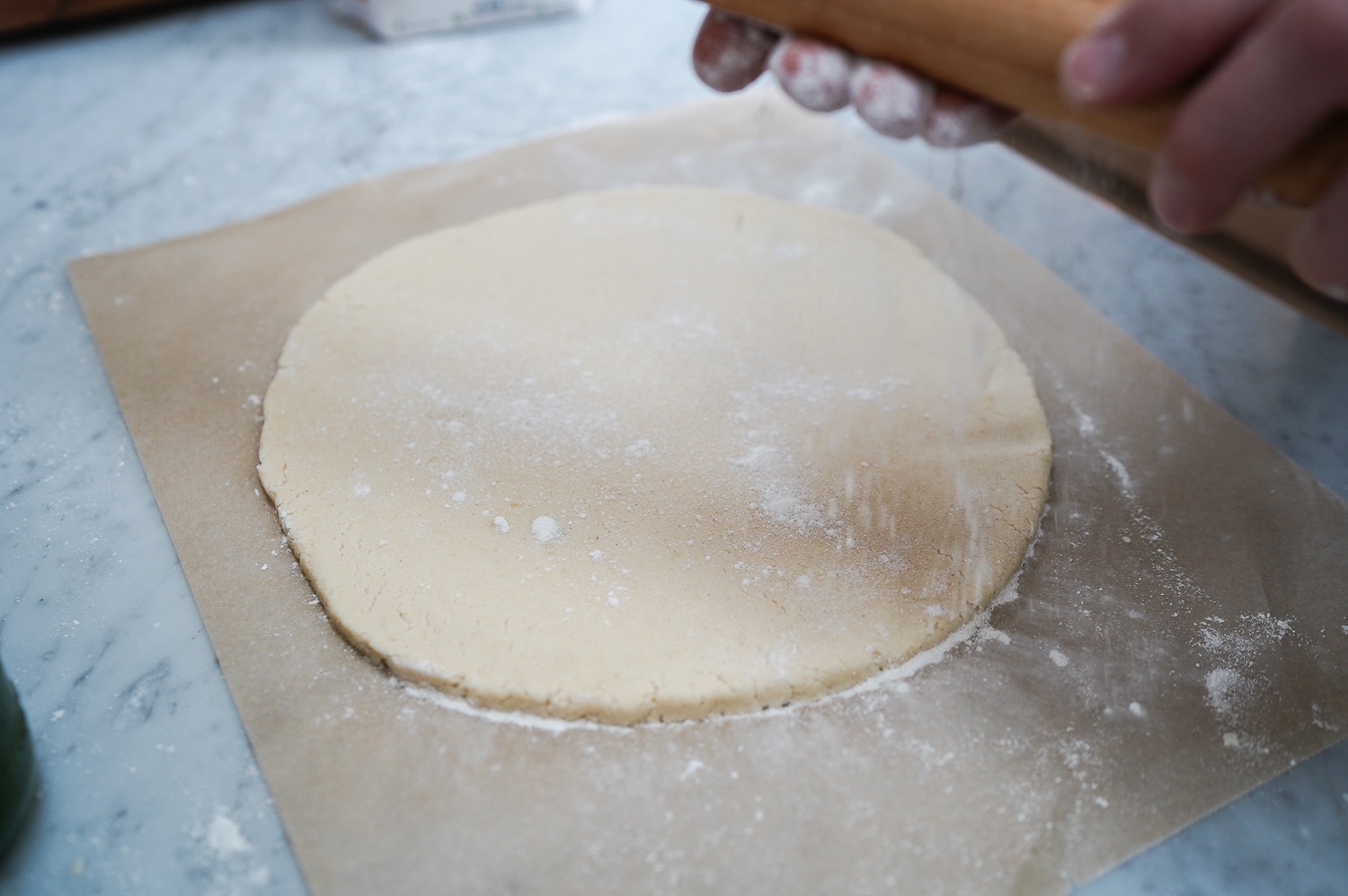 To finish out your pizza AIP-style, I recommend using a base of Cilantro-Basil pesto (photographed here) or Nomato sauce (found in both The Autoimmune Paleo Cookbook and The Nutrient-Dense Kitchen) with some shredded meat and vegetables (shown here is red onions, salt-cured capers, roasted garlic, and mushrooms).
AIP Pizza Dough
Author:
Mickey Trescott, FNTP
Ingredients
1 packet active dry yeast
1½ cups warm water, divided
1 tablespoon honey
2 cups cassava flour
1 cup tapioca starch
1½ teaspoons sea salt
⅔ cup olive oil
Instructions
First, proof the yeast by adding it to a small bowl with ½ cup of 115 degree water and honey. Give a quick whisk and set aside someplace warm for about 20 minutes. If your yeast is active, it will double in size and smell yeasty.
Combine the cassava flour, tapioca starch and salt in a large bowl and stir to combine. Add the olive oil and 1 cup of warm water, along with the yeast mixture. Stir until combined into a slightly wet dough, gently forming into a ball with floured hands. Cover with a towel and set someplace warm (about 70-90 degrees is best) for about an hour to rise.
Your dough should have risen a couple of inches, perhaps cracking and smelling yeasty. Carefully divide it into two portions, forming each into a puck and then rolling out each into an 11-inch pizza on a piece of parchment paper and adding additional cassava flour to the pin as needed.
When ready to bake, preheat the oven to 500 degrees with a pizza stone or flat baking sheet inside.
While the oven and baking surface are pre-heating, top the pizza on a pice of parchment paper on a flat baking sheet. First apply your sauce, then meat and vegetable toppings.
To cook, remove the pre-heated stone or sheet from the oven and quickly (and carefully!) slide the sheet of parchment with the pizza from one sheet to the pre-heated one. Cook for about 10 minutes, or until just browned on the bottom of the crust. Cool for a few minutes before enjoying.