This post contains affiliate links. Click here to see what that means!
In order to provide the free resources here on the Autoimmune Wellness website and social media channels, we may accept a commission or other support for our endorsement, recommendation, or link to a product or service in this post.
That being said, we only promote authors, products, and services that we use ourselves and wholeheartedly stand by. To learn more about how we earn money here on Autoimmune Wellness, head on over to our Promotional Policy.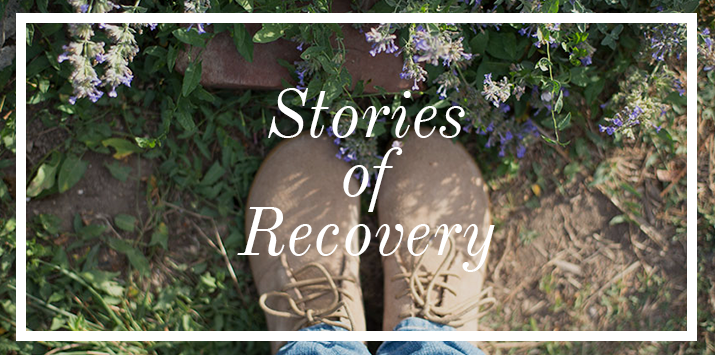 AIP Stories of Recovery is a success story series about regular people from the Autoimmune Protocol community who are changing their lives using the protocol. Each month a new person is featured and readers have the opportunity to discover all the different health challenges that are being overcome by folks just like themselves on the same path. At Autoimmune Paleo we hope you'll be inspired by, empathize with, and learn from these stories. If you are interested in sharing your story, please let us know by filling out our interest form.
In addition to her three autoimmune diagnoses, Stephanie speaks of the social, emotional and mental health aspects of living chronic illness in her Story of Recovery. Ultimately, it was the decision to leave her stressful job in landscape architecture for a freelance schedule that helped reduce her stress levels, lower her inflammation and kickstart her healing. She is a beautiful example of the importance of a multi-factorial approach to healing involving medical and alternative therapies. 
What health issues are you dealing with, when did they begin, and how long did it take to get a diagnosis?

The main health issues that I am currently balancing are Hashimoto's, Undifferentiated Connective Tissue Disease (UCTD), and Eosinophilic Esophagitis (EoE). In addition, I have had asthma and allergies since childhood and IBS since my early twenties.
Starting in my mid-twenties, I began to experience symptoms like lightheadedness, brain fog, migraines, stomach pain, worsening asthma, and developed a sudden allergy to yeast. I initially attributed these symptoms to being under a lot of stress at work but realized that something was not quite right when extreme fatigue set in and I struggled to get out of bed.
In 2013, at the age of thirty, I was diagnosed with Hashimoto's after sudden vertigo that lasted for a couple of weeks. At the time, I had a primary care physician who really listened to me and ran a complete thyroid panel that included antibody testing, leading to my Hashimoto's diagnosis within a month. I feel so thankful that this doctor took my symptoms seriously and wanted to get to the root cause.
Five years later, I was diagnosed with EoE, a rare immune-mediated inflammatory disease of the esophagus that is triggered by food and environmental allergies. Similar to my experience before being diagnosed with Hashimoto's, I had a very low point in my health and I could barely eat or walk due to abdominal and chest pain that felt like a heart attack. Due to the severity of the pain, I couldn't brush off the symptoms and after being bedbound for a few weeks, I was fortunate to receive a diagnosis after having an endoscopy.
The diagnosis that took me the longest to receive was UCTD after experiencing mysterious rashes and hives, dry eyes, and joint inflammation for at least five years. I was finally diagnosed with UCTD (likely early Sjogren's) in 2019. After seeing many different specialists who were not quite sure what to make of the chronic rashes, I found an excellent rheumatologist who intuited my diagnosis right away after listening to my symptoms.
Describe what the lowest point on your health journey was like.
The year and a half following my EoE diagnosis was one of the most challenging times in my health journey. I ended up having five endoscopies that first year and spent so much time running around seeing my gastroenterologist, allergist, dietitian, and therapist while working a stressful job in landscape architecture. At one of my absolute lowest points in 2019, I could only eat around five foods that were pureed or made into soup. I was having so much difficulty swallowing with chest pain that it was a challenge to eat anything.
Since I could barely eat, I lost an extensive amount of weight in a short period of time. This was not only physically hard to deal with due to low energy levels, but I felt like I had to explain myself to everyone about why I looked so different. It was exhausting having to listen to comments about my weight loss plus explain why I couldn't eat like before. I quickly realized that one of the most challenging aspects of living with EoE is confronting the emotions that come from food loss. I experienced so much anxiety around food and fell into a deep depression not only due to the pain that I was experiencing but feeling like my entire life transformed seemingly overnight.
What challenges influenced you to look for a solution? Basically, what was the tipping point?
My tipping point was being diagnosed with UCTD only 6 months after my EoE diagnosis. I felt like I was stockpiling diagnosis after diagnosis and was scared to think what diagnosis might come next. When my rheumatologist let me know that my mysterious rashes were related to vasculitis, that was a big wake up call. I felt like I was losing control of my body and realized that I needed to make major changes to my lifestyle.
When you found a protocol to help you heal, what was it and what was your first indication that it was working?
For the past couple of years, I have been following a highly-personalized version of the Autoimmune Protocol. My journey to starting AIP took many years—I definitely didn't just jump in. Instead, I took many small steps to get me where I am now with my healing protocol.
I first learned about AIP from Autoimmune Wellness right after my Hashimoto's diagnosis in 2013. At the time, I felt like there was no way I could follow the elimination phase but I was definitely intrigued. Instead, I fully committed to a gluten-free diet (pre-diagnosis, I was mostly gluten-free but I didn't take it seriously despite having a gluten-sensitivity), keeping me relatively symptom-free for a few years. I felt so amazing when my brain fog lifted!
Unfortunately, being gluten-free wasn't enough and after being diagnosed with EoE, I started the Six-Food Elimination Diet which is a common dietary treatment for EoE. This elimination diet removes the top 8 food allergens (wheat, dairy, eggs, soy, fish, shellfish, nut, and peanuts) with the aim of determining your EoE food triggers. Even though I strictly followed the elimination diet for many months, I was still experiencing inflammation in my esophagus with difficulty swallowing and chest pain. This experience made me realize that many of my food triggers are outside the top allergenic foods.
Interestingly, it was my rheumatologist who urged me to try the Autoimmune Protocol after being diagnosed with UCTD. She encourages all of her patients to give AIP a try for a few months or at least go gluten-free. Since I really wanted to avoid having to take medication, I decided to give AIP a try.
My version of AIP looks different from many others since I have to take my extensive EoE food triggers into consideration. In fact, I made some mistakes early in my experimentation with AIP by removing some of my safe foods (i.e. rice and potatoes) that led to an increase in EoE symptoms and even lower energy levels. This encouraged me to develop a personalized version of AIP that works with my own EoE food triggers and individual needs.
After following my personalized version of AIP, it took many months to notice real changes. In addition to focusing on my diet, I worked on reducing the main stressors in my life. I ended up leaving my intense full-time job and started working freelance instead, giving me a lot more flexibility in my schedule to take care of myself. After about a year, I finally started to notice a reduction in rashes, my hair loss improved, and I was feeling more energized—even my blood work and pathology reports reflected that I was healing. For the first time, I didn't have active inflammation in my esophagus and my TPO antibodies were the lowest they have ever been!
What resources have you used on your healing journey so far and how did you find them?
I have definitely turned to a wide range of resources during my healing journey. I initially learned about the Autoimmune Protocol from Autoimmune Wellness back in 2013 and have turned to AIP blogs and books, such as The Paleo Approach by Dr. Sarah Ballantyne.
When I was still commuting on the subway to go to work, I would listen to Eileen Laird's Phoenix Helix podcast—listening to other people's healing stories kept me going through tough times. In addition, I have found that discovering community through social media and attending APFED patient conferences (American Partnership for Eosinophilic Disorders) to be such an important part of my healing journey. Having the opportunities to connect with others who can relate to what you are experiencing while living with chronic illness has been a huge gift.
Did your doctors suggest any treatments that you rejected and if so, why did you choose to try other methods?
After experiencing side effects due to a medication that I was prescribed after first being diagnosed with EoE, I really wanted to find my EoE food triggers through an elimination diet without drugs. While the elimination diet helped a little, I was still experiencing so much chest pain and could barely eat. At the point of only being able to eat a handful of foods, my gastroenterologist started me on an elemental diet which is an amino acid-based medical formula (basically, the formula is predigested without any food proteins). However, I was so reactive at the time that I couldn't even tolerate the medical formula.
Honestly, this moment terrified me. My doctor and I agreed that the only option left was to try a steroid medication with the hope that it would help me be able to expand my diet and get the nutrients I needed. Luckily, I responded well to the medication and have been able to slowly expand my safe food list from five to around thirty foods over the past 18 months.
It is important to remember that there is no shame in needing medication to support your healing. I am beyond thankful that I have medication that allows for me to eat a more diverse diet and that I can now eat relatively pain-free. A healing protocol doesn't have to be void of medication. Instead, AIP tools and medication are sometimes needed simultaneously for a better quality of life.
It can seem like our lives are consumed by a chronic illness, but there is so much beyond those struggles. What brings you true joy right now?
The little things bring me the most joy right now—laughing with my husband, playing with my cat, cooking nourishing food. Now that I am regaining energy, I enjoy incorporating more gentle movement into my life like yoga and taking walks in my neighborhood, just breathing in fresh air. Simple yet invigorating.
I like to remind myself that healing isn't linear. In many ways my healing journey just started and I still experience ups and downs. I have grown to accept that I will probably always live with a very restricted diet but I try to focus on the joy that I can still find in my kitchen. I am working on letting go of the things that I can't control and instead focusing on ways to enjoy the little things that make me smile.
You can connect with Stephanie on her website, The Open Cookbook, and on Instagram!
Would you like to share your Story of Recovery? Let us know by filling out our interest form.