This post contains affiliate links. Click here to see what that means!
In order to support our blogging activities, we may receive monetary compensation or other types or remuneration for our endorsement, recommendation, testimonial, and/or link to any products or services from this blog.
That being said, we only promote authors, products, and services that we wholeheartedly stand by!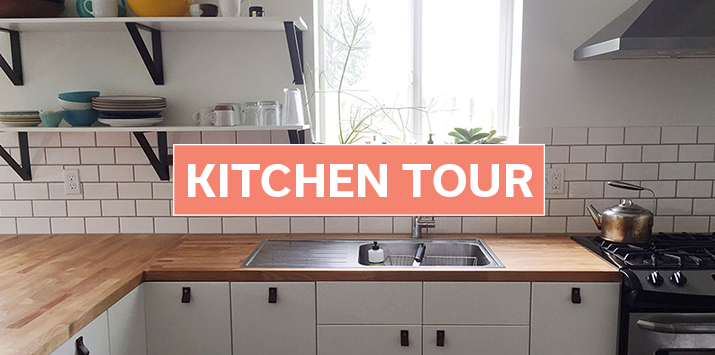 AIP Kitchen Tour is a monthly feature in which we profile a member of the AIP community and their kitchen setup in hopes that it will further inspire us to get our kitchens organized and set up for success! We've interviewed folks who are making the AIP lifestyle a reality in everything from college dorms and small city apartments, to large households with non-AIP family members, and everything in between. Through these interviews, we hope to share how they make it happen across a variety of budgets and living situations, and give the community a wealth of inspiration. Read more Kitchen Tours here!
Name: Amy Ewing
Location: Richmond, TX
AI diseases: Pernicious anemia and other issues we're still trying to figure out!

How long have you been eating AIP? 13 months
Have you successfully reintroduced any foods? 
Coffee and dark chocolate (in moderation).
How has the AIP changed your life?
I feel SO much better! I don't have a stomachache every afternoon as I did before. And I feel so good about the nourishing food on my plate. I hardly eat out anymore, and it's a challenge when I do, but it's worth it!
Size of your AIP kitchen: 17 x 14 feet

Favorite thing about your kitchen: My island! I store the items I use the most in it, and I do most of my prep on it. It's so handy!
Least favorite thing about your kitchen: Gosh, I really can't think of anything! I had a teeny tiny kitchen before, so I'm very grateful for the one I have now!
Are there any cheap gadgets or little tools that you have found make AIP easier?
I love mini whisks for mixing collagen and other powdered supplements into beverages and making sauces condiments, and dressings. I use my immersion blender for soups, date paste, and small quantities of sauces or condiments that require more than a whisk. I use silicone spatulas at least once a day-for scraping smoothies out of the blender, scooping coconut butter out of the jar, and many other things.
What is the biggest thing that changed in your kitchen setup when you adopted the AIP?
My blender, food processor, and instant pot weren't buried behind other items in the cabinet anymore, and all my coffee gadgets were relegated to a less accessible spot.
If someone was just starting to invest in some useful but more expensive kitchen tools, which one would you tell them to buy first?
A good food processor and blender.
Are there any tricks you have learned to make AIP work in your space?
I started out with separate shelves in the fridge and pantry so I could quickly locate what was compliant. Over time, I have ended up with fewer non-compliant items and don't necessarily separate all of them, but it sure helped at first! I also made space for Mason jars and old condiment jars to use for snacks, sauces, and other items that I used to buy at the store but now make. I also have an old refrigerator that we mostly use for drinks, but I've now designated the freezer for veggies and leftovers instead of old standbys like frozen pizza!
How do you deal with food for family members that are not AIP?
My AlP journey has been eased a bit by the fact that my husband travels a lot and my kids are grown. I have to rearrange a bit when my son is home from college, but my husband has adapted to eating mostly what I eat. I keep some snacks for them in a designated bin and drawer in the pantry. I also make regular rice for them when I have cauliflower or broccoli rice. I occasionally make a non-AlP bag of chicken for the grill when I'm freezer cooking or brown ground beef for taco meat, then divide it in half and season theirs separately.
Are there any tools or appliances that you've stopped using now that your diet has changed?
I never use my toaster anymore.
What are your favorite meals to batch cook?
I love soup and can eat it year-round, so I batch cook different soups and freeze individual portions in Souper Cubes that make for easy storage. I also enjoy the ease of freezer cooking and will prepare several bags of chicken with various marinades that are great for baking and grilling along with seasonal or frozen veggies.
What are your favorite AIP and Paleo cookbooks?:
The Autoimmune Protocol Comfort Food Cookbook (Michelle Hoover) and Affordable Paleo Cooking with Your Instant Pot (Jennifer Robins), [The websites for these authors are full of great recipes as well as Autoimmune Wellness, Food by Mars, and Thriving on Paleo!]
Do you have any tips for those starting an elimination diet and setting up their AIP kitchens for the first time?
Keep your cutting board, knives, parchment paper, and sheet pan in easy-to-reach places, and you can put simple meals and snacks together more quickly. If you find that you're ending up with fresh produce that's about to go bad, remember that you can freeze greens and other produce for use in soups or smoothies.
Connect with Amy on Instagram.
Would you like to be featured in an AIP Kitchen Tour? We feature members of the community who are willing to share the real spaces where they cook, as well as their stories of transitioning to this lifestyle. If you are interested, fill out our interest form!