This post contains affiliate links. Click here to see what that means!
In order to support our blogging activities, we may receive monetary compensation or other types or remuneration for our endorsement, recommendation, testimonial, and/or link to any products or services from this blog.
That being said, we only promote authors, products, and services that we wholeheartedly stand by!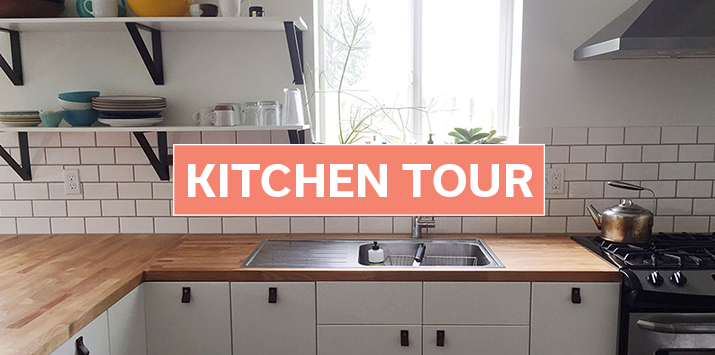 AIP Kitchen Tour is a monthly feature in which we profile a member of the AIP community and their kitchen setup in hopes that it will further inspire us to get our kitchens organized and set up for success! We've interviewed folks who are making the AIP lifestyle a reality in everything from college dorms and small city apartments, to large households with non-AIP family members, and everything in between. Through these interviews, we hope to share how they make it happen across a variety of budgets and living situations, and give the community a wealth of inspiration. Read more Kitchen Tours here!
Name: Anuška Kalita
Location: Vermont and Cambridge (Massachusetts)
AI disease: SLE and lupus nephritis
How long have you been eating AIP? ~8 years
Have you successfully reintroduced any foods?
Yes. I have reintroduced several seed spices (cumin, black pepper, mustard, etc.), I can eat eggs and occasionally, ghee.
How has the AIP changed your life?
Following AIP has quite literally saved my life!
I was diagnosed with lupus in 2007 but was too young and carefree to really think about making significant lifestyle changes. Between 2012 and 2017 I was going through the worst phase of my personal life. I had several serious and debilitating flares and in 2014 when I developed lupus nephritis, things became serious. The possibility of kidney failure and even death made me really re-evaluate things. I just had to take care of my own health, and that's when I started AIP.
Eliminating foods not just brought about an almost immediate and drastic improvement in many of my symptoms (especially joint pains, brain fog, and digestive issues), but following AIP also gave me a sense of empowerment — I felt like I could finally do something about my very unpredictable autoimmune condition. I felt much more in control of my body and of my health. As many of us with autoimmune conditions will understand, this is often rare for us.
Size of your AIP kitchen: ~200 sq. ft.
Favorite thing about your kitchen:
My kitchen island is my favorite thing in my kitchen. It's large and gives me enough space to prep my dishes and spread out all my ingredients while cooking. The island is also beautifully handcrafted with wood; the previous owners of our house built the island themselves, making it very special.
Least favorite thing about your kitchen:
Many of the cabinets and shelves are built much higher than I would have preferred for my 5'2″ self! Most of the storage space is quite out of my reach unless I'm using my step stool.
Are there any cheap gadgets or little tools that you have found make AIP easier?
My hand blender and soup-strainer were both super cheap but have made a massive difference to my AIP cooking. All the soups and purees, and of course, straining my bone broths, wouldn't have been possible without these two gadgets. Best value for money ever!
What is the biggest thing that changed in your kitchen setup when you adopted the AIP?
Of course, the biggest change has been my groceries and what you now find in my kitchen! But in terms of my kitchen setup, I think I use different gadgets now than before AIP. Most of my cooking is either in the oven or in the Instant Pot and not as much on the stovetop.
AIP has definitely freed up space on my shelves — I barely have any ready-to-eat snacks. Although I do feel that I'm constantly running out of space in my fridge and my freezer!
If someone was just starting to invest in some useful but more expensive kitchen tools, which one would you tell them to buy first?
I would recommend a good Instant Pot — it's truly life-changing for AIP cooking. My Instant Pot is probably the most used kitchen gadget. I use it for all my stews, soups, slow-cooked recipes, and even steaming veggies. It's great, especially if you don't have the time (or often the energy for a lot of us) to tend to your food constantly while cooking it.
If you want to buy something more expensive, I would recommend a good grill – it just makes everything taste better, even with just a few ingredients and spices.
This year I bought a meat freezer — one of the best decisions ever! If you have the space for it, I highly recommend buying one. So much easier to have all the meats and fish organized, and also frees up space in my refrigerator freezer for cooked foods that I want to freeze.
Are there any tricks you have learned to make AIP work in your space?
I have a much bigger kitchen now, but for the past several years, I have traveled a lot across different countries, and at times have lived in fairly small spaces, including a studio apartment. Thankfully, I have managed to make AIP work through these constraints.
For smaller spaces/kitchens, I have chosen to have the appliances/gadgets that I use most often — an oven, a blender, and three good pieces of cookware were what I prioritized when I was in my small studio.
When I travel on a long trip and foresee myself cooking, what has helped me is to have a few non-negotiables with me — a few ingredients that I might not find in a different city (for me, it's some of the herbs and ginger powder). I also always bring dried figs and meat snacks that I can eat when I travel to places where AIP-friendly foods might not be easily available.
How do you deal with food for family members that are not AIP?
My husband James is super supportive, and 99% of the time, we eat the same food. Of course, it helps that he loves my cooking! He does have his own dedicated space in the cabinet drawers and the fridge for his cheeses, milk, and ice cream. It hasn't been difficult eating AIP at home. It does get a little tricky when we used to go out to restaurants (pre-pandemic); usually, I would just order my own dish rather than have sharing plates. When we have guests over, I cook non-AIP foods, but it's not been a big problem.
It's really so important to have a supportive and empathetic partner, not just to adhere to AIP, but also to manage all the unpredictability of an autoimmune condition.
Are there any tools or appliances that you've stopped using now that your diet has changed?
My toaster is the most neglected gadget now! Luckily, I did not have any single-use appliances like sandwich makers, waffle makers, etc.
What are your favorite meals to batch cook?
Soups. I LOVE soups and I can eat them for any meal! It's also really useful to have soups that I can just heat up and eat, especially for days when I don't have the time/energy to cook or feel too sick to eat anything else and simply crave some comforting hearty food.
I also cook snacks, sauces, and condiments in batches. Since I don't eat store-bought snacks or sauces (almost everything is processed and has added sugar), I find it super helpful to cook them in batches and freeze them.
I recently made two big batches of blueberry sauce and apple compote, which are a big hit. They pair wonderfully well with so many things, from meats to veggies/fruits slices.
What are your favorite AIP and Paleo cookbooks?
I like the recipes that Autoimmune Wellness publishes on the blog. I've tried so many of them, and it's really great to learn from others who are practicing AIP. I also love Oh She Glows Everyday by Angela Liddon.

Do you have any tips for those starting an elimination diet and setting up their AIP kitchens for the first time?
My biggest tip would be to reorganize the kitchen shelves and put the "eliminated" foods away. Place the foods that you can eat and will be using for the next few months at hand. It's easy to forget that you can't eat a certain ingredient that you have been eating all your life, and if it's right there on the shelf where it always is, you might just end up adding it to your food unthinkingly…
Would you like to be featured in an AIP Kitchen Tour? We feature members of the community who are willing to share the real spaces where they cook, as well as their stories of transitioning to this lifestyle. If you are interested, fill out our interest form!