This post contains affiliate links. Click here to see what that means!
In order to support our blogging activities, we may receive monetary compensation or other types or remuneration for our endorsement, recommendation, testimonial, and/or link to any products or services from this blog.
That being said, we only promote authors, products, and services that we wholeheartedly stand by!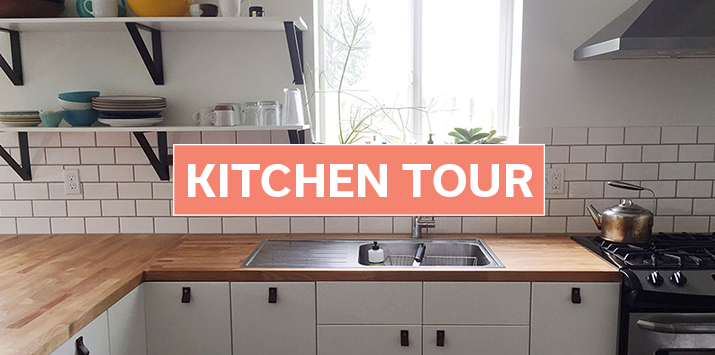 AIP Kitchen Tour is a monthly feature in which we profile a member of the AIP community and their kitchen setup in hopes that it will further inspire us to get our kitchens organized and set up for success! We've interviewed folks who are making the AIP lifestyle a reality in everything from college dorms and small city apartments, to large households with non-AIP family members, and everything in between. Through these interviews, we hope to share how they make it happen across a variety of budgets and living situations, and give the community a wealth of inspiration. Read more Kitchen Tours here!
Name: Catherine Beechie

Location: We're originally from California, but have been living in New Albany, Indiana since 2018.
AI disease: I have celiac disease, IBD/ IBS, clinically isolated syndrome, arthritis, and eczema. My husband has hidradenitis suppurativa, also known as acne inversa, and arthritis.
How long have you been eating AIP?
We came to AIP in a very round-about way. Our family was eating the Standard American Diet and in worsening health. All of the methods I had used previously to get us in "good health" weren't working for us anymore, so I was willing to consider alternative ways to think about food. That's when I came across the documentary Plant Pure Nation. I figured we didn't have anything to lose by trying the Nutritarian diet but everything to gain in possibly recapturing our good health, so we started that lifestyle in January 2018. By January 2019, we found our way to the Autoimmune Protocol when we realized that the Nutritarian diet wasn't resolving all of our symptoms and health issues. My husband and I are mostly compliant 100% of the time, but our son eats non-gluten grains, eggs, legumes, nuts, seeds, and nightshades.
Have you successfully reintroduced any foods?
No, I haven't been able to yet. I just started working with a functional medicine doctor out of Indianapolis because I want to take my healing to the next level. I'm hopeful that in a year or two I will be able to reintroduce some foods at that point.
How has the AIP changed your life?
AIP gave me my life back. Before we started on our food health journey, I just felt chronically unwell. I had chronic brain fog and fatigue, headaches and nausea all of the time, my blood sugar would regularly crash after eating, and I ached from head to toe. I was bloated and swollen, constantly taking OTC antacids, and would bounce back and forth between bouts of depression and anxiety. I had recurring signs and symptoms of MS, but nothing so severe that it would qualify me for a diagnosis. I felt trapped in my own body and I was miserable.
Since being on AIP, I have as much energy now as I did when I was in my teens and 20s. I feel vibrant from the inside out, and I'm constantly being complimented on how youthful I look for a 40-year-old. My health transformation has changed my life so drastically that I felt inspired to change careers. I left teaching to return to school so that I can become a nurse practitioner. I want to help others transform their lives though food and personal wellness regimes so that they too can live a vibrant life.
Size of your AIP kitchen:
We live in a pretty small house – only about 1,100 sqft, but our kitchen is 13' x 9' and takes up nearly half of our living space. It works out well for our family, though, because it has an eat-in bar on the peninsula which serves as our "dining table," and because we make everything from scratch, it helps to have all of the extra counter space.
Favorite thing about your kitchen:
We spend a lot more time in the kitchen now that we prioritize our health and wellbeing over convenience. One of the selling points of this house was that the kitchen directly opens up to the living room. Sure, it gets a little loud sometimes when you're cooking and someone is watching TV, but we really like that whoever is in the kitchen preparing food never has to feel left out of what's going on with the rest of the family or when guests are over (pre-COVID, of course!).
Least favorite thing about your kitchen:
There's no hood for the range, so we frequently set off the kitchen smoke detectors, but in our defense, they're pretty sensitive! Plus, the lack of hood leaves a bit of a grease film on the shelves that surround the stove which we need to regularly clean. Fingers crossed, we'll soon be replacing our current range with one that has a built-in hood (thank you stimulus check!!).
Are there any cheap gadgets or little tools that you have found make AIP easier?
It's not a very exciting or sexy tool, but having a really good set of produce-saver containers has been essential for us. We can buy more produce at a time and limit the number of trips we need to make to the grocery store because our veggies and fruits stay fresh all week long. I can't even begin to tell you how much these containers help ensure that we stay AIP compliant all week.
What is the biggest thing that changed in your kitchen setup when you adopted the AIP?
We used to need a really big pantry to store all of our food, but now we don't. We actually have the reverse problem now. Most of our food needs to be in cold storage now – whether in the fridge because it's fresh produce or batch-cooked meals or needing more freezer space for those times when our butcher has a sale or we just want to stock up on something.
We also now have a lot more cutting boards, and in varying sizes and shapes, than I ever thought would be necessary for one home kitchen. I used to have just one, now I think we have six. And I eyeball them at the store all of the time checking for any new designs that might improve my kitchen workflow. My husband probably thinks I have a problem!
If someone was just starting to invest in some useful but more expensive kitchen tools, which one would you tell them to buy first?
You can get by alright on one decent knife for a while, so before you invest in a nicer knife set, get yourself a high-powered combo blender/ food processor system. We purchased a 1200-watt Ninja blender with food processor that came with several spiralizer attachments and 24-oz individual smoothie blender blade and cups. It is hands-down the best kitchen appliance we have purchased for under $300. What's really good about it is that you can replace the base if the motor wears out and not have to replace all the attachments, and all of it is dishwasher safe. The amount of time it will save you during prep and the number of recipe options that it will open up to you makes it worth more than you will spend on it. I promise.
Are there any tricks you have learned to make AIP work in your space?
Always have AIP compliant snacks on hand. We're all human and there will be times when you're stressed or PMSing or just feeling a craving for something sweet or salty. Those aren't the times to think you can just muscle through the craving. You'll probably cave. So, when you do your weekly grocery shopping, be sure to pick up snacks that'll satisfy your sweet or salty cravings and that won't leave you feeling terrible and in fear of an autoimmune flare afterwards if you eat it. You'll be glad you did. My go-to snacks are Artisan Tropic Cassava Strips and sulfate-free dried Turkish and Mission figs.
How do you deal with food for family members that are not AIP?
Some individuals have true allergies to certain foods, and they abstain from eating those foods in order to keep from triggering their immune system so as to safeguard their health. To keep from triggering our immune systems, we eat according to AIP as the best way to safeguard our health as well. The way I see it, our AIP food choices are no less important than the food choices people make to protect their health no matter their conditions whether it be food allergies, diabetes, heart health, etc. My husband is allergic to strawberries and melons, so we don't typically serve those foods in our home even though our family and friends aren't allergic to those foods. Likewise, we don't eat grains, dairy, nightshades, legumes, nuts, or seeds in our home because those foods trigger various autoimmune flares in us. So, our philosophy is, if you come to our home to share a meal with us, you can expect our food to meet our health needs, and that will mean that certain foods aren't served in our home. But we've yet to disappoint any of our guests with a less than delicious meal. I mean, how could it not be delicious when we're using all-organic produce, 100% grass-fed meats, fresh herbs, wholesome fats and I'm using recipes from Mickey's cookbooks?!
Are there any tools or appliances that you've stopped using now that your diet has changed?
We don't eat as much meat as we used to, and we definitely pay more attention to how we prepare it when we do, so the one notable appliance that we've stopped using since our diet changed has been a BBQ. We'd like to get a smoker one of these days, but we haven't prioritized that yet.
What are your favorite meals to batch cook?
There's this really satisfying shepherd's pie recipe from Chef Jaime Oliver that I've tweaked to be AIP compliant. One of our favorite comfort food meals in the house. We also adore the seafood chowder recipe from the website "A Squirrel in the Kitchen." And, when our local meat supplier has pork loin available, we all can't ever get enough of Mickey's Roast Pork Loin with Parsnip Risotto – so good, and it gets more flavorful with each passing day in the fridge!
What are your favorite AIP and Paleo cookbooks?
There are a few AIP food bloggers whose recipes are always consistently good, such as A Squirrel in the Kitchen and Unbound Wellness, so I frequently look for new ones by them on Pinterest.
However – and I'm about to sound like the biggest fan-girl now – my two absolute favorite cookbooks are The Nutrient Dense Kitchen and The Autoimmune Paleo Cookbook. I actually stumbled upon one of Mickey's recipes on Pinterest for the Loaded Baked Sweet Potato with Bacon Guac and Lime-Coconut Cream while we were Nutritarians and was just dumbfounded by how all the flavors were working together to make this absolutely perfect dish that satisfied my native Southern Californian need for really good Mexican food. It wasn't until after I got her two cookbooks that I made the connection! We're a bunch of foodies in my house, so having such simple but powerfully flavorful, varied, and textured dishes to enjoy while on AIP has been a real treat and made all the difference for my family. It actually makes my heart hurt just a little that she's only put out two cookbooks so far!
Do you have any tips for those starting an elimination diet and setting up their AIP kitchens for the first time?
Be honest with yourself about what's realistic for you and your life. Before we bought AIP compliant groceries, before we bought any new appliances, and before I gutted my kitchen to prepare for our "new way of living," we sat down and planned out what an average day/ week would be like for us – what we would eat and how much time we could spare for food preparation. We also took into consideration the amount of space we had to work with, our current tools, and which tools we needed to make our lives easier on AIP, but also what a realistic budget for us looked like. So, that would be my tip to others. You've got to be honest with yourself about what you actually need, what should be prioritized, and what will or won't work for your actual lifestyle, not the lifestyle you aspire to. The change will be challenging for a little while at first, so remember to be kind to yourself and just take it one day at a time because, ultimately, it's about staying the course for a lifetime, not how perfectly you launched!
Would you like to be featured in an AIP Kitchen Tour? We feature members of the community who are willing to share the real spaces where they cook, as well as their stories of transitioning to this lifestyle. If you are interested, fill out our interest form!