This post contains affiliate links. Click here to see what that means!
In order to provide the free resources here on the Autoimmune Wellness website and social media channels, we may accept a commission or other support for our endorsement, recommendation, or link to a product or service in this post.
That being said, we only promote authors, products, and services that we use ourselves and wholeheartedly stand by. To learn more about how we earn money here on Autoimmune Wellness, head on over to our Promotional Policy.
These muffins are lovely for anyone looking for an Autoimmune Protocol elimination-phase friendly treat! The blend of cassava and coconut flours produce a just-crumbly-enough texture that is so hard to get in AIP baked goods, plus the avocado oil ensures they stay soft and fresh-tasting for a few days. Enjoy!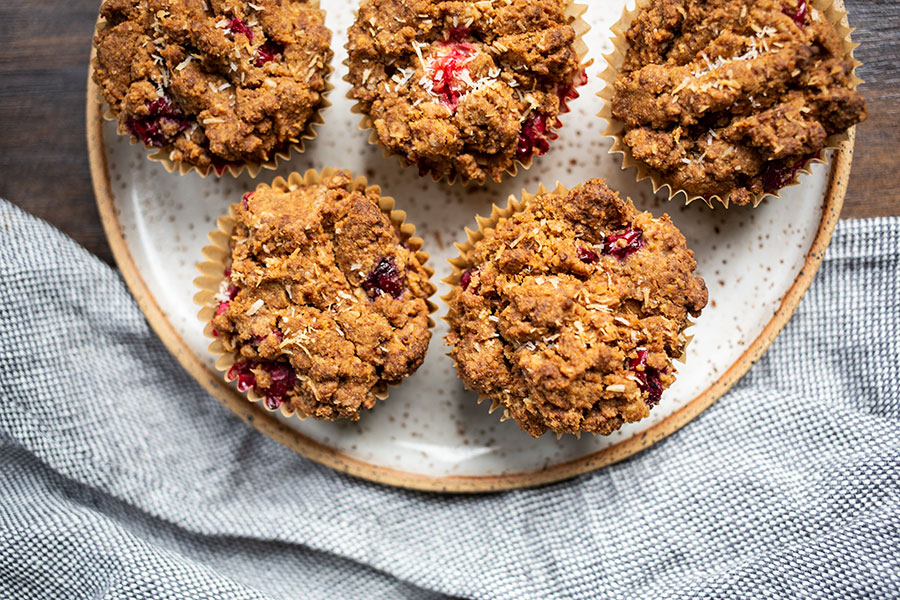 Cranberry Dream Muffins
Instructions
Preheat the oven to 350 degrees F. Grease (or line w/ paper cups) 6 slots of a standard muffin tin and set aside.
In a medium bowl, add the cassava flour, coconut sugar, coconut flour, baking soda, cinnamon, ginger, and salt and stir to combine. Set aside.
In a large bowl, add the avocado oil, lemon juice, and vanilla and whisk to combine. Add to the dry mixture, give it a little stir, and then add the cold water, using a spatula to stir only until the mixture is combined. Your batter will be much thicker and less wet than conventional muffin batter. Fold in the cranberries and coconut flakes.
Use a spoon to fill each cup to the top (even heaping a little) with batter. These muffins don't rise much, so you can fill them more than usual (alternatively, if you want smaller muffins, you can make 9 instead of 6). Sprinkle with a little sea salt and coconut flakes for garnish, if desired.
Bake for 30-35 minutes, or until lightly browned on the tops and a knife or toothpick inserted comes out clean. Allow to cool fully to develop the right texture. Can be reheated or enjoyed at room temperature.
Notes
Because of the avocado oil in this recipe these muffins keep well in an airtight container at room temperature for a few days, just make sure they are fully cooled before sealing up.