This post contains affiliate links. Click here to see what that means!
In order to support our blogging activities, we may receive monetary compensation or other types or remuneration for our endorsement, recommendation, testimonial, and/or link to any products or services from this blog.
That being said, we only promote authors, products, and services that we wholeheartedly stand by!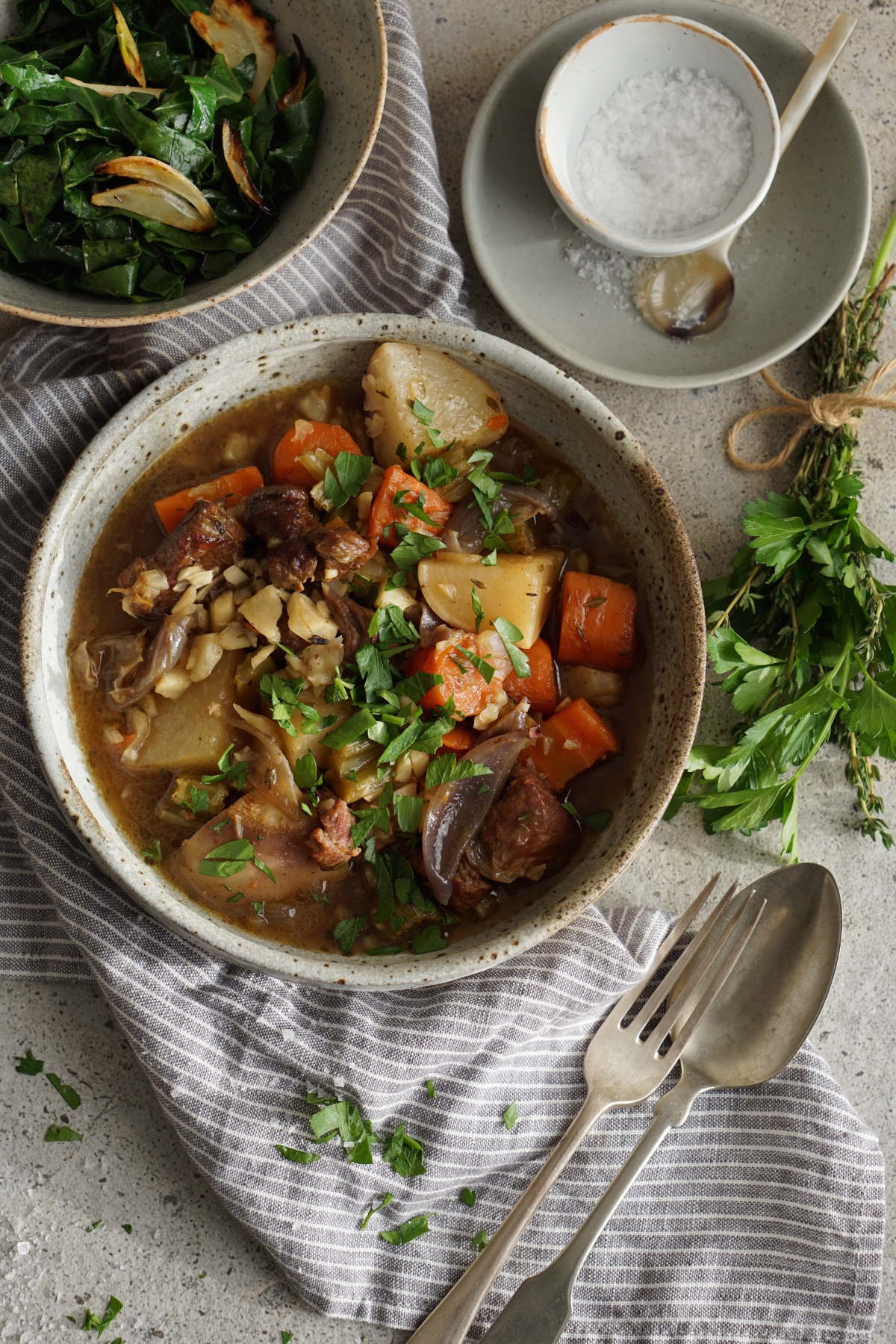 You'll find this hearty stew is the perfect thing for a mid-winter warm up. Plus, with the varied selection of veggies coupled with a good old dose of bone broth, it really couldn't be much healthier.
I can't stress enough, though, that it is worth taking the time to brown your meat properly right at the start. It might seem a bit dull to do so but I promise you'll get so much more depth of flavor from beautifully browned meat. Also the extra fat on that lamb will render down into the pan (which is why there's no need to add any fat during the browning process) and add even more flavor, leaving the chunks of meat tender and melt-in-the-mouth-delicious.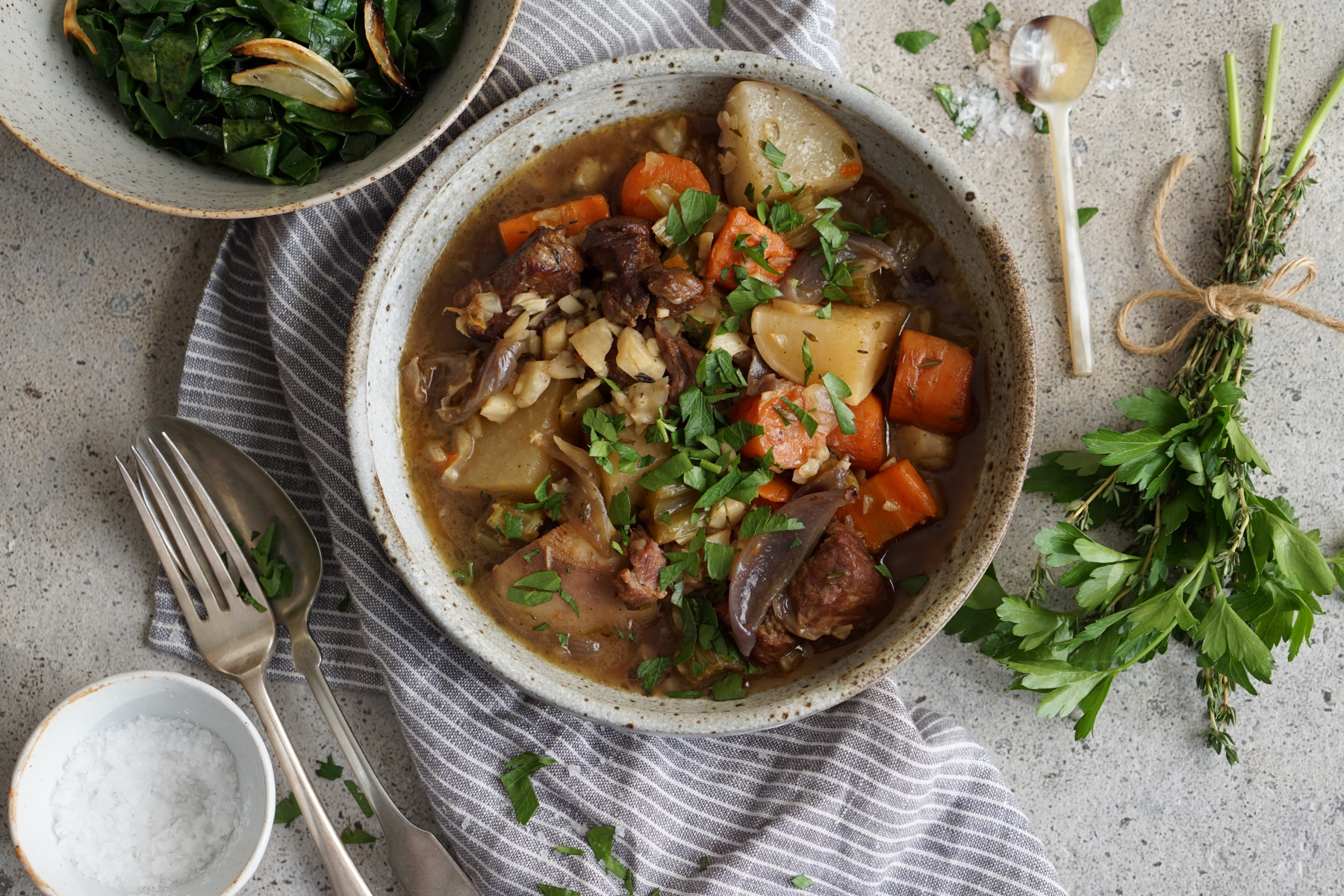 Using a little chunkily riced celeriac in place of the traditional barley works pretty nicely here, I think, but feel free to leave it out if you don't agree. Finally be sure to give yourselves an extra helping of fat — I do this by drizzling a spoonful of MCT oil over the greens before I tuck right in.
Hearty Irish Lamb Stew
Ingredients
2-lb lamb shoulder, cut into 1½-inch pieces
1 tablespoon coconut oil or other solid fat
2 medium red onions, each one cut through the base into 8 wedges
4 large cloves garlic, sliced into ¼-inch pieces
3 large stalks celery, cut into ½-inch chunks
2 large carrots, cut into 1-inch chunks
4 long sprigs thyme
3 cups rich bone broth
3 small/medium (1 lb) turnips, cut into 1½-inch pieces
1 medium celeriac, riced thickly to yield 2 cups
¼ packed cup flat leaf parsley, chopped
½ teaspoon Maldon sea salt or to taste
Instructions
Preheat the oven to 325 degrees F.
Because lamb is a fatty meat it requires no fat for browning. See here for a browning how to.
Heat a large heavy based lidded casserole (Dutch oven). Add the lamb in small batches and brown the pieces all over, putting aside in a medium sized bowl as you go.
Once the meat is browned and removed, add the tablespoon of fat to the casserole, together with the onion wedges, garlic, celery and carrots and cook, stirring from time to time, on a medium heat for 3-4 minutes until slightly singed. If at any point your pan is looking overly brown and parched, a tablespoon of water will help release the sediment, so quickly scrape it up and incorporate into the vegetables before the moisture has evaporated. This adds extra flavour!
Now pour in the broth, throw in the thyme, cover with a lid and place in the oven for 1 hour.
Remove the casserole from the oven and add the turnips. Replace the lid and cook for a further 30 minutes. Take the stew out of the oven again and add the riced celeriac. Put it back into the oven (again, with the lid on) and cook for a final 16-18 minutes or until the celeriac is slightly softened, with just a little bite.
Discard the now leafless thyme stalks, ladle the stew into large bowls and scatter parsley over the top.
Serve with collard greens, sautéed in coconut oil (or other solid fat) and extra slices of garlic if you like.