This post contains affiliate links. Click here to see what that means!
In order to provide the free resources here on the Autoimmune Wellness website and social media channels, we may accept a commission or other support for our endorsement, recommendation, or link to a product or service in this post.
That being said, we only promote authors, products, and services that we use ourselves and wholeheartedly stand by. To learn more about how we earn money here on Autoimmune Wellness, head on over to our Promotional Policy.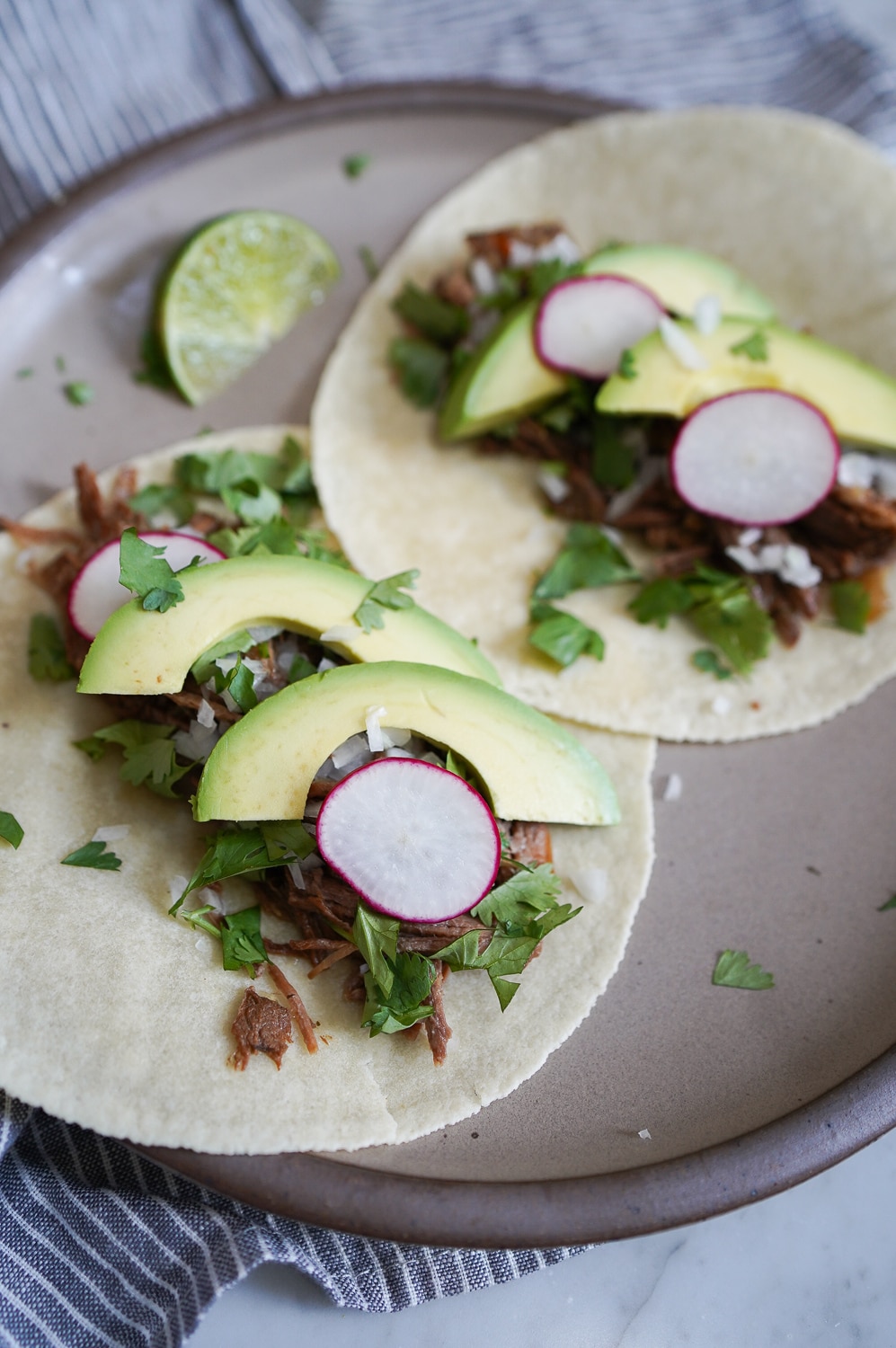 Even though I LOVE my Instant Pot, I have to admit it has taken me a while to figure out how to make a perfectly AND predictably tender batch of meat. I finally discovered that the common method of quickly depressurizing the Instant Pot can often cause meat to toughen up. Although allowing the pot to depressurize naturally takes an extra 30 minutes or so, it is well worth it if you are looking for a perfectly tender dish, like this barbacoa taco meat!
Instant-Pot Barbacoa Beef
Ingredients
1 tablespoon solid cooking fat
1 yellow onion, diced
6 cloves garlic, minced
1 cup bone broth
½ cup fermented beets (AIP-friendly sauerkraut also works)
1 lemon, juiced
½ teaspoon molasses
2 teaspoons oregano
1 teaspoon sea salt
1 teaspoon garlic powder
1 teaspoon onion powder
1 bay leaf
3-4 lbs beef roast, chuck or shoulder, cut into 4-5 pieces
Instructions
Place the solid cooking fat in the bottom of the Instant Pot and press the Saute button. When the fat has melted and the pan is hot, add the onions, and cook, stirring occasionally, for 7 minutes, or until starting to brown. Add the garlic and cook for 30 seconds, until fragrant. Turn off the heat.
Add the broth, ferments, lemon juice, molasses, and spices to the pot and stir to combine. Add the beef chunks and mix so coated with the mixture. Close and lock the lid and set on Manual - High Pressure for 60 minutes.
When the timer goes off, press the Cancel button to turn the warming function off. Allow the Instant Pot to depressurize naturally (note, this takes about 30 minutes, but is essential to the meat coming out tender).
When the Instant Pot has depressurized, carefully remove the lid and use a slotted spoon to transfer the meat chunks to a container. Press the Saute button to reduce the cooking liquid by ½-2/3, about 15 minutes. While the sauce is reducing, shred the beef.
Once the sauce has reduced to the desired consistency, press the Cancel button to turn the Instant Pot off. Allow it to cool for a few minutes before adding to the shredded meat and serving.