This post contains affiliate links. Click here to see what that means!
In order to support our blogging activities, we may receive monetary compensation or other types or remuneration for our endorsement, recommendation, testimonial, and/or link to any products or services from this blog.
That being said, we only promote authors, products, and services that we wholeheartedly stand by!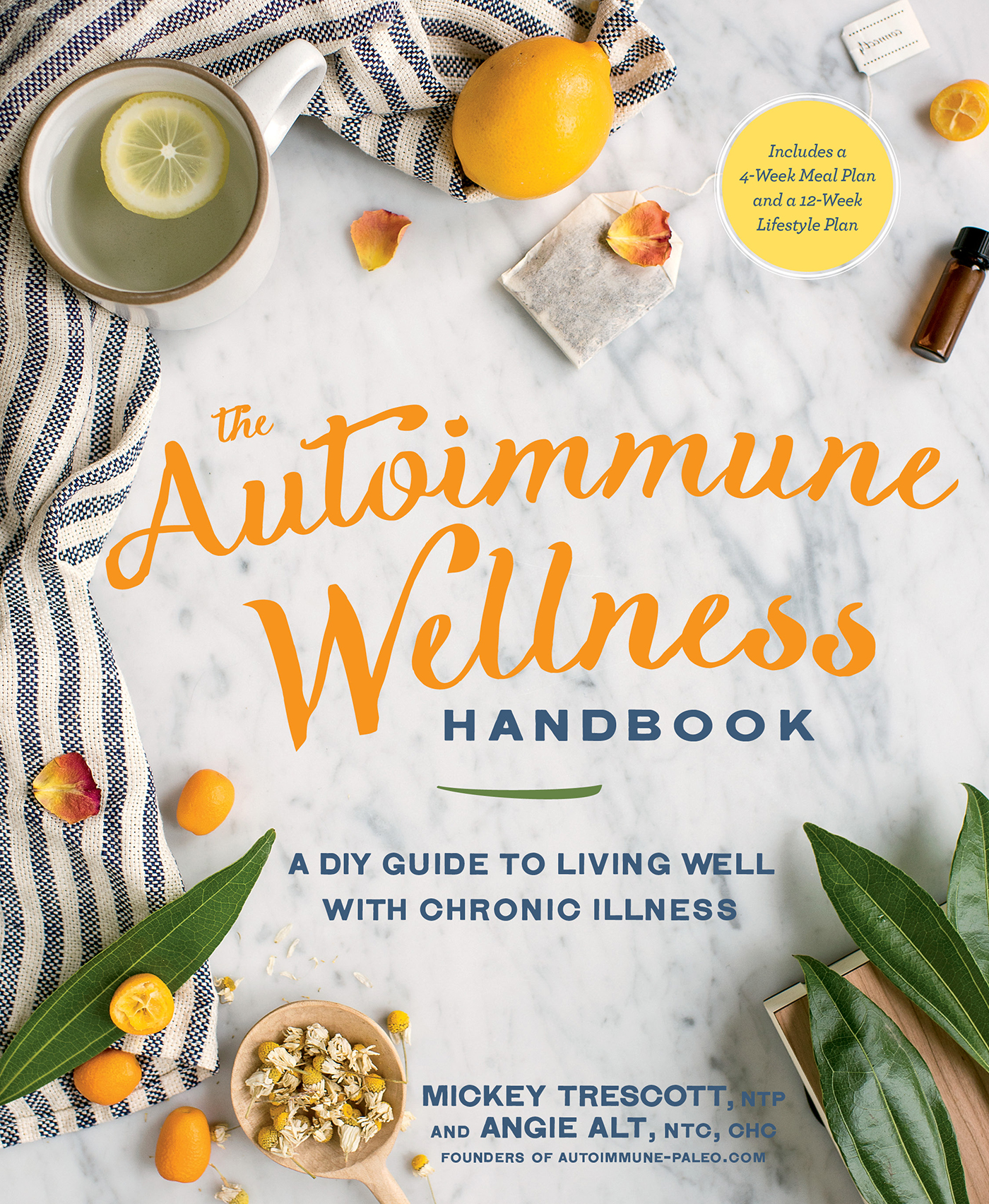 Today we are happy to announce we are coming out with our next book, a co-authored creation, titled The Autoimmune Wellness Handbook: A DIY Guide to Living Well with Chronic Illness.
The release date is Tuesday, November 1, 2016, and we can't wait!
We've been hard at work for almost two years on this project and we can't wait to share it with the world! It's the community of all of you here and your positive energy, that has motivated us to take our thoughts about autoimmune wellness to the next level!
Things have changed drastically over the six years we have been on this mission, and The Autoimmune Wellness Handbook was written on the foundation that the way we view and treat autoimmune disease is undergoing a revolution, big time! In order to live well with chronic illness, you need to become a new kind of patient, one who is savvy enough to know that a whole-body and whole-life approach is necessary.
Inside you will find information to help you have the greatest chance of success at managing your illness using the best of conventional, natural, and DIY methods.
What you'll find in the handbook:
A chapter on each of our seven key steps to wellness;

Inform

,

Collaborate

,

Nourish

,

Rest

,

Breathe

,

Move

, and

Connect

.

Notice, these are action verbs, guys!

Information on how to be a proactive patient, from getting that diagnosis to partnering with a doctor who can help you achieve wellness. We cover some really unique areas for the community including understanding the different conventional and natural treatments you can expect, how to gather information, how to best advocate for your healing, and some of the trickier aspects like coping with diagnosis.

We've found this piece of healing to be just as important as diet and lifestyle!

Self-assessments, checklists, and infographics for every chapter to help you define where you are and decide where to apply your energy.

Everyone's journey is different! We want to help you tailor

.

A collection of 30 exclusive recipes, compliant with the Autoimmune Protocol, that feature simple, affordable ingredients and are mostly one-pot and batch-cooking friendly. We've included our favorite staples as well as some special treats.

We want you to heal and enjoy your life!

A 4-week meal plan and shopping list for the elimination diet, incorporating our favorite recipes from the book.

You know our mantra is "set yourself up for success!".

What about the "other" stuff? We've designed a 90-day lifestyle plan to ease you into the parts of the process most people find overwhelming — dialing in rest, stress management, exercise, and connection, without making you feel burnt out!

We know that making small, incremental changes will make this doable!
What makes our book different?
Our approach is anti-guru, and instead guided by empowerment and self-discovery. We acknowledge that everyone is unique and has a different starting place or trouble spots, which is why we've gone through so much effort to provide information that encourages personalization and refinement, instead of sharing what worked for us exclusively.
We've aimed to synthesize a lot of complicated information in a concise, handy volume. With this project we set out to create a true handbook — something that fits in your bag and is easily referenced. We've included beautiful photography thanks to our autoimmune pal Charlotte Dupont, as well as well-designed graphics for the assessments, tables, checklists, and infographics. The book is meant to be completely user-friendly!
Why pre-order a copy instead of wait until the release date?
Pre-orders help generate "buzz" for a book and buyers use these numbers to determine how many books to stock in stores. If you've been following us for a while and have benefitted from the information and inspiration we provide, we would be grateful for your support in helping us get our book in front of a mainstream audience.
In the Autoimmune Paleo community, we know this works, but integrating conventional, natural, and DIY approaches is still largely unknown in mainstream culture. Our purpose with this book is to be a part of the major shift that is happening in the way that autoimmune disease is viewed and treated. It is our goal that those newly diagnosed will have access to this information and avoid the years of suffering that many of us have experienced!
Pre-ordering, at least on Amazon, also guarantees you the lowest price from now until the book release, which currently is only around fifteen bucks. That is a small price to pay for the amount of information you'll be gaining, a lot of which is new ground for our community!
You can pre-order your copy using the links below:
Thanks for being a part of our community and for supporting us in this endeavor!