This post contains affiliate links. Click here to see what that means!
In order to support our blogging activities, we may receive monetary compensation or other types or remuneration for our endorsement, recommendation, testimonial, and/or link to any products or services from this blog.
That being said, we only promote authors, products, and services that we wholeheartedly stand by!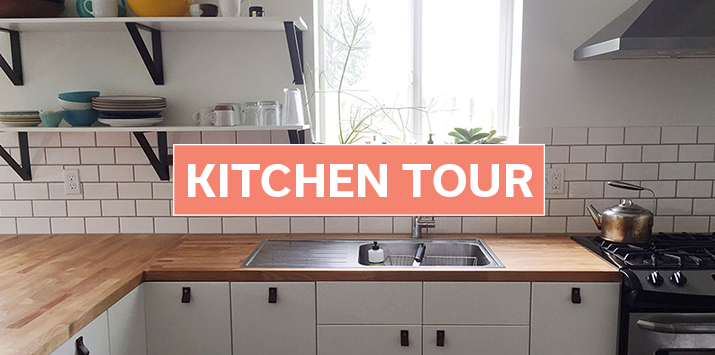 AIP Kitchen Tour is a monthly feature in which we profile a member of the AIP community and their kitchen setup in hopes that it will further inspire us to get our kitchens organized and set up for success! We've interviewed folks who are making the AIP lifestyle a reality in everything from college dorms and small city apartments, to large households with non-AIP family members, and everything in between. Through these interviews, we hope to share how they make it happen across a variety of budgets and living situations, and give the community a wealth of inspiration. Read more Kitchen Tours here!
Name: Jennifer Kobayashi
Location: A 1969 mobile home in Lebanon, NH
AI diseases: Hashimoto's, probable Celiac, hidradenitis suppurativa, Raynaud's
How long have you been eating AIP? Since September 2019
Have you successfully reintroduced any foods? Cacao (but not cocoa), tomatoes, and most nuts.
How has the AIP changed your life?
Physically, I have had no HS flare-ups, significantly less joint pain, fewer headaches, and my Hashimoto's antibodies are going down. Also, because of learning about AIP, I feel equipped to feed my family healthy, nutrient-dense foods and I am much more comfortable in the kitchen.
Size of your AIP kitchen: About 12' x 13' = 156 square feet.
Favorite thing about your kitchen: 
A friend recently found us a used range that has 4 working burners. Since 2017, I had been cooking on a stove where only the two rear burners worked. I also love my big sink. It is easy to wash large pots and sheet pans.
Least favorite thing about your kitchen:
Severe lack of prep space. I usually wind up placing my cutting board on the stovetop. The kitchen also houses our clothes dryer and dining table, so multiple activities occur in the space. Additionally, there are no functioning drawers and only one lower cabinet.
Are there any cheap gadgets or little tools that you have found make AIP easier?
A Thermapen, immersion blender, handheld citrus juicer, and glass storage containers that can go in the freezer.
What is the biggest thing that changed in your kitchen setup when you adopted the AIP?
Instead of packaged meals and "food," my pantry now has ingredients. I also have quite a collection of alternative flours.
If someone was just starting to invest in some useful but more expensive kitchen tools, which one would you tell them to buy first?
An Almond Cow. I use it several times a week to make coconut milk.
Are there any tricks you have learned to make AIP work in your space?
Meal planning is essential. From there I make my grocery list and decide which meals to make on work nights vs. weekends when I have more prep time.
How do you deal with food for family members that are not AIP?
For the most part, my husband and teenage son eat what I cook. I will often make rice for them to add to their meals.
About 10 years ago I bought a cute, retro breadbox. Now it is labeled with a "gluten" sticker and all the non-AIP contraband is stored there.
Are there any tools or appliances that you've stopped using now that your diet has changed?
The bread maker now lives in the shed.
What are your favorite meals to batch cook?
I'm not really a batch cooker. I will make bone broth because I like to have my freezer stocked with this deliciousness. Otherwise, I cook dinner every evening and try to have enough left over for my lunch the next day.
What are your favorite AIP and Paleo cookbooks?:
Definitely The Nutrient-Dense Kitchen and The Autoimmune Paleo Cookbook for the starting phase.
Affordable Paleo Cooking in the Instant Pot, by Jennifer Robins helped me get comfortable with using a pressure cooker.
My current favorite cookbook is Nom Nom Paleo Let's Go.

Do you have any tips for those starting an elimination diet and setting up their AIP kitchens for the first time?
Get good pots and pans that you love.
Prepare yourself mentally.
Then just do it.
Would you like to be featured in an AIP Kitchen Tour? We feature members of the community who are willing to share the real spaces where they cook, as well as their stories of transitioning to this lifestyle. If you are interested, fill out our interest form!