This post contains affiliate links. Click here to see what that means!
In order to support our blogging activities, we may receive monetary compensation or other types or remuneration for our endorsement, recommendation, testimonial, and/or link to any products or services from this blog.
That being said, we only promote authors, products, and services that we wholeheartedly stand by!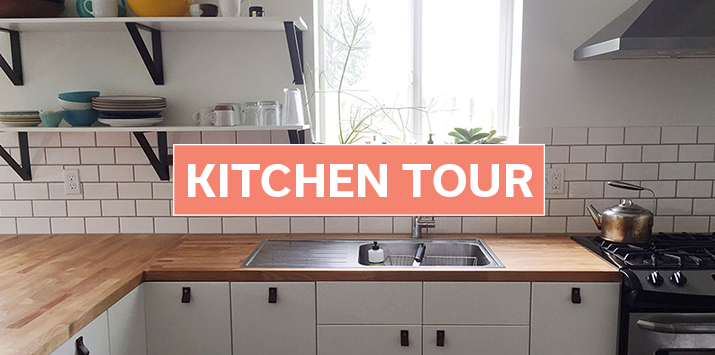 AIP Kitchen Tour is a monthly feature in which we profile a member of the AIP community and their kitchen setup in hopes that it will further inspire us to get our kitchens organized and set up for success! We've interviewed folks who are making the AIP lifestyle a reality in everything from college dorms and small city apartments, to large households with non-AIP family members, and everything in between. Through these interviews, we hope to share how they make it happen across a variety of budgets and living situations, and give the community a wealth of inspiration. Read more Kitchen Tours here!
Name: Jennifer Rhees
Location: Boise, Idaho
AI disease: Lupus, Hashimoto's
How long have you been eating AIP?
I have been dabbling for a year, but researching for much longer.
Have you successfully reintroduced any foods?
At this point, I haven't eliminated non-compliant foods completely.
How has the AIP changed your life?
I am hopeful that it will alleviate some of my lupus symptoms — mainly joint pain.
Size of your kitchen: 18′ x 13′
Favorite thing about your kitchen:
Finding one favorite thing is tough. I think there are many favorite things — the location of my sink in a bright, sunny window; my baking counter, where everything I need is right where I need it; the size of my refrigerator; the hot water tap on the bar sink (which I use way more than I thought I would when we built the kitchen). Perhaps my very favorite thing about the kitchen is that it was a completely custom design. My husband, an architect, designed the kitchen. We spent a lot of time choosing every single detail, from the sink to the granite counters, to the stain color. It is truly a work of art and exactly what we wanted, from start to finish.
Least favorite thing about your kitchen:
My least favorite thing about my kitchen is that it gets dirty quickly with three kids home all the time. Dirty dishes are always piled in the sink and I am always tripping over the dog's dish.
Are there any cheap gadgets or little tools that you have found make AIP easier?
Hmmm. I'm not sure on this one. I do really like my Ninja blender (with two blending cups for smoothies). I also really like my Pampered Chef Mix 'n Chop (so great for cooking ground meats or giving a quick mash to cooked veggies) and the Scoop Loop (makes cleaning seeds out of squash and melons super easy, as well as taking avocado out of the skin!).

What is the biggest thing that changed in your kitchen setup when you adopted the AIP?
I am still working on this aspect, but I think it will be what is in the canisters on my baking counter. Currently it still houses white flour and sugar. I don't believe in tossing food unless it is rancid, so we will use up what is there until it is gone. I would love to be able to fill them with compliant baking ingredients. Other than that, I don't think much will really change with the set up.
If someone was just starting to invest in some useful but more expensive kitchen tools, which one would you tell them to buy first?
A really good blender and/or food processor, as well as an immersion blender. I use the immersion blender at least once a week! I also highly recommend cast iron cookware, especially a Dutch oven. It is wonderful to cook with and is so easy to take care of. We were fortunate to inherit cast iron from my husband's grandparents. It is wonderfully smooth. The cooking surface is so smooth and shiny, it almost looks like glass!
Are there any tricks you have learned to make AIP work in your space?
Hmmm. I'm not sure on this one. I think to make it really work, I will need to reconfigure my baking cabinet and put non-compliant items well out of reach (as in not even in the house!).
How do you deal with food for family members that are not AIP?
Previously, I thought I had to go it alone. In the last three months, I have come to the conclusion that if I am to be successful, we all need to give it a go for at least a month. My daughter gets frequent stomach aches and my oldest suffers from asthma and anxiety — all of which may be alleviated with a change in diet. I have been consistently making at least one family dinner completely AIP on a weekly basis. Weekend breakfasts are frequently eggs, bacon, and fruit — simple switches like leaving eggs out are fairly easy and we are making our own bacon on the Traeger.
Are there any tools or appliances that you've stopped using now that your diet has changed?
I still use all the tools in my kitchen with the same frequency as before. I think I am using my food processor more now, though.
What are your favorite meals to batch cook?
I am still learning how to make batch cooking work for us. Anything I make usually disappears within a couple of days (three teenagers in the house!). Typically, though, soup is my go-to.
What are your favorite AIP and Paleo cookbooks?:
The Autoimmune Protocol Comfort Food Cookbook by Michelle Hoover
The Healing Kitchen by Alaena Haber and Sarah Ballantyne
The Autoimmune Paleo Cookbook by Mickey Trescott
I also really enjoy paleo recipes from Stacy Toth, as well as her Real Everything website and The Whole View podcast.
Do you have any tips for those starting an elimination diet and setting up their kitchens for the first time?

When I first started trying AIP, I really thought it had to be "all or nothing." This led to failure in the extreme, not to mention disappointment. It was too hard to acclimate my family to AIP, cold turkey, and I couldn't be the only AIP person in my house. Baby steps are a necessary component to success! Slow and steady wins the race, every time.
You can connect with Jennifer on her Facebook page.
Would you like to be featured in an AIP Kitchen Tour? We feature members of the community who are willing to share the real spaces where they cook, as well as their stories of transitioning to this lifestyle. If you are interested, fill out our interest form!