This post contains affiliate links. Click here to see what that means!
In order to support our blogging activities, we may receive monetary compensation or other types or remuneration for our endorsement, recommendation, testimonial, and/or link to any products or services from this blog.
That being said, we only promote authors, products, and services that we wholeheartedly stand by!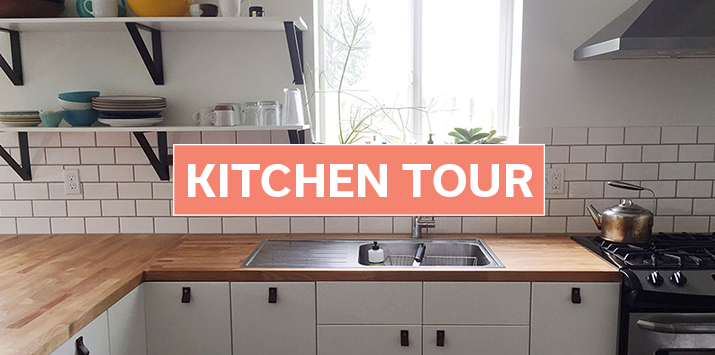 AIP Kitchen Tour is a monthly feature in which we profile a member of the AIP community and their kitchen setup in hopes that it will further inspire us to get our kitchens organized and set up for success! We've interviewed folks who are making the AIP lifestyle a reality in everything from college dorms and small city apartments, to large households with non-AIP family members, and everything in between. Through these interviews, we hope to share how they make it happen across a variety of budgets and living situations, and give the community a wealth of inspiration. Read more Kitchen Tours here!
Name: Julie and Geoffrey Brown
Location: Madison, Mississippi (a suburb just north of Jackson), USA
AI Disease: Geoffrey was diagnosed with rheumatoid arthritis when he he was 17; living with it now for 45 years. Though I (Julie) do not have a diagnosis, I am happy to eat in ways that supports our health and create solidarity.

How long have you been eating AIP?
Our healing journey began in January 2017 with our first Whole30. We began eating much cleaner after that. But didn't make a firm commitment to a full diet and lifestyle change until April 1, 2018. We started with another Whole30 and then transitioned into Paleo. It was some time in May of 2018 that we came across AIP after seeing some food bloggers reference it on Instagram. We listened to the all the podcasts by Mickey and Angie and began the AIP diet and lifestyle on June 1, 2018.

Have you successfully reintroduced any foods? 
We are just beginning to embark on some reintroduction. Planning to begin with pastured egg yolks and then almonds. Those are the items we miss the most — can you say MAYONNAISE? Several weeks ago Geoffrey had an unfortunate encounter with a BBQ rub that made it clear that we will not be reintroducing cumin and chili powder anytime soon. Check back with us in a few weeks and we can let you now how the reintroduction is going.
How has the AIP changed your life?
At the most basic level Geoffrey has noticed a significant reduction in stiffness, inflammation, and fatigue. He has not had a major flare in over 6 months. He has been able to reduce all of his medications — both prescribed and over-the-counter. For example he was taking 5mg of prednisone a day and now is taking 1mg every other day. He was taking 1600mg of Ibuprofen daily and is now taking approximately 200mg. We both had been on an over-the-counter acid reducer daily for decades and now neither of us takes any at all.
A commitment to clean eating and the AIP has taught us both how much food matters to our general well being, outlook, and sleep. We both have far more energy, sleep better, and an appreciation for a more disciplined approach to diet and lifestyle. The better you feel the better you want to feel.
Geoffrey said it has helped him to stop feeling like a victim. It has empowered to him to take action. He has learned to listen to his body and care more deeply for himself. It has also given us both the ability and desire to resist urges and temptations.
We have loved the partnership that this lifestyle is developing in our marriage. We are a team in this whole endeavor. Particularly we love cooking together. There is satisfaction in the entire process from shopping, to prepping, to cooking, to sitting down and dining. Pure enjoyment.
Geoffrey and I have only been married for 3 1/2 years. Together we are fostering to adopt our two boys. Geoffrey has 3 grown daughters and we have 3 grandchildren as well. We love modeling what a healthy life can look like. We love cooking for our growing family and sharing how delicious whole foods can be. It is deeply satisfying to see how this is trickling down to the next generation.
Size of your AIP kitchen:
The floor space is 12 square feet and the entire kitchen foot print is contained in a 44-square-foot space.
Favorite thing about your kitchen: 
I love that our kitchen is in the center of the house. Standing in the center of my kitchen I can see the kids playing out in front of the house; the dogs wrestling on the back patio; the fire in the fireplace (in winter); and our favorite football games on the TV in the living room. I also have grown to appreciate the small size of our kitchen. I am never more than a step or two from everything that I need. Even still I manage to clock thousands of steps in that space each weekend when I am meal prepping.
Least favorite thing about your kitchen:
Though I have learned to appreciate our small space, I often wish for a bigger space with more storage and counter space. And while I am wishing… Santa, please bring us a gas stove, and a real vented hood.
Are there any cheap gadgets or little tools that you have found make AIP easier?
The only tools or gadgets that we added to our kitchen arsenal were glass storage containers for leftovers, and wide mouth mason jars for freezing bone broth. I bought spiralizer early on in our clean eating journey but have found that I don't use it much.
A surprising gadget that has been helpful is an Amazon Echo. Not only do we listen to plenty of music while we are cooking, it has proven most useful for keeping shopping lists. We have a regular shopping list, a Sam's Club list, and a Thrive Market list. When my hands are a mess and I am in the middle of a recipe and I realize I just used the last of an ingredient or am getting dangerously low or coconut aminos, for example, I love being able to have Alexa take care of that for me.
What is the biggest thing that changed in your kitchen setup when you adopted the AIP?
We have very little pantry space in our kitchen and thankfully I have needed very little space for AIP. Right now the only items in my pantry spaces are AIP flours, oils, coconut, coconut milk, dried fruit, collagen, gluten-free pasta for the boys and a few other items. The emphasis has shifted to the freezer and refrigerator. We have a second fridge in a utility closet outside which has come in very handy.
If someone was just starting to invest in some useful but more expensive AIP kitchen tools, which one would you tell them to buy first?
We did not have to make any investments in kitchen tools. All the basic tools we needed were already in our kitchen and are in the picture: an 8-inch chef's knife or santoku, an electric sharpener, a good cutting board, food processor, blender, an immersion blender, an iron skillet, a Dutch oven, and a slow cooker. I know that the Instant Pot is all the craze right now, but I have not found myself handicapped in anyway by not having it.
The 3 items that I use absolutely every day are the immersion blender, the chef's knife, and the cutting board. If I had a bigger kitchen with more "real estate" on the counter, I might invest in an Instant Pot.
Are there any tricks you have learned to make AIP work in your space?
Having such a small kitchen and such limited counter space has made me think carefully through how to organize things to make food prep as easy and convenient as possible. As you can see in the photo, nearly everything is within arm's reach. Nothing is allowed to take up space unless it is used with great regularity.

How do you deal with food for family members that are not AIP?
Our boys are not strictly following AIP, though they do eat most of what we are eating. I have created a gluten-free kitchen. Transitioning them to gluten-free was not too difficult. I have been intentional about not making a big deal out of it. In addition to what we cook, I will make them gluten-free pancakes; they eat eggs, and gluten-free spaghetti or macaroni and cheese. They always have plenty of nutritious snacks to choose from. Thankfully they love all vegetables except asparagus.
Are there any tools or appliances that you've stopped using now that your diet has changed?
We have transitioned out of nearly all of our plastic food storage containers. I find that I don't use my casserole dishes anymore, except when making a shepherds pie — which is divine.
What are your favorite meals to batch cook?
I have been batch cooking since before I knew it was called batch cooking. Geoffrey and I both work full time and have additional work outside of our "day jobs" that keeps us on the run, not to mention keeping up with two pre-teen boys. So weekend meal prep has been essential to our success as a family. Nearly every weekend we prep a big green salad for the week, a week's worth of breakfast hash (pictured), grilled and smoked meats, a slow cooker full of turnip greens, and often a pot of chicken soup. I also make sure that I have a batch of gluten-free pancakes ready for the boys.
What are your favorite AIP and Paleo cookbooks?
We have chosen to spend any extra money we have on quality meat, fruit, and vegetables. So we have not yet invested in any cookbooks. I have been a devout user of Google for many years now to mix and match recipes that I find there. There are extensive resources free and online for the AIP community. My go-to websites are: Autoimmune Wellness, A Squirrel in the Kitchen, The Castaway Kitchen, Unbound Wellness, The Paleo Mom, and Phoenix Helix.
Do you have any tips for those starting an elimination diet and setting up their kitchens for the first time?
As many others have said before me, clearing out all non-compliant foods was the first order of business — flours, sugars, sauces, spices, canned goods, etc. I found it particularly helpful to clean out the spice rack. Now when I look at what I have there, I know I can use any of it without question. I have already said this, but a good knife is critical.
If you'd like to learn more about Julie and Geoffrey, you can follow Julie on Instagram.
Would you like to be featured in an AIP Kitchen Tour? We feature members of the community who are willing to share the real spaces where they cook, as well as their stories of transitioning to this lifestyle. If you are interested, fill out our interest form!