This post contains affiliate links. Click here to see what that means!
In order to support our blogging activities, we may receive monetary compensation or other types or remuneration for our endorsement, recommendation, testimonial, and/or link to any products or services from this blog.
That being said, we only promote authors, products, and services that we wholeheartedly stand by!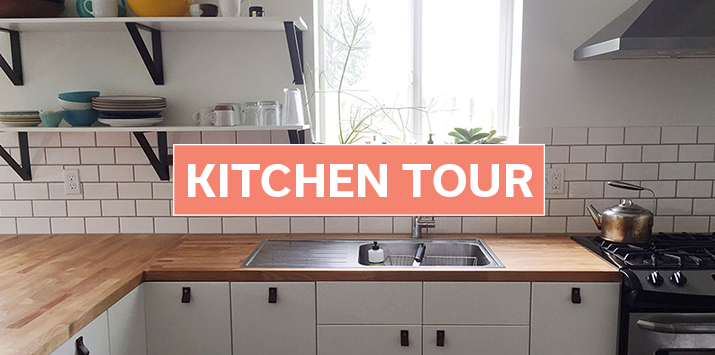 AIP Kitchen Tour is a monthly feature in which we profile a member of the AIP community and their kitchen setup in hopes that it will further inspire us to get our kitchens organized and set up for success! We've interviewed folks who are making the AIP lifestyle a reality in everything from college dorms and small city apartments, to large households with non-AIP family members, and everything in between. Through these interviews, we hope to share how they make it happen across a variety of budgets and living situations, and give the community a wealth of inspiration. Read more Kitchen Tours here!
Name: Kelly McGuire
Location: Hoboken, NJ
AI Disease: Hashimoto's, undifferentiated connective tissue disease
How long have you been eating AIP? About six months
Have you successfully reintroduced any foods?
I am one of those on the wagon/off the wagon sort of AIP-ers. When I first started I was pretty strict, but given my line of work and inability to be an adult that can prepare food for herself, I slipped up a lot.
I have had a setback recently and had a significant flare-up, so I'm back to being VERY strict. I have been able to drink red wine, but organic only. Eggs are next on my list to reintroduce.
How has the AIP changed your life?
The autoimmune paleo diet has significantly reduced my joint pain and given me back a lot of my energy, both mental and physical.
Size of your kitchen: Very small.
Favorite thing about your kitchen:
The high ceiling and large windows. Okay that was two things. While the windows don't provide me with a great view, they let in a lot of light. The high ceiling gives my kitchen the illusion it is much larger that it is.
Least favorite thing about your kitchen:
Where to begin? You compromise a lot when renting in a city. Most of what people would balk at, I learn to see as "character". That being said, from an aesthetic point of view I would have to say that the sink setup and cabinets are just about horrific, with one of the doors unable to close fully.
WAIT. No. Not that. My least favorite thing about my kitchen is the fact that I can't have my toaster oven running at the same time as my vacuum cleaner. In other words, the building and electrical system is so old (the building is over 100 years old) that I can't have much running without blowing a fuse.
Oh wait, maybe its hideous floor.
Are there any cheap gadgets or little tools that you have found make AIP easier?
It's not a gadget, but the cast iron skillet has paid for itself a thousand times over, and only gets better with age!

What is the biggest thing that changed in your kitchen setup when you adopted the AIP?
I would have to say keeping what I have in my cabinets changed dramatically. I am a snacker, so in order to get the best out of AIP and stay as healthy and as happy as possible, I needed to abstain from buying anything that wasn't AIP-acceptable.
If someone was just starting to invest in some useful but more expensive kitchen tools, which one would you tell them to buy first?
A good quality knife! I was lucky enough to receive a Wusthof knife as a gift and I plan to buy more.
Are there any tricks you have learned to make AIP work in your space?
I have little-to-no counter space. I keep the slow cooker and Dutch oven in a cabinet when not using them. I use stove top as a place to keep pots on and keep items that need to cool on it (like a giant hot plate).
How do you deal with food for family members that are not AIP?
Well, it's tough, but thankfully my dog and cats are on their own prescription diets.

Are there any tools or appliances that you've stopped using now that your diet has changed?
Microwave. I have not run into ANY circumstances where I have needed it or even WANTED it.
What are your favorite meals to batch cook?
Soups and stews, mostly.
What are your favorite AIP and Paleo cookbooks?
First, The Autoimmune Paleo Cookbook by Mickey Trescott and also The Autoimmune Protocol Made Simple Cookbook by Sophie Van Tiggelen. I also started working with an AIP nutritional therapist who sends me recipes as well.
Do you have any tips for those starting an elimination diet and setting up their kitchens for the first time?
Is there something in your cabinet that's not AIP? THROW. IT. A. WAY. Isn't that always the first step when dieting in any way? Make sure you're not BUYING that which you should not HAVE. Going AIP made me see how much food was an actual addiction, and getting rid of the source of the addiction is a very important step; it is not fool-proof, but it is a start. (What I wouldn't give for a bagel right now.)
You can connect with Kelly on Instagram.
Would you like to be featured in an AIP Kitchen Tour? We feature members of the community who are willing to share the real spaces where they cook, as well as their stories of transitioning to this lifestyle. If you are interested, fill out our interest form!