This post contains affiliate links. Click here to see what that means!
In order to support our blogging activities, we may receive monetary compensation or other types or remuneration for our endorsement, recommendation, testimonial, and/or link to any products or services from this blog.
That being said, we only promote authors, products, and services that we wholeheartedly stand by!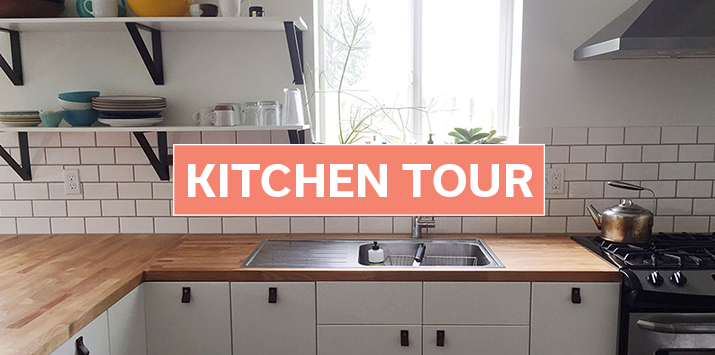 AIP Kitchen Tour is a monthly feature in which we profile a member of the AIP community and their kitchen setup in hopes that it will further inspire us to get our kitchens organized and set up for success! We've interviewed folks who are making the AIP lifestyle a reality in everything from college dorms and small city apartments, to large households with non-AIP family members, and everything in between. Through these interviews, we hope to share how they make it happen across a variety of budgets and living situations, and give the community a wealth of inspiration. Read more Kitchen Tours here!
Name: Mary Ann Hastings
Location: Gainesville, Florida, USA
AI Disease: I was prescribed levothyroxine for a thyroid hormone level that was "a little off" four years before I was given the diagnosis of Hashimoto's thyroiditis.
How long have you been eating AIP?
I started eating AIP 7 years ago, just after I'd used the elimination diet to figure out what I needed to avoid in order to start healing my gut and subsequently my thyroid.

Have you successfully reintroduced any foods?
In addition to figuring out what foods I needed to avoid, I also needed to address things like toxic load, sleep, and stress management. I didn't really explore food reintroduction on the AIP until I was in a better place with respect to the above-mentioned areas.
My chiropractor has been guiding me through a methylation process over the past 6 months, which has so substantially improved my digestion that I have felt more confident about trying to reintroduce foods. In the past few months, I've been able to eat eggs, nuts, seeds, and corn (nixtamalization processed) without significant side effects. I still avoid dairy and grains because I instantly experience stomach issues if I eat them, even in small amounts.
How has the AIP changed your life?
I was delivered from my sugar addiction within two weeks of going AIP. Additionally, I had more energy, less brain fog and was so substantially better all the way around that my husband decided that AIP would probably be better for him, too.
Even beyond the additional time it took to prepare the foods on AIP, the one negative change has been the social isolation that following the protocol has caused. I've learned how to navigate the many social situations around which serving (unhealthy) food is the norm, but it has taken a lot of effort and explaining.
The plus is that I am putting what I've learned through my experience to good use by starting a Hashimoto's Dinner & Support Group service from my home beginning June, 2019. Anyone who wants to know more about the AIP and/or try out some of the foods on it can show up on the first Monday of every month and have a full-course dinner prepared for them using only ingredients on the AIP. Discussion will follow for those who are interested in that piece.
Size of your AIP kitchen: 13 feet x 14 feet
Favorite thing about your kitchen: I love the amount of natural light in my kitchen. I can also look outside and see beautiful Live Oak trees at any time.
Least favorite thing about your kitchen:
My kitchen is a good size, but the big appliances are so close together that it is difficult for more than one person to work. My husband cooks some things he eats apart from what I can eat, and he washes and puts away all of the dishes. It's sometimes quite a traffic jam at the sink or the counter space.
I'm designing a second space in the kitchen to add a gas stove, handwashing sink, counter/cupboard space, and a movable island to make food prep easier. It will eliminate the "eat-in" feature of the kitchen, but since we use the dining room or patio for all meals except breakfast now anyway, the change will only make food prep more relaxed.
Are there any cheap gadgets or little tools that you have found make AIP easier?
The ENJI Magic Trio Peeler Slicers Shredders for fruits and vegetables have been a fast way to shred cabbage into nice thin uniform lengths. My husband particularly likes it when I use the shredder to make sauerkraut. When it's easy to make, it gets made more often.

What is the biggest thing that changed in your kitchen setup when you adopted the AIP?
In addition to the pantry being cleared of flours and pasta, the biggest change in the kitchen setup has been the amount of refrigerator and freezer space I've needed to accommodate the large amounts of food that I needed to prepare and store while I was doing a lot of traveling in my working full-time job. I have one refrigerator-freezer in the kitchen, and another refrigerator that is actually a freezer chassis in the garage. I already had a very large upright freezer in the garage, but that had previously been used to freeze the European pastries my husband made. Except for one shelf that is still his, I've taken that one over and added another larger upright freezer in the garage. I use that one for my "batch freezing" of processed vegetables like chopped onions, sliced mushrooms, shredded sweet potatoes, shredded jicama, etc. The other I use for all of my batch-cooked foods.
If someone was just starting to invest in some useful but more expensive AIP kitchen tools, which one would you tell them to buy first?
A good sharp chefs knife is a given, so the next in line would have to be a food processor (at least an 8-quart). It's not as sexy as some of the blenders out there, but I find it more versatile. I can make a smoothie in a food processor as easily as I can in a blender. But, I can't rice cauliflower or shred sweet potatoes in a blender as easily as I can in a food processor.
The Instant Pot speeds up cooking from a frozen state without the health concerns posed by microwave use. The "set it and forget it" feature is also great when preparing other dishes that do need more of your attention.
Are there any tricks you have learned to make AIP work in your space?
There aren't enough sleeves to hold all my tricks up them, but here are a few:
Meal plan as a family conversation. Check who in the family is going to be home and at what time each day of the week before deciding on your meal.
Think ahead when you are using something like a food processor. If you are shredding sweet potatoes, process more than you need for the immediate recipe and flash freeze the rest on a parchment paper covered 1/2 sheet pan. That way, you're only having to wash out the fresh produce once while it did the work of several meals.
By flash-freezing raw veggies, you can take out exactly the quantity you need at any one time instead of having to thaw a big chunk of something.
How do you deal with food for family members that are not AIP?
I lucked out on this one. Although my husband was a pastry chef at one time (bread was his specialty and favorite), he's always eaten whatever I've cooked. He was also so scared about how sick I suddenly became with no answers as to why from doctors that he was willing to do anything to "fix me". The dramatic improvement in my health, the need for our granddaughter to also be gluten-free, and his own health crisis then convinced him to cut out the sugar and the gluten he'd still been eating. Now he's happy making our grandchildren gluten-free treats for their birthdays.
Are there any tools or appliances that you've stopped using now that your diet has changed?
The waffle iron went by the wayside after the first year of "gluten-free". That is, after I got the actual Hashimoto's diagnosis and admitted to myself that, as yummy as the buckwheat carob waffles or the cornmeal pancakes were, they were still causing me tummy trouble. Not so drastic as the pain of wheat or rye, but not as optimal for my innards as going totally grain free.
What are your favorite meals to batch cook?
As is true of many Hashimoto's sufferers, I don't do well with raw vegetables. Since I have to cook my veggies, to avoid feeling as though I'm always eating leftovers, I don't really batch cook as much as I do batch freeze. I shred jicama (for fresh "hashbrowns" later), sweet potatoes, slice mushrooms, and mince onions, and flash freeze them on a parchment paper-covered half sheet pan. I then bag up the frozen-but-loose-veggie pieces into a quart freezer bag and label and date it. Food file boxes (see pictures of freezer) keep each batch at the ready so I can cook up a fresh breakfast in 15 minutes.

What are your favorite AIP and Paleo cookbooks?
I come from a long line of fabulous cooks, so the meal planning, cooking, and recipe development needed came quite naturally to me. What I needed was reassurance that there were delicious foods out there that could take the place of my beloved potatoes, tomatoes, and eggplant. The Autoimmune Paleo Cookbook was my go-to for that.
I've looked at some other AIP and Paleo cookbooks, but there are many things even on the AIP list that I had trouble eating at first. I just got more accustomed to developing my own recipes based on what I knew I could eat, though I still look through some for inspiration occasionally.
Do you have any tips for those starting an elimination diet and setting up their kitchens for the first time?
Talk to your family about as much as you know about your condition and what you need to eat to re-gain your health. Print the AIP Foods To Include List out on white paper. Print the Foods to Avoid List on yellow paper and post both lists on the refrigerator door to help everyone remember. Enlist their cooperation by asking them to take responsibility for purchasing and storing those items they enjoy but that are triggers/temptations for you.
Go "cold turkey" on the AIP for two weeks for those meals for which you are responsible. See how you and everyone else feels after the two weeks. Talk again and plan together what adjustment(s) should be made to make it easier for everyone.
Marinate all you do in love and grace.
If you'd like to learn more about Mary Ann's AIP journey, check out her blog, Cooking for Your Lifestyle, or follow her on Facebook, YouTube and Pinterest.
Would you like to be featured in an AIP Kitchen Tour? We feature members of the community who are willing to share the real spaces where they cook, as well as their stories of transitioning to this lifestyle. If you are interested, fill out our interest form!