This post contains affiliate links. Click here to see what that means!
In order to support our blogging activities, we may receive monetary compensation or other types or remuneration for our endorsement, recommendation, testimonial, and/or link to any products or services from this blog.
That being said, we only promote authors, products, and services that we wholeheartedly stand by!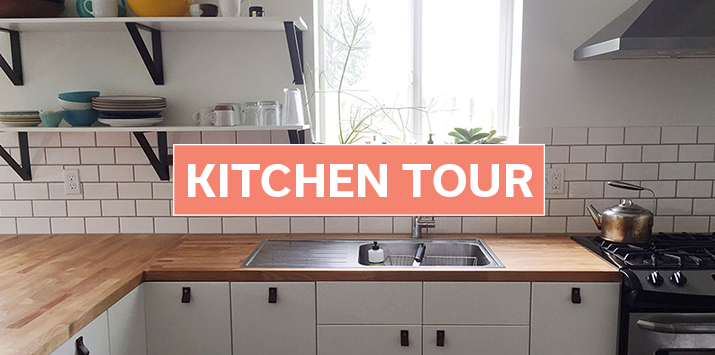 AIP Kitchen Tour is a monthly feature in which we profile a member of the AIP community and their kitchen setup in hopes that it will further inspire us to get our kitchens organized and set up for success! We've interviewed folks who are making the AIP lifestyle a reality in everything from college dorms and small city apartments, to large households with non-AIP family members, and everything in between. Through these interviews, we hope to share how they make it happen across a variety of budgets and living situations, and give the community a wealth of inspiration. Read more Kitchen Tours here!
Name: Megan Dimmer
Location: Grand Rapids, MI
AI Disease: Hashimoto's and endometriosis
How long have you been eating AIP? 4 months

Have you successfully reintroduced any foods?
Not yet. I am still working to embrace the lifestyle aspects of AIP in order to promote better healing. Stress management and sleep are important to figure out before reintroductions can take place. The process has been far from perfect, but I am learning to listen to my body instead of just ignoring the pain, which in itself is a revolutionary concept.
How has the AIP changed your life?
I have made strides in my health that I hadn't experienced in many years. With over twelve years of chronic illness and big dramatic flares, I have yet to find something that is as sustainable as AIP.
In two months I lost 55 pounds and cut my antibody numbers in half. Now I am uncovering other health impediments that are slowing my healing a bit, but I still have hope that it will lead to greater healing. The AIP has been instrumental in giving me a new curiosity about my health instead of just settling.
Size of your AIP kitchen: 9 feet x 9 feet
Favorite thing about your kitchen:
I love the center counter. It gives me a natural workspace for batch cooking and meal prep. It is the heart of the organization in my kitchen — without it my kitchen would fall into chaos.
Least favorite thing about your kitchen:
Where my fridge is located makes it really difficult to open and keep the freezer organized. It creates a lack of flow which can be difficult in a small space.
Are there any cheap gadgets or little tools that you have found make AIP easier?
Having nice knives and peeler will make cooking and prep more enjoyable.
What is the biggest thing that changed in your kitchen setup when you adopted the AIP?
I carved out separate pantry space for AIP-compliant food that I didn't want my family to touch. This decreased my likelihood to eat non-compliant foods. I also devoted some counter space to brewing kombucha, which has been a staple in my new diet.
If someone was just starting to invest in some useful but more expensive AIP kitchen tools, which one would you tell them to buy first?
My Instant Pot has been a life-saver for quick AIP meals. It is a versatile tool and makes amazing nutrient dense bone broth fast. Having a smoker has helped add variety to creating flavorful meat and is a simple way to batch cook for the week.
Are there any tricks you have learned to make AIP work in your space?
I have learned that batch cooking and pre-cutting vegetables and fruit make meals less stressful and far more simple. Because I am running in and out of the kitchen all day for my kids, having compliant food ready to go decreases the stress of creating even more mess in the kitchen when my kids are calling, and ensures I always have something simple to make.
How do you deal with food for family members that are not AIP?
Because I have twin toddlers, I am often dealing out non-compliant foods all day. I always make sure that dinners have components that are AIP. Whether it is a protein or a couple of sides, I make sure I am not making two separate meals. Keeping family meals simple makes cooking more enjoyable and challenges my twins to try new foods. It is a win-win.
Are there any tools or appliances that you've stopped using now that your diet has changed?
My crockpot and microwave haven't been looked at in 4 months. I moved the crockpot into more permanent storage once I realized how much more effective the Instant Pot was for creating compliant meals. The microwave is now a glorified shelf- — only used if the twins need a warm-up for their meal.
What are your favorite meals to batch cook?
We smoke chicken and pork weekly to keep for lunches. My entire family loves to partake in this. I also make coconut milk, kombucha, and bone broth on a weekly basis. I don't prefer to reheat vegetables, so I just prewash or cut and place in glassware ready to be used.
What are your favorite AIP and Paleo cookbooks?
When I first thought of doing AIP and my twins were just babies, a friend gave me tons of cookbooks to go through and learn more about the protocol. The Paleo Approach Cookbook and The Autoimmune Paleo Cookbook gave me the courage to make the change.
I also love the online resources that Instagram has to offer. I follow many in the AIP community to get ideas for new dishes. Because life with twins is crazy, I rarely attempt a new recipe, but it inspires me to eat outside my comfort zone and focus on nutrient density.
Do you have any tips for those starting an elimination diet and setting up their kitchens for the first time?
Expect the process to be emotional. The AIP isn't just a fad diet, but an invitation into a different way of living life. This change doesn't happen overnight and is progressive throughout the journey. I am only a short way into my healing and have uncovered the deep emotions that are tangled up in being chronically ill for most of my life. This has led me to an imperfect journey, but one that will be far more sustainable than just diet alone.
Nutrient density is more important than getting the most expensive ingredients. My family is on a tight budget and it isn't always possible to get organic or grass-fed products. By focusing on the impact the food I eat has and keeping meals simple, I am able to also eat a nutrient dense diet for less than what we spent before AIP.
Finally, don't transform your kitchen in one go. It will make embracing all the changes more difficult and won't feel as sustainable. By slowing changing organizational strategies and purchasing new tools, you will feel more empowered to take hold of healing.
If you'd like to learn more about Megan's AIP journey, you can follow her on Instagram.
Would you like to be featured in an AIP Kitchen Tour? We feature members of the community who are willing to share the real spaces where they cook, as well as their stories of transitioning to this lifestyle. If you are interested, fill out our interest form!