This post contains affiliate links. Click here to see what that means!
In order to provide the free resources here on the Autoimmune Wellness website and social media channels, we may accept a commission or other support for our endorsement, recommendation, or link to a product or service in this post.
That being said, we only promote authors, products, and services that we use ourselves and wholeheartedly stand by. To learn more about how we earn money here on Autoimmune Wellness, head on over to our Promotional Policy.
FlavuhflavuhFLAVE! Sometimes, you just need something to wake up your mouth. If you're like me, you might miss the powerful flavors of hot peppers in a dish. There are ways, my friends, to achieve super flavor without triggering a big ol' puffy response from nightshades. With elements like lemon grass, mint, cilantro, lime, horseradish, and vinegar, you will not be bored. This banh mi-inspired recipe is fresh, sweet, slightly spicy, and tangy all at once.
Have you heard of banh mi? It is a Vietnamese sandwich filled with some things that are less-than-friendly to us. (And it's a sandwich, so there's that…) I decided to create a dish that is more flavorful, just as exciting, and a bit (gasp!) adventurous. I threw these ingredients in a bowl instead of a bun, and went to town.
A couple of things: please find the freshest horseradish root possible, maybe even one that is slightly green. Horseradish root that is old can impart a bitter aftertaste. Also, your life will be made SO much easier if you have a gadget called a julienne peeler. This makes short work of julienned veggies. Otherwise, you'll be chopping things into itty-bitty pieces forever.
Let's get this banh mi party started.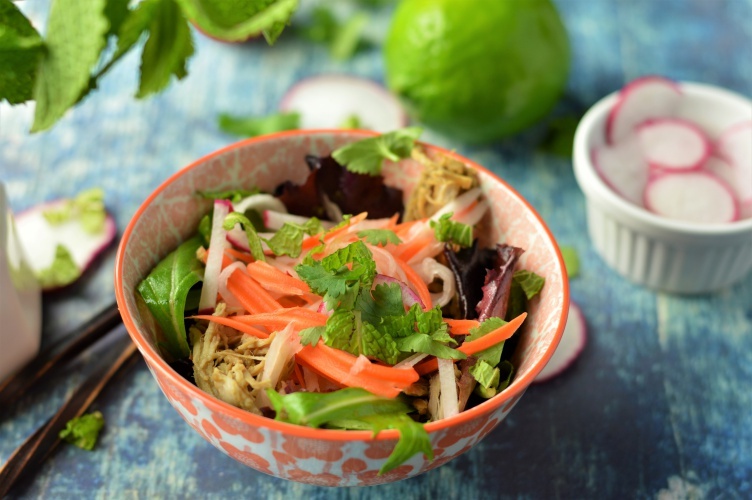 Banh Mi Bowls
Author:
Wendi Washington-Hunt
Ingredients
For the meat:
For the pickled vegetables:
For the dressing:
⅓ cup chopped mint
½ cup chopped cilantro
2 tablespoons grated horseradish root
Juice of one lime
¼ cup avocado oil
2 teaspoons AIP fish sauce
2 teaspoons honey


For the salad:
8 cups (loosely packed) or one 5-ounce bag of spring mix
Red radishes cut into matchsticks for garnish
Chopped mint for garnish
Chopped cilantro for garnish
Instructions
For the meat:
In a cooker such as an Instant Pot set to "sear," or a pan on the stove, heat the oil. Brown the pork on all sides. Transfer the meat to a slow cooker, or switch your cooker to "slow cook."
Peel off outermost leaves of lemon grass. Bruise the lemon grass by whacking or cracking it with the back of a knife. Cut each stalk into three lengths. Add the pieces to the pot.
Whisk together the garlic, salt, honey, vinegar and lime juice. Add this mixture to the pot, and turn the meat to coat.
Slow cook on low for 5 hours, or until meat is very tender.
When the meat is finished cooking, remove it to a plate and shred it.
Remove the lemon grass from the cooker. Switch to "reduce" for 5 minutes, or reduce the liquid in a saucepan on the stove to about half. Pour this mixture over the shredded meat. Meanwhile...
For the pickled vegetables:
Place julienned Daikon radish and carrot in a bowl. Whisk together the vinegar, salt and honey until the honey has dissolved. Pour over vegetables, and turn to combine.
Let rest in the refrigerator for at least 30 minutes, turning occasionally.
For the dressing:
Whirl all dressing ingredients in a mini food processor or blender. Set aside.
For the salad:
Just before you are ready to serve, place the spring mix in a large bowl. Add just enough dressing to moisten all the leaves. Serve the rest of the dressing at table.
In each bowl, place some dressed greens. Add a serving of shredded pork. Top all of this with some pickled veggies.
Garnish generously with red radishes, chopped cilantro, and chopped mint.