This post contains affiliate links. Click here to see what that means!
In order to support our blogging activities, we may receive monetary compensation or other types or remuneration for our endorsement, recommendation, testimonial, and/or link to any products or services from this blog.
That being said, we only promote authors, products, and services that we wholeheartedly stand by!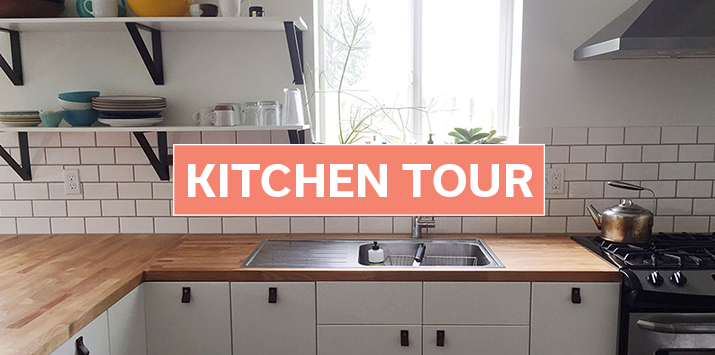 AIP Kitchen Tour is a monthly feature in which we profile a member of the AIP community and their kitchen setup in hopes that it will further inspire us to get our kitchens organized and set up for success! We've interviewed folks who are making the AIP lifestyle a reality in everything from college dorms and small city apartments, to large households with non-AIP family members, and everything in between. Through these interviews, we hope to share how they make it happen across a variety of budgets and living situations, and give the community a wealth of inspiration. Read more Kitchen Tours here!
Name: Natalie Thompson

Location: Ashfield, MA
AI disease: Chronic atrophic gastritis, psoriasis
How long have you been eating AIP? Since 2012
Have you successfully reintroduced any foods? Yes: nuts, seeds, cocoa, chickpeas, wild rice, eggs, butter. Also I don't seek it out, but the occasional small amount of nightshade spice doesn't bother me.
How has the AIP changed your life?
I believe my diet played a huge role in allowing me to get through vet school and finish on time. I think the stress would have taken a much bigger toll on my health if my diet hadn't been dialed in.
I also love how it started with trying to improve my own physical health and response to foods, but has become more about how food production and movement fit into an improved and more sustainable future.
Size of your AIP kitchen: 8 x 12'
Favorite thing about your kitchen: It's off of an open floor plan dining area and living room, so I don't feel shut in and removed from everything else while I'm in there for longer periods.
Least favorite thing about your kitchen: Definitely the size. When I've got a lot of things going at once, it feels cramped. My dream house would be a tiny house attached to a commercial kitchen.
Are there any cheap gadgets or little tools that you have found make AIP easier?
A good, sharp knife, a sturdy wood or bamboo cutting board, and a good, sharp vegetable peeler. Anything to make vegetable prep easier and safe. And make sure to get your knives sharpened on a regular basis and honed in between. Those things keep me from getting frustrated during meal prep. A stack of stainless steel bowls is also helpful to organize scraps and vegetables for different dishes and to toss with oil and spices. Also I use my immersion blender a lot. In the beginning I puréed all my vegetables for months for digest-ability, and now I use it for vegetable soups or blending coconut or nut milk into tea or jot chocolate.
What is the biggest thing that changed in your kitchen setup when you adopted the AIP?
When I started, I was living with my parents and siblings, who all ate a healthy and homemade but still standard diet. So I couldn't change much about their setup. Because we are a family of cooks, I had all the pots and pans I could need, but I did pull the slow cooker, pressure cooker, and ice cream maker out of storage and used those a lot. I made broth pretty much constantly, and my mom couldn't stand the smell, so I had to set up the slow cooker in the garage.
If someone was just starting to invest in some useful but more expensive kitchen tools, which one would you tell them to buy first?
I don't make broth as much any more, but that's pretty much the only thing I use my Instant Pot for, and it's worth it. The Vitamix also gets a lot of use. I inherited a number of Le Creuset pots from my grandmother, so if you can get a really sturdy Dutch oven like that, go for it.
Are there any tricks you have learned to make AIP work in your space?
I've had to get creative with storage. Many appliances and pots live on the porch, and the pantry is more of an old stereo closet in the living room. I don't think it's AIP specific, but rather just about how much cooking and food prep that happens in the kitchen now.
How do you deal with food for family members that are not AIP?
My boyfriend is mostly dairy free but eats gluten. He adopted more of a paleo diet when we started dating, but he lost a lot of weight he didn't need to, and it was a bit too expensive to keep up for him to keep weight on. What we do now is he makes himself bulk, loaded oatmeal he keeps in a large container by the stove, and has that for breakfast every work day. On non work days, he'll make eggs or we'll make grain free pancakes if we're both off.
For work lunches, he consistently eats a PB&J sandwich every day. At his last job, he kept a loaf of bread and everything there, but now he works at a smaller place and can't do that. So the loaf is in the freezer, and he makes the sandwich right next to the sink, has his own jam/jelly so there's no cross contamination issue (I don't eat PB so no issue there), and knives go right in the dishwasher. Crumbs can then be swept right into the sink.
The only other gluten thing kept around is mac and cheese boxes, which he'll make for dinner for himself if I'm not home or we have a free for all night (or I want a bowl or sweet potato or cassava pasta). Otherwise dinner is something either of us (but usually me) has batch cooked. The main meal is something I can eat, and he may add red pepper flakes or a white potato.
Are there any tools or appliances that you've stopped using now that your diet has changed?
I know longer need a toaster – I just use the toaster oven once in a while. And though sometimes I could use a stand mixer, I'm not baking with batters so much that it matters.
What are your favorite meals to batch cook?
I love sheet pan veggies with sausage or chicken thighs any time of year. In the winter I make Healing Family Eats' pomegranate beef stew and Real Everything's cocoa (or carob) beef chili multiple time in the season. In the summer I do a lot of giant salads, and bulk prep if not cook the mix ins.
What are your favorite AIP and Paleo cookbooks?:
While I have many, they tend not to be my go to's. I rely more on blogs and Instagram for specific paleo or AIP meals. My favorite cookbook of all time is actually the Flavor Bible. It's not diet specific but it will give you confidence to play around with flavors or help you get out of a rut. I would also recommend other generalist cook books, which I think are ultimately more helpful, like Salt Fire Acid Heat and Ruhlman's Twenty.
Do you have any tips for those starting an elimination diet and setting up their AIP kitchens for the first time?
Stick with the basics but don't be afraid of flavor. Use good ingredients and find some fool proof ways to cook them. You'll find there are endless ways to flavor simple ingredients, and to make healthy food taste so good it feels like an indulgence. Focus on the basic equipment until you've really got the diet down before bogging yourself down with any fancy gadgets.
You can connect with Natalie on Instagram.
Would you like to be featured in an AIP Kitchen Tour? We feature members of the community who are willing to share the real spaces where they cook, as well as their stories of transitioning to this lifestyle. If you are interested, fill out our interest form!