This post contains affiliate links. Click here to see what that means!
In order to support our blogging activities, we may receive monetary compensation or other types or remuneration for our endorsement, recommendation, testimonial, and/or link to any products or services from this blog.
That being said, we only promote authors, products, and services that we wholeheartedly stand by!
I am so thrilled to share with you the best holiday recipe I have come up with this year — Pumpkin Spice Cake with Gingersnap Crust! While I don't endorse eating treats very often on the Autoimmune Protocol, I think that everyone needs a compliant dessert recipe they can share with their family and friends during the holidays. Since I have stopped eating sugar, I find that I am very sensitive to it, so in the development of this recipe my family and friends got to eat a lot of cake — and they all loved it!
One of the things I have learned since writing my book and providing so many recipes here on my blog is how many people are sensitive to coconut! Last year, I posted my Coconut-Raspberry "Cheesecake" — and although it was a big hit in the blogosphere, I got a ton of emails from people requesting that I come up with a coconut-free recipe. Well, here it is, guys — and let me tell you, it is a good one!
A couple of tips before you get started: Arrowroot powder is much cheaper if you can find it in 20-oz. bags instead of the little jars they sell in the spice department. You can purchase online here, or ask for it at your local grocery. Next, you can make the cake with fresh roasted pumpkin or the canned variety, just make sure that the cans are BPA-free and have no other ingredients (like thickeners or spices). To cook the pumpkin, slice in half, remove the seeds, and cook for 60-90 minutes at 400 degrees. I find that a 2 1/2 pound pie pumpkin yields about 3 cups of puree. Lastly, the secret ingredient here, instead of coconut is lard. I recommend rendering your own, from a pastured source of leaf lard — here is a tutorial if you have never done it before. I have made this cake using both coconut oil and lard, and it tastes good both ways — but my family and I both prefer the lard version.
Enjoy, and please let me know if this allergy-friendly cake is a hit with your family this holiday season!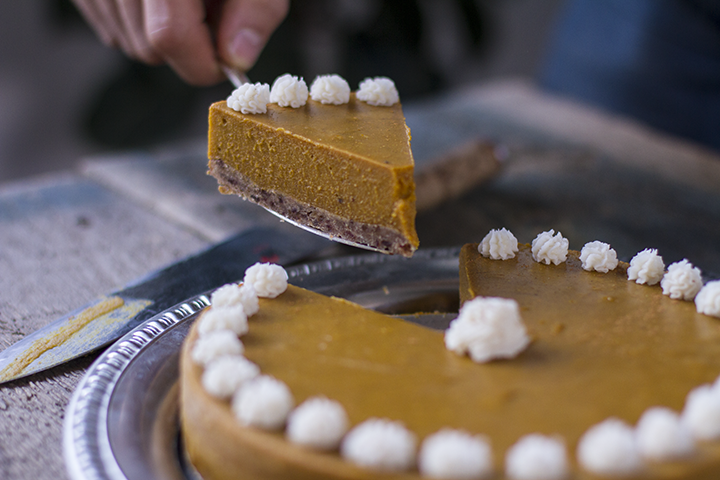 Pumpkin Spice Cake with Gingersnap Crust
It takes at least 3 hours for the cake to set.
Ingredients
For the Crust:
¾ cup arrowroot powder
¼ teaspoon sea salt
1½ cups dates, pitted and soaked in hot water for 5 minutes
2 tablespoons maple syrup
2 tablespoons lard (or coconut oil)
1½ teaspoons fresh grated ginger root


For the Filling:
3 cups pureed pumpkin
½ cup maple syrup
¼ cup lard (or coconut oil)
2½ tablespoons gelatin
1½ tablespoons cinnamon
¼ teaspoon ground cloves
¼ teaspoon sea salt


For the Frosting:
⅓ cup arrowroot powder
2½ tablespoons lard (or coconut oil)
2 tablespoons honey
Instructions
Preheat the oven to 325 degrees F and grease an 8-inch spring-form pan with either lard or coconut oil. Drain the dates, and place all of the ingredients in a food processor and process for a minute, until a thick and sticky mixture forms. You may be able to do this in a high-powered blender using the tamper, but be sure to stop to scrape the sides and take breaks because it will be hard on the motor. Don't overmix here -- you want the dates to be slightly chunky and not completely incorporated.
Transfer the mixture to the spring-form pan and spread evenly along the bottom with a spatula. Bake in the oven for 18 to 20 minutes, or until a knife comes out clean when gently inserted. Set aside to cool.
Combine all of the filling ingredients, cold in a pot. Turn the heat on medium-low, and heat, stirring constantly, for 5 to 10 minutes. The mixture should liquefy and the gelatin should dissolve. If you still have some chunks after 10 minutes, transfer to a blender and blend for a few seconds to incorporate.
Pour into the spring-form pan over the gingersnap crust. Place in the refrigerator to set for at least 3 hours.
To make the frosting, combine all of the ingredients in a small bowl. A thick, spreadable frosting should form. If it is too runny, add more arrowroot, a teaspoon at a time until desired thickness is reached. The frosting will harden when placed in the refrigerator and soften at room temperature (although it shouldn't melt). When you are ready to frost your cake, you can either use a frosting kit or apply it to the top with a spatula.
Notes
Note: Do not add fresh ginger to the filling ingredients -- it has an enzyme that breaks down the gelatin and will cause the cake not to set properly.

This cake freezes well -- if you don't eat it all, don't be afraid to freeze a few slices for later!