This post contains affiliate links. Click here to see what that means!
In order to support our blogging activities, we may receive monetary compensation or other types or remuneration for our endorsement, recommendation, testimonial, and/or link to any products or services from this blog.
That being said, we only promote authors, products, and services that we wholeheartedly stand by!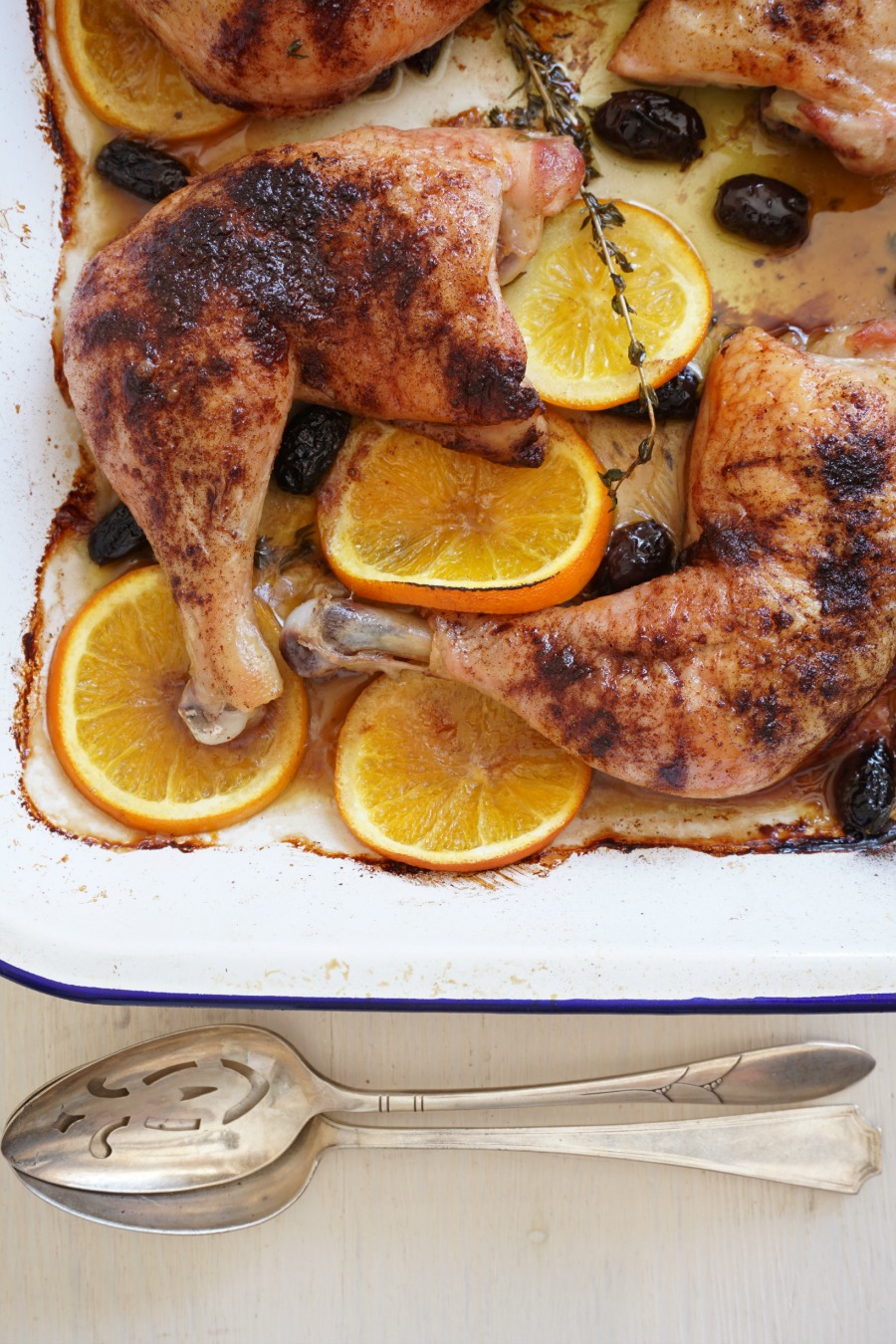 No matter the season, nor the temperature, to my mind there is always a place for roast chicken and this recipe is no exception. Just a few short moments of attention and a quick dusting of spice results in a more than satisfactory combination of chestnut-crispy skin, together with a flesh succulent and tender over a pool of fruit-scented juice. You only need add a bowl of fresh, green leaves, or take advantage of the hot oven and roast a tray of assorted vegetables, and you are good to go.
The basic principle here works equally well on the whole bird, or a spatchcocked version should you prefer, but I like to choose plump chicken legs so nobody needs miss out.
Roasted on a high heat sizzles up that skin, and cooked over a long period of time ensures the flesh is just on the point of falling away from the bone. Delicious!
Spiced Baked Chicken with Black Olives, Orange and Thyme
Ingredients
4 pastured chicken legs, thighs intact
3 tbsp olive oil
¼ tsp ground garlic powder
½ tsp ground cinnamon
Generous pinch sea salt
½ cup black pitted Kalamata olives in olive oil, drained*
4 large sprigs thyme
1 small orange, sliced into ¼-inch rounds
* Be sure to check how your olives have been cured. Many will not be with AIP-approved ingredients.
Instructions
Preheat oven to 400 degrees F.
Arrange the chicken legs in a roasting tin. Put the spices into a small bowl and mix together.
Pour the olive oil over the top of the chicken pieces. Then sprinkle on the spices, followed by the salt.
Place the olives and thyme around the chicken and pop the roasting tin into the oven.
After 30 minutes, remove the tin from the oven, tip it slightly so the hot juices run into the bottom corner and baste the chicken.
Arrange the orange slices amongst the chicken, making sure you are not covering the skin as this will stop it getting crispy.
Pop back into the oven for a further 20 minutes or so, until the skin is crispy and the flesh falling away the bone.