This post contains affiliate links. Click here to see what that means!
In order to support our blogging activities, we may receive monetary compensation or other types or remuneration for our endorsement, recommendation, testimonial, and/or link to any products or services from this blog.
That being said, we only promote authors, products, and services that we wholeheartedly stand by!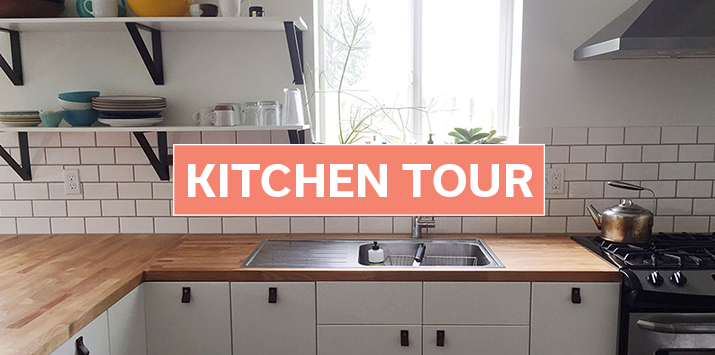 AIP Kitchen Tour is a monthly feature in which we profile a member of the AIP community and their kitchen setup in hopes that it will further inspire us to get our kitchens organized and set up for success! We've interviewed folks who are making the AIP lifestyle a reality in everything from college dorms and small city apartments, to large households with non-AIP family members, and everything in between. Through these interviews, we hope to share how they make it happen across a variety of budgets and living situations, and give the community a wealth of inspiration. Read more Kitchen Tours here!
Name: Stephanie Meyer
Location: Minneapolis, MN
AI disease: Hashimoto's
How long have you been eating AIP? Since 2013
Have you successfully reintroduced any foods?
I have! Several in fact, I've been able to add back a few each year. At this time, I eat AIP probably 85% of the time foods and then occasionally enjoy eggs, chocolate, nuts and seeds, dairy, rice, corn, and alcohol. I still 100% avoid gluten, caffeine, and large doses of nightshades (particularly chiles; I can eat white potatoes and tomatoes in moderation). Coconut is an AIP food that I have a pretty terrible reaction to and I still don't eat it.
For me, I treat non-AIP foods with care. I don't eat them every day, and I have them in pretty small servings, and that seems to work really well.
How has the AIP changed your life?
AIP changed my food paradigm to nutrient density. I have always been health conscious and enjoyed cooking with fresh, whole ingredients. But AIP took it to the next level and there's no going back. I feel and look so much better since I put nutrient density at the center of how and I eat and plan meals. I realize I'm biased, but I think everyone should think about food this way, whether they follow AIP or not. We eat for pleasure, of course, but the pleasure is meant to encourage us to eat nutrients.
Size of your kitchen: Very small!
Favorite thing about your kitchen:
It has beautiful light and a lovely view out over the neighborhood. I live on the 3rd floor of a very tall house, so I'm up high with the treetops. As a result, my friends dubbed my home The Treehouse. Even though the space is small, the great light makes it possible for me to shoot video in my space, which is very important for my work.
I also enjoy cooking in a small kitchen – it's quite efficient to have everything near. It also forces me to clean up as I go along! I used to cook in a large kitchen and because I had the space, I'd set pans and dishes aside as I went along, then face a giant clean-up at the end of the day.
The key for me is that I have enough room for 1-2 people to cook with me. I have people come over and cook with me all the time. It's quite cozy!
Least favorite thing about your kitchen:
It does not have a gas stove. Whomp whomp. However, the flat top electric is a breeze to clean up, and I've learned how to use it to my advantage.
I also have very little cabinet space, but it's turned into quite a bonus, actually. I store all of my dish ware — of which I have a LOT because 1) I loooooove dishes, and 2) I use them for photography props — on open shelving in my dining room (I included a picture of one of the two open shelving racks I use).
Are there any cheap gadgets or little tools that you have found make AIP easier?
I'm not much of a gadget person. I do everything with a sharp knife and cutting board. Learning to sharpen knives is imperative for quick and easy cooking, so that could count! A good old-fashioned whetstone (search YouTube for videos to learn how to use it properly) just can't be beat. I love sharpening knives, I find it very relaxing.
What is the biggest thing that changed in your kitchen setup when you adopted the AIP?
I'm a bit unusual, perhaps, because I was already a professional recipe developer and food photographer before I started AIP. So my set-up didn't change much.
I did get much more organized about food storage containers, and it made me wonder why I'd waited for so long. I freeze quite a lot of food since I started AIP – broth, braised meats, soups – and having stackable glass containers is so great.
If someone was just starting to invest in some useful but more expensive kitchen tools, which one would you tell them to buy first?
As I mentioned above, a good chef's knife and the ability to keep an edge on it (sharpening steel) and sharpen it (whetstone) are great investments.
It's not cheap, but my Vitamix is my favorite appliance, I use it several times/day, to make batters, dressings, smoothies, pesto, soups… Total game-changer.
I really love my Le Creuset covered pot for braising. The weight of it, and the weight of the lid, are just perfect for searing and then creating a tight seal in the oven. I braise a roast every week, sometimes a few times/week, so it gets used constantly.
If you're considering buy a food processor, buy the 14-cup Cuisinart. It's worth the price.
Are there any tricks you have learned to make AIP work in your space?
I invested in large, stackable jars for all of my crazy AIP (and gluten-free) flours. Keeping them in bags was such a mess! I also added open shelving to my kitchen to maximize storage space for my appliances and pans. I love having them at the ready.
And the best "trick" of all, which my mother tried to instill in me when I cooked with her as a child – clean up as you go along. Once you commit to daily home cooking, you obviously use more dishes. Letting them all stack up is a real bummer when you're done with a batch cooking session.
I am also a pro at reusing pans and appliances during a batch cooking session, so I'm not using every dish in the kitchen. I write these same instructions into my meal plans (Project Vibrancy Meals, I describe them in more detail below) and my clients really appreciate it. It saves a ton of clean up time and counter space.
How do you deal with food for family members that are not AIP?
Before I was 100% AIP, I was Paleo for years, and those are years I was still cooking for children. I handled it by deconstructing meals — I'd make a protein, vegetables, a starch that the kids loved (pasta or bread or roasted potatoes or rice), and a sauce of some sort. I would eat the protein and vegetables, perhaps the sauce if it worked for me, and everyone else would eat everything. It worked quite well!
I do something similar when I entertain. I either make a 100% AIP meal — and no one knows the difference — or I make a mostly AIP meal and a pot of rice for my guests.
Are there any tools or appliances that you've stopped using now that your diet has changed?
I don't use my KitchenAid mixer much anymore – it's been entirely replaced with my Vitamix. I do use it to make gluten-free cakes for birthdays, and to make whipped cream, but that's about it!
I don't have a coffeemaker any longer. And I don't have a microwave! I just never used it.
What are your favorite meals to batch cook?
I am a HUGE fan of batch cooking. I wrote a whole meal-planning subscription around it, it's called Project Vibrancy Meals. I rotate — in my life, and in the meal plans — among braising pork, beef, or chicken each week, roasting a starch (i.e. sweet potatoes or plantain tortillas), chopping some vegetables, making broth, and making a couple of great condiments. Then I'm set for the week with a ton of variety and fast meals.
I braised a pork shoulder yesterday and today had it with roasted cauliflower rice and ginger scallion sauce. Tomorrow I'll have it as tacos in plantain tortillas with chimichurri. The next day I'll finish it off as a soup with sweet potatoes and a condiment. I like big flavors and lots variety!
What are your favorite AIP and Paleo cookbooks?
There are some incredible AIP cookbooks! The Paleo Healing Cookbook by Rachel Bryant. The Healing Kitchen by Sarah Ballantyne and Alaena Haber. The Autoimmune Paleo Cookbook by Mickey Trescott. The Autoimmune Protocol Meal Prep Cookbook by Sophie van Tiggelen. The Autoimmune Protocol Comfort Food Cookbook by Michelle Hoover.
I've written a Paleo cookbook, The 30-Minute Paleo Cookbook. It's not a strictly AIP book — I wrote it last year.
Do you have any tips for those starting an elimination diet and setting up their kitchens for the first time?
Whenever possible, don't just give up your favorite foods — plan to replace them with AIP versions. Snack foods aren't particularly nutritious, but they can really help bridge the transition and help you not feel deprived. I enjoyed plantain chips with (nightshade-free) guacamole, I made "chocolate" pudding with avocados and carob, I made "nicecream" with frozen bananas, I made onion rings with tapioca starch and avocado oil to have with my bunless burger. I chose to focus the abundance of AIP vs. the eliminations and it helped my mindset a lot. I seriously had a blast coming up with new twists on old favorites so that I wouldn't feel deprived. And wow did I eat a MUCH bigger variety of vegetables and proteins because of AIP — in some ways, my diet got broader, not smaller.
So in setting up your kitchen, I would clear out the freezer and be ready to use it to store food for shorter periods of time. I'll often freeze food that I know I'll eat in 5-7 days. That requires good storage containers and labeling food; I use masking tape and a Sharpie to label everything. In fact, label everything in the refrigerator too! It cuts down on food waste significantly.
I found it easier to just ditch non-Paleo and non-AIP snacks, frozen foods, and pantry ingredients like sugar and flour. I gave them away and made room for new ingredients.
You can connect with Stephanie on her blog, Fresh Tart, through her meal planning service, Project Vibrancy Meals, and on Instagram.
Would you like to be featured in an AIP Kitchen Tour? We feature members of the community who are willing to share the real spaces where they cook, as well as their stories of transitioning to this lifestyle. If you are interested, fill out our interest form!