This post contains affiliate links. Click here to see what that means!
In order to support our blogging activities, we may receive monetary compensation or other types or remuneration for our endorsement, recommendation, testimonial, and/or link to any products or services from this blog.
That being said, we only promote authors, products, and services that we wholeheartedly stand by!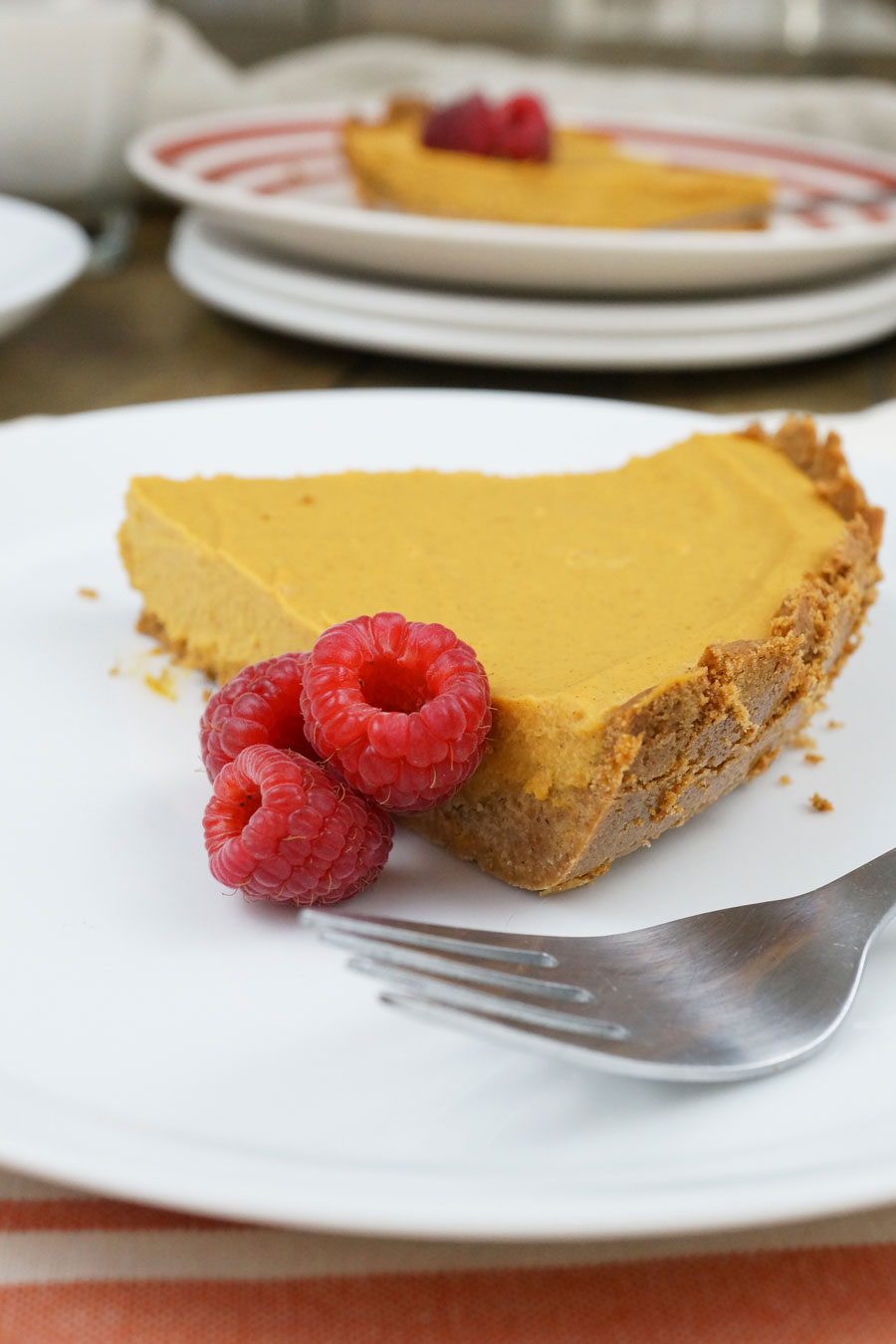 Oh, November! One of my favorite months of the year. The start of the impending holiday season. The invigorating, joy-inducing crisp in the air. All the nostalgia of childhood wrapped up in a giant two-month package. Okay, I'll stop being so gooey now and start talking about pie-cheesecake hybrids.
I don't know who came up with combining a comforting holiday pie into another American classic dessert, but they deserve some sort of award. And, well, I'm not going to lie and say my favorite dish on a holiday table is the protein or those lovely non-starchy vegetables. I'm just an average woman who takes pleasure in savoring a slice or two of pie with my family. And elimination diet or not, that tradition will never die.
I wanted to make sure that all of you following the Autoimmune Protocol could also participate in your annual pie love affair too! This dairy-free cheesecake has the taste and texture of real live cheesecake without the eggs and cheese! It was a pretty spectacular discovery upon first taste test, but I wasn't too surprised because when you combine that many delicious ingredients, you are bound for success.
The cinnamon graham cracker crust is perfectly crumbly and spiced next to the fluffy yet dense cheesecake filling. If you prefer to use pumpkin puree, you can use it in place of the sweet potato puree, but I've always liked the creaminess of sweet potato pie to pumpkin myself. Also, the pie is even better the next day so I suggest placing it in the fridge overnight before serving. Top each slice with a dollop of coconut whipped cream and some berries for presentation and no one will be the wiser they are eating an allergy-friendly treat.
Happy holidays to all of you and your loved ones. Go relax and enjoy the season!
Sweet Potato Pie Cheesecake
Ingredients
Graham Cracker Crust
½ cup + 2 tbsp coconut flour
2 tbsp arrowroot starch
2 tbsp coconut sugar
1 tbsp grassfed gelatin
1 tsp ground cinnamon
¼ tsp baking soda
¼ tsp fine sea salt
½ cup softened coconut oil (not melted or solidified)
2 tbsp honey
Sweet Potato Pie Cheesecake Filling
15-oz can sweet potato puree
⅓ cup softened coconut oil
⅓ cup softened coconut butter
5 tbsp honey
1 tsp lemon juice
1 tsp apple cider vinegar
1 tsp ground cinnamon
½ tsp ground mace
½ tsp probiotic powder, or enough to equal 30 billion live organisms (optional)
¼ tsp ground ginger
¼ tsp fine sea salt
1 gelatin egg (recipe below)
Instructions
To make the crust, preheat oven to 325 degrees F. Arrange an oven rack in the center of the oven.
In a medium mixing bowl, whisk together the dry ingredients.
Stir in the coconut oil, honey and vanilla until well combined and a wet dough forms. It will be slightly sandy in texture.
Spoon the dough into the center of a greased 9-inch glass pie plate. Place a sheet of parchment paper over the dough and use it to assist you in pressing the dough evenly into the bottom and halfway up the sides of the plate (no more than ¾-inch up). You don't want the edges of the crust to be thinner than the rest of the pie because it will crumble when you try to remove it from the dish. Take your time to ensure the dough is of even thickness throughout the bottom and sides for the best results.
Bake for 12 to 13 minutes until the crust is medium golden brown. Let cool while you make the filling.
Prepare the filling by blending all filling ingredients except the gelatin egg in a high-speed blender or food processor until smooth.
Pour in the gelatin egg (see recipe below) and blend briefly until well combined.
Spoon and spread the mixture evenly into the pie crust. The filling should reach almost to the top of the crust leaving about a ¼-inch edge.
To set the pie, place in the freezer for 30 minutes until the filling has set completely and reached the texture and density of cheesecake.
Remove from freezer and place in refrigerator until ready to serve.
To serve, let pie sit at room temperature for 10 minutes before cutting into 8 slices with a sharp non-serrated knife. This will allow the coconut oil in the crust to soften slightly and ensure the crust stays intact. Carefully run a butter knife along the edges, place slices on individual serving plates, and garnish with fresh berries If desired.
Gelatin Egg
Serves:
1 egg replacement
Instructions
In a small bowl, whisk together the gelatin and warm water until it thickens.
Quickly whisk in the hot water and use immediately where called for.