This post contains affiliate links. Click here to see what that means!
In order to support our blogging activities, we may receive monetary compensation or other types or remuneration for our endorsement, recommendation, testimonial, and/or link to any products or services from this blog.
That being said, we only promote authors, products, and services that we wholeheartedly stand by!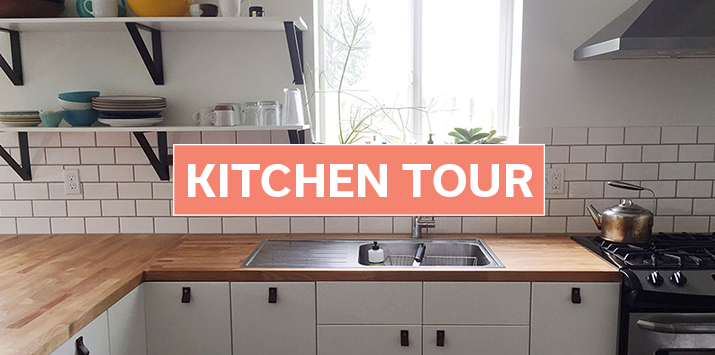 AIP Kitchen tour is a monthly feature where we profile someone who eats AIP and has agreed to share their kitchen setup with the community, in hopes that they can further inspire us to get our kitchens organized and set up for success! We've heard reports of people who are able to make AIP work in college dorms and small city apartments to large households with family members who eat otherwise, and everything in between. Through these interviews, we hope to share how they make it happen across a variety of budgets and living situations, and give the community a wealth of inspiration.
Name: Martine Partridge
Location: Edmonton, Alberta, Canada
AI Disease (if you feel like sharing): Crohn's Disease
How long have you been eating AIP? I have been eating AIP since April 2014.
Have you successfully reintroduced any foods? Yes! Yaaay! I have successfully reintroduced legumes with edible pods, egg yolks, some seed-based spices, and occasional nuts and cocoa.
How has AIP changed your life? AIP's focus on nutrient density has ramped up my healing, giving me more energy and keeping the inflammation down. I also love how AIP has made me more adventurous in the kitchen. I'm proud of all the different vegetables and meats, including offal, I've experimented with since starting to AIP.
Size of your kitchen: Including cabinetry, 14' x 11'
I always have a small jar of pâté on the go as well as several containers of leftover veggies and protein so that we can throw together quick breakfasts for that busiest time of day. Other regulars in my fridge: loads of green leafy and organic carrots.
Favorite thing about your kitchen: I live in a condo downtown and adore my open-concept kitchen as well as the loads of natural light I get from surrounding windows.
Least favorite thing about your kitchen: I'd like more counter space – seems I can never get enough!
Are there any cheap gadgets or little tools that you have found make AIP easier? Juicing and zesting citrus fruits are a big part of how I create a satisfying flavor profile, so my trusty citrus press and microplane are used on an almost daily basis.
My pantry has four large pull-out drawers, but the one I've pulled out here gets the most love since it contains all my oils, fats, and vinegars – all must-haves for those quick but tasty sautés.
What is the biggest thing that changed in your kitchen setup when you adopted AIP? We eat so many vegetables now! Some weeks I can't keep up with our consumption of fresh produce, which is, of course, a good problem to have. Eating so many fresh veggies means that my knives must stay well honed, my chopping board must remain handy, and the cast iron skillet in which most of these chopped vegetables get sautéed must be ever ready to go.
If someone was just starting to invest in some useful, but more expensive kitchen tools, which one would you tell them to buy first? I rely heavily on my Japanese steel knives. They are certainly expensive but so worth the investment given the vast amount of vegetables I prepare. (Ain't no one got time for dull knives.)
I also recommend getting a food processor. This small appliance makes the prepping of veggies much easier, and it offers you so many options – grate, rice, slice, purée, etc.
My pretties! These are my Japanese-steel knives: a Santoku, a Ko-Bunka, a Kamagata, and a petty tucked in on the other side. This magnetic bamboo knife block is perfect for their storage and easy access.
Are there any tricks you have learned to make AIP work in your space? Compartmentalize and maximize: for example, we purchased a separate cabinet where I can store some of my food props for blogging as well as my rapidly growing cookbook collection; this allowed me to maximize my counter space. I also made room in our linen pantry for mason jars and other glass food containers.
How do you deal with food for family members that is not AIP? Fortunately, my husband's penchant for popcorn with butter as well as coffee does not tempt me. We keep a gluten-free kitchen, and I really am fortunate in that my husband embraces the AIP-framework that determines what foods I prepare. Plus, as he says, he's lazy and will eat just about whatever I put in front of him. We're still working on pâté and sardines, though.
Are there any tools or appliances you don't use now that you have changed your diet? The toaster just – poof! – disappeared as did loaves of whole grain bread from my freezer, making room for, of course, jars of bone broth.
What are your favorite meals to batch-cook? In the colder months, I like to make a big batch of soup on Sundays to last me several days throughout the week, especially when I need a quick breakfast in the morning. #Breakfastsoup is where it's at!
I also like to have batches of different salads on hand, so that I always have some vegetables handy to go with my protein. So, for example, I'll make a big batch of Emerald Kale Salad from The Autoimmune Paleo Cookbook or Whole Carrot Tabouleh from The Paleo Approach Cookbook – the kinds of salads that don't include the more delicate greens and that can hold up to a vinaigrette dressing.
This is the cabinet that allows me to maximize my counter space by storing my cookbooks as well as some of my food prop items for blogging.
What are your favorite AIP and Paleo cookbooks? The Autoimmune Paleo Cookbook was the first full-AIP cookbook I purchased. I love the simplicity and deliciousness of Mickey's recipes. I also enjoy Sarah Ballantyne's The Paleo Approach Cookbook, Angie Alt's The Alternative Autoimmune Cookbook, Bre'Anna Emmit's He Won't Know It's Paleo, and Rachael Bryant's Nourish. Having all these 100%-AIP recipes at my fingertips is wonderful.
I also have a soft spot for Elana Amsterdam's Paleo Cooking from Elana's Pantry and Bill Staley and Hayley Mason's Make It Paleo because these were my first-ever paleo cookbooks, and there are many AIP-adaptable recipes in both of them.
Do you have any tips for those just starting out on an elimination diet and are just setting up their kitchen? Fill your fridge and pantry with loads of AIP-friendly ingredients – be adventurous and have fun! Make it your aim to try a new cut of meat or some new vegetables each week so that you don't get bored. Some pretty fabulous flavors come from the combination of things like kraut and Japanese yams and sardines. It's true; I promise! So nourishing and so yummy.
Would you like to be featured on the blog for AIP Kitchen Tour? We feature members of the community who are willing to share the real spaces where they cook as well as their stories of transitioning to this lifestyle. If you are interested, drop us a line using the contact form!