This post contains affiliate links. Click here to see what that means!
In order to provide the free resources here on the Autoimmune Wellness website and social media channels, we may accept a commission or other support for our endorsement, recommendation, or link to a product or service in this post.
That being said, we only promote authors, products, and services that we use ourselves and wholeheartedly stand by. To learn more about how we earn money here on Autoimmune Wellness, head on over to our Promotional Policy.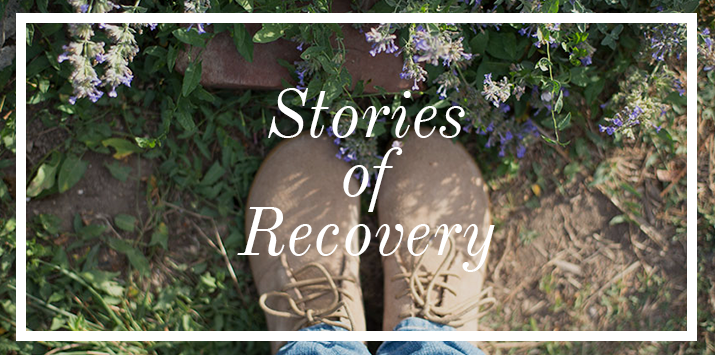 AIP Stories of Recovery is a success story series about regular people from the Autoimmune Protocol community who are changing their lives using the protocol. Each month a new person is featured and readers have the opportunity to discover all the different health challenges that are being overcome by folks just like themselves on the same path. At Autoimmune Paleo we hope you'll be inspired by, empathize with, and learn from these stories. If you are interested in sharing your story, please let us know by filling out our interest form.
Carissa's healing story began in her teens when a laundry list of symptoms were explained away by doctors, leaving Carissa without answers or hope of any real improvement. After her pregnancies sent her body into total overwhelm, Carissa found a practitioner who finally helped her get to the bottom of her pain and connected her with a protocol (AIP) to address it in a real way. After her dramatic turnaround, Carissa studied many of the modalities that made such a difference for her and now offers her own healing services to folks with chronic illness.
What health issues are you dealing with, when did they begin, and how long did it take to get a diagnosis?

My health issues began in childhood with severe environmental allergies, asthma, and a calcium deposit on my cornea. I felt constantly swollen and it seemed that I had a reaction to everything I came in contact with. During high school I started experiencing extreme adrenal fatigue, anxiety, eczema, numbness and overall body pain. I convinced myself that how I felt was normal as I didn't know any other way of feeling. I was also a competitive figure skater and thought I was tired from practices. My bloodwork always came back as being in the normal range and as far as western medicine and my Dr.'s were concerned, I was the epitome of health.
This continued and fluctuated through my 20s and 30s. Although I always had underlying anxiety, in college it became hard to ignore. I had panic attacks, mood swings, extremely painful cramps and debilitating pain during menstruation (which continued until after childbirth) and took Motrin like it was candy. I was diagnosed with Fibromyalgia in my early 20s because I fit the criteria for it and my mother had been diagnosed with it. It felt like my Dr. wanted to put a label on what I was experiencing and Fibromyalgia fit best. I was told that exercise, eating healthy and taking daily vitamins and Omega 3's for inflammation would help the most. But that I would have to learn to live with the pain.
In 2008 I started getting extreme pain in my stomach, which led to me throwing up frequently. I had a bunch of different bloodwork done, and an endoscopy with no answers. Finally I had a HIDA scan and the Dr.'s determined I needed my gallbladder taken out. I had surgery in September of 2009, and they took my appendix out as well. After surgery, things seemed to subside a little bit. I started eating a Paleo like diet and for a while things were ok. Again, I convinced myself that the pain I always felt living beneath the surface was normal. In 2010 my environmental allergies came back in full force, and it added another layer of compounded pain. I began getting allergy shots, and only saw minimal relief.
I got pregnant with my first daughter in late 2011, and every day of my pregnancy I threw up multiple times. I could only tolerate chicken, bread and milk. My Dr. dismissed my requests to dive deeper. When I told her I threw up multiple times a day, she would mention that the weight on the scale kept creeping up, up and up to a total of 80 pounds gained. Since I was gaining weight, she didn't seem to care. I believe I was in my second trimester when I ate a few cashew nuts, and my husband had to rush me to the emergency room, as my throat started closing and I couldn't breath. I was miserable. It felt as though my baby and my body were allergic to each other and my Dr. wouldn't listen to me. As the weeks went on, I became more inflamed and swollen. Towards the end of my pregnancy my Dr. began to change her tune as she said told me I had pre-clampsia and I might have to schedule a C-section if my blood pressure got any higher. My water broke, and my daughter came 2 weeks early. A few years later I remember reading about Princess Kate and how she had hyperemesis gravidarum. When I read more, I was overwhelmed by how my experience fit the description. Upon further research, I read how people with pre-clampsia and hyperemesis gravidarum can frequently have H.pylori bacteria infection and a rise in thyroid hormone production. I didn't know at that time, but when I did a GI Map test 5 years later, it showed I had an extremely high level of H.pylori.
I started eating a gluten and dairy free diet, began exercising again, and slowly the 80 pounds I gained during pregnancy started to come off. Our daughter was a rock star sleeper, so I began sleeping soundly again, and for a short time felt ok. 14 months postpartum and I got pregnant with our second daughter. I cried tears of joy and fear. As you can imagine I was terrified of being pregnant again. I got sick and threw up but it wasn't nearly as much or often. I began getting severe aura migraines. As they would come on, I would get tingling sensations in my arms, hands and face. I'd sometimes see black after the aura, and it was terrifying. I went to multiple specialists. One thought I might have a tumor, but after multiple tests and bloodwork, they found nothing.
After my second daughter was born, the overall body pain, and fatigue came back strong. She did not sleep well, had acid reflux that took 9 months to figure out, and didn't like naps. When she would wake up, I was the one she wanted, and I was exhausted, stressed, and in unfathomable pain. I found a nutritionist, and he helped get my allergies under control but I mainly ended up buying hundreds of dollars worth of supplements each month and it wasn't helping.
When I found my FDN-P, and did functional lab testing with her in 2017, is when I finally got answers. The GI MAP and other labs we did showed us exactly what was contributing to my pain. We sent my labs that included thyroid antibody testing to my Dr. which finally led to my getting diagnosed with Hashimoto's thyroiditis. After decades of searching and longing of knowing more, I had an answer.
Describe what the lowest point on your health journey was like.
I remember watching my daughters dancing together in the living room. They were laughing and I could feel their joy filling the room. Instead of joining them in that moment, I went to the bathroom to cry. My body was screaming at me. I was in so much pain. Every breath I took felt heavy and sad. I felt so much guilt and shame. I thought about ending my life. It wasn't the first time I had that thought. But it was the first time the thought felt real. I thought there was something wrong with me if I could notice joy, and the gifts in my life, but couldn't fully experience it. I thought I was failing not only myself, but failing to give my husband the wife he deserved and my daughters the mother they deserved. I felt desperate and was barely clinging on to any hope I had left for finding the help I needed and wanted. I had so much love and support around me but still felt alone. As I write this, tears flow remembering that moment. My guilt and shame has been replaced with self love and acceptance, self worth and compassion. I hesitated writing this but I feel wholeheartedly that being vulnerable and honest is how we can best help each other and ourselves heal. To feel connected and know that we are not alone, and that someone understands is a priceless gift we can give each other.
What challenges influenced you to look for a solution? Basically, what was the tipping point?
My tipping point was not recognizing myself anymore. I was sick and tired of being sick and tired. I was tired of allowing my voice to be silenced by those who either didn't believe me, didn't care or did care, but didn't know how to help me. I was tired of feeling powerless. My intuition kept screaming at me that there was hope, help, and a better quality of life.
When you found a protocol to help you heal, what was it and what was your first indication that it was working?
When I found the Autoimmune Protocol in conjunction with functional labs testing through the guidance of my my Functional Diagnostic Nutrition Practitioner (FDN-P) I began to see and feel it working. We addressed overgrowth of opportunistic bacteria, H. Pylori, parasites, and more. As I took supplements to target these issues along with following the Autoimmune Protocol, I noticed my pain subsiding, inflammation decreased, energy increased, and I was waking less through the night. During this time, I also began eliminating harmful chemicals from our home; personal care items, kitchen appliances with plastic, coatings, etc… I also had a new level of awareness, and started addressing my deep rooted limiting beliefs, and narratives that weren't serving me. My healing began to take root not only in my body, but in my heart and soul too. I felt it on a cellular level.
What resources have you used on your healing journey so far and how did you find them?
There have been SO many invaluable resources I've found on my healing journey. When I began AIP, I bought The Autoimmune Wellness Handbook. It's been a staple for me. I loved learning more about Mickey and Angie and how their journeys have led them to help empower others. In addition, I've found Danielle Walker, Izabella Wentz, Robb Wolf, David Perlmutter, Sarah Ballantyne, Terry Wahls, and Michelle Tam to all be amazing resources.
Reiki has been a life changing healing tool that I use each day. I trained all levels of Reiki under Libby Barnett. Reiki cracked my emotional healing wide open. I had profound experiences during each training. Libby is an extraordinary teacher. Reiki helped to connect deeper with my intuition, psychic mediumship abilities and what subconsciously I still needed to heal emotionally from. I practice Reiki each day as a way to connect with myself, to come home within.
The work of Louise Hay, Wayne Dyer, Deepak Chopra, Brene Brown, Esther Hicks, and Maya Angelou have also been significant in my healing journey.
I have to mention three women I found along my journey that have impacted my life and healing journey immensely and who are equal parts responsible for guiding and inspiring me to find the healer within and reclaiming my power. They all hold a special place in my heart and my love for them is infinite.
Tamy Anderson – Functional Diagnostic Nutrition Practitioner
Carolyn Rose – Psychic Medium
Sarah Small – Uncensored Empath – Business Coach and Mentor
Did your doctors suggest any treatments that you rejected and if so, why did you choose to try other methods?
My Dr. had suggested that I start taking thyroid medication again. I had taken Levothyroxine during my first pregnancy and had to stop because it made my heart race. I had later tried Armour thyroid with the same reaction. I chose to try other methods because I didn't want to have to be dependent on medication if I didn't absolutely need it.
It can seem like our lives are consumed by a chronic illness, but there is so much beyond those struggles. What brings you true joy right now?
On my healing journey, there have been so many ebbs and flows, setbacks and victories, darkness and light. What I know for certain is that the moments of ebbs, setbacks and darkness have made the flows, victories and light that much sweeter, and appreciated. Living with chronic illness, although extremely challenging, has been a gift. A gift of learning to advocate for and putting myself first, living in the moment, self love, forgiveness, compassion and accountability for taking ownership of my journey.
I find boundless joy in helping others through my business. Through my healing journey, I've taken back my power, which has reignited my gifts of psychic mediumship and intuitive coaching. Nothing brings me more joy and fulfillment than being a conduit for communication with spirit loved ones, helping and guiding others to connect with their higher self and intuition, ignite the healer within and take back their power. I find meaning in the pain I've experienced, especially when I see myself in others. I love connecting and finding the deeper meaning in everything and helping others to feel seen and heard. I love holding space for others by creating a sacred container of trust and empathy as they navigate through their healing journey.
Spending time with my family and being in nature brings me infinite joy, peace and comfort. Seeing myself and the world through the eyes of my daughters is something I am in constant awe of. They bring me joy and give me hope. They are the light I will always strive to be.
Today, in this very moment, I can hear birds singing, and the sun is shining. And when the next storm rolls through, I can smile because I know the sun will shine again. That is the beauty of living with chronic illness. The darkness of what we've been through can feel so heavy, but when the veil is lifted and the light shines through, there is nothing more meaningful and beautiful. We truly understand that each moment is fleeting and that every little precious moment counts.
To learn more about Carissa and her healing services, you can check out her website, or follow her on Instagram or Facebook.
Would you like to share your Story of Recovery? Let us know by filling out our interest form.