This post contains affiliate links. Click here to see what that means!
In order to support our blogging activities, we may receive monetary compensation or other types or remuneration for our endorsement, recommendation, testimonial, and/or link to any products or services from this blog.
That being said, we only promote authors, products, and services that we wholeheartedly stand by!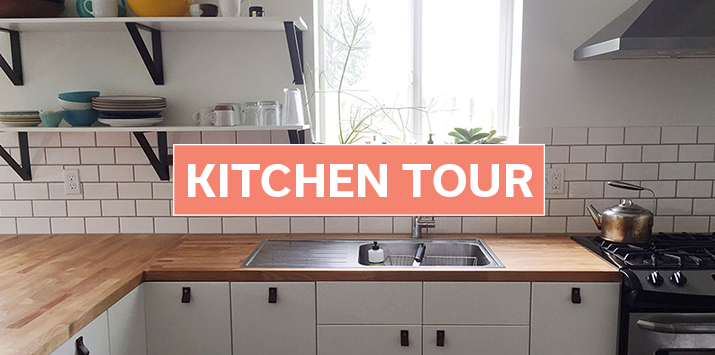 AIP Kitchen Tour is a monthly feature in which we profile a member of the AIP community and their kitchen setup in hopes that it will further inspire us to get our kitchens organized and set up for success! We've interviewed folks who are making the AIP lifestyle a reality in everything from college dorms and small city apartments, to large households with non-AIP family members, and everything in between. Through these interviews, we hope to share how they make it happen across a variety of budgets and living situations, and give the community a wealth of inspiration. Read more Kitchen Tours here!
Name: Amy Szpindor
Location: Atlanta, Georgia, USA
AI Disease: Multiple sclerosis (MS)

How long have you been eating AIP? Since June 2017
Have you successfully reintroduced any foods? 
Yes, sesame seed oil, cumin, macadamia nuts, white rice, bell peppers, white potatoes and white wine. Although most of those items every once in a while, not every day.
How has the AIP changed your life?
The entire AIP community changed my life in many ways. It makes me feel in control of my autoimmune disease and has allowed me to heal. I have so much hope because of this lifestyle. I meditate now and have learned to put boundaries in my life. I also know which foods trigger a response, which is so empowering. I am constantly inspired by those in the AIP community.
Size of your AIP kitchen: 12 x 18 feet
Favorite thing about your kitchen: 
I love the natural light and our gas cooktop range.
Least favorite thing about your kitchen:
I would love to have a more updated kitchen with a walk-in pantry.
Are there any cheap gadgets or little tools that you have found make AIP easier?
I really like my Dutch oven to make roasts, stews, and soups. There are nice Dutch ovens available that are more affordable than some high-end models.
What is the biggest thing that changed in your kitchen setup when you adopted the AIP?
Being aware of cross-contamination. We have separate scrub brushes, hand towels, and drawers for cookware when gluten has been used. For the most part, cooking with gluten has stopped in our kitchen. But my step-kids still eat some pantry items with gluten.
If someone was just starting to invest in some useful but more expensive AIP kitchen tools, which one would you tell them to buy first?
A high speed blender, like the Vitamix. I use that for AIP smoothies, soups, pesto, and liver pate. I use my Vitamix multiple times a week.
Are there any tricks you have learned to make AIP work in your space?
I have made specific space for AIP spices and my AIP treats and other pantry items to stay organized.
How do you deal with food for family members that are not AIP?
My husband eats everything and my step-kids eat a standard American diet. When I started AIP I told my husband that I needed to take care of me first and I would make my own meals. He and the kids are welcome to eat what I make, but if they want something different, he would have to make it for them. This was hard to do, because I had been making family meals for a long time. It was key for me to put myself first for my healing.
Are there any tools or appliances that you've stopped using now that your diet has changed?
I don't use my Instant Pot as much. I still use it and love it, but use it much less since going AIP.
What are your favorite meals to batch cook?
Bone broth, liver pate, and soups.
What are your favorite AIP and Paleo cookbooks?
My favorites are Nourish by Rachael Bryant, The Autoimmune Paleo Cookbook by Mickey Trescott, The Healing Kitchen by Alaena Haber and The Paleo Mom, and several other AIP ebooks. I also love the Unbound Wellness blog. Michelle has amazing recipes!
Do you have any tips for those starting an elimination diet and setting up their kitchens for the first time?
Organize your pantry and spice rack with AIP-complaint foods. Also, talk to family members about reducing cross contamination risk in the kitchen.
If you'd like to learn more about Amy's AIP journey, you can follow her on Instagram.
Would you like to be featured in an AIP Kitchen Tour? We feature members of the community who are willing to share the real spaces where they cook, as well as their stories of transitioning to this lifestyle. If you are interested, fill out our interest form!